Eric Mace was just 20 when a double tragedy propelled him into the weighty responsibilities of managing two family farms.

"I was on holiday in the South Island with my cousin when I got word my father and uncle had both drowned in a flood on the farm," says Eric, who today still owns the farm his grandparents Charles and Louisa Mace developed 111 years ago near Mangaiti, Te Aroha.

The floods of May 1954 inundated farmland from Te Aroha to Kopu. (Image www.ohinemuri.org.nz)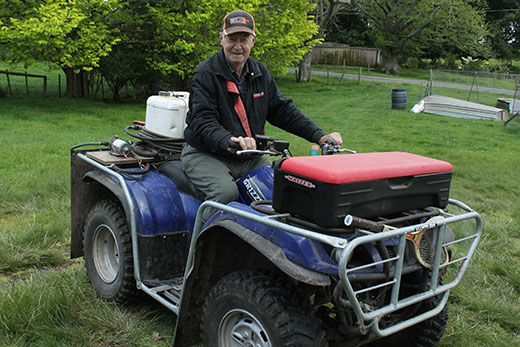 Eric Mace is the third generation of his family to farm at Mangaiti near Te Aroha.

Eric's father Reginald, known as Jack, and Jack's younger brother Arthur both perished in the tragedy during an exceptionally big flood in May 1954.

"Parts of the farm always flooded in heavy rain because there was no stop bank on our side of the river.

"The cows were on an island in the middle of the flood and my father and uncle were rowing out to give them hay from a barn on the island when the accident happened."

The loss of the husbands and fathers was a huge blow for the Mace families – and it was Eric who took over running both farms for his mother and aunt.

Fortunately farming was all Eric had ever wanted to do.

"I left school a fortnight before I turned 15 because our farm worker wanted to go on holiday and I told Dad I'd fill in for him.

"I didn't tell the headmaster and by the time he figured out I wasn't at school, I was 15 anyway."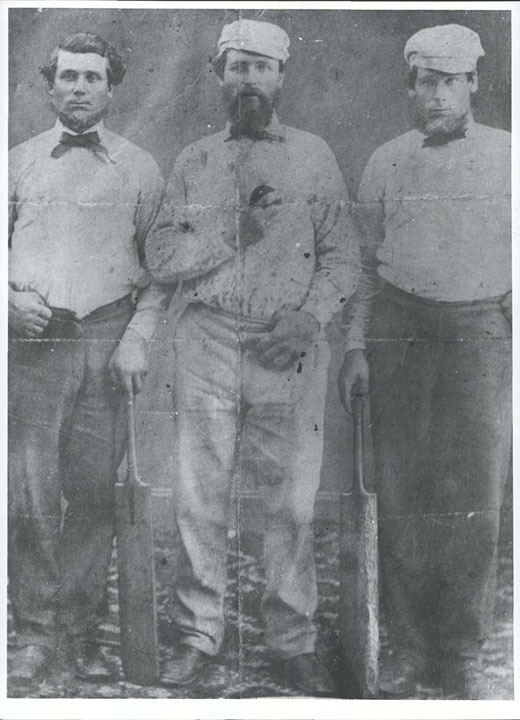 Brothers Henry, John and Charles Mace were gold miners at Macetown, which was named after them. (Image Hocken Collection University of Otago).

Macetown brothers
Eric is the third generation Mace to farm land between the Waihou River and Rawhiti Rd, which the Mace family bought for one pound an acre in 1895.

His 70ha property is the only part of the original 1100 acres still in Mace family ownership.

His grandfather Charles Mace was born in Thames, the son of John Mace, one of three brothers for whom Macetown, in the hills near Arrowtown, was named.

John, Charles and Harry Mace went to the Arrow River from Wanaka, via Cardrona, searching for gold and established their claim on a beach where a creek flowed into the Arrow River.

Although they weren't the first to arrive in the area, they became prominent and highly respected citizens and were also renowned as cricketers in the Otago Province – which is why the town was named for them.

John later moved to Thames, where Charles was born. Charles married Louisa Pocock, who came to New Zealand in 1874.

The couple had a butchery business at Waitekauri, when Charles won a lottery in 1903 and moved his family to the farm at Mangaiti.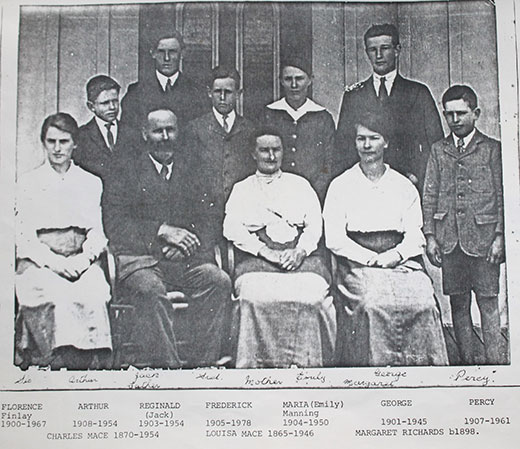 Charles and Lousia Mace and their children, including Arthur and Jack who were tragically drowned together on the family farm near Te Aroha in 1954.

Railway tracks
Because there were no roads, Charles used the railway line that ran through the farm to access undeveloped parts of the property, spending all day clearing it in preparation for sowing pasture.

As well as raising her family, Louisa was postmistress for Mangaiti, as the post office was on the farm.

The family gave land for the building of the former Mangaiti School, which continued to operate until 1936. Little remains today of Mangaiti but it once had a railway station, hall and store as well as the school.

Eric says the original Mace property was split into three farms for Charles and Louisa's sons; and it was his parents Reginald and Jessie (Nee McNicol), who farmed on the property where Eric still lives.

"After my father and uncle died I ran the two farms but it became just too hard, and in the end my aunt sold her property."

Walk-through
Even before he left school, Eric worked on the farm and for many years milked cows in the original walk-through shed his grandfather built.

Cream, and later milk was taken in cans to a 'dump' closer to Te Aroha, where it was picked up by the milk factory trucks.

"In the flush we had so much milk we used up all of the 30 cans we had." Like most farmers at that time, the Mace farm-raised pigs, fed on skim milk.

Horses were the original mode of transport on the farm but the family were early adopters of tractors. "Our first tractor was an Allis Chalmers tractor with steel wheels," says Eric.

"I used it to drag willows out of the swampy parts of the farm."

Eric progressed to David Browns but is now a fan of the Case tractors.

"We always used to have two-wheel-drive tractors; and I couldn't see the need for four-wheel-drive until I saw what they could do on the hills, then I thought 'I had to have one of these'."

In the 1960s Eric began to breed Friesian cows, developing a well-respected stud enhancing his own milking herd and selling pedigree animals to other farmers.

However, when he gave up milking and brought in sharemilkers, Eric also stopped breeding Friesians.

Eric married Althea Keightley, and the couple had four children, John, Maryanne and Andrew and Louise.

"All the children have worked on the farm," says Eric, who now has six grandchildren. Sadly Althea died 12 years ago.

Flood scheme
Floods continued to affect the Mace farm until the late 1990s, when the Waihou Valley Scheme, which began in the 1970s, was finally complete.

This involved farmers contributing through rates to the cost of constructing stop banks along the Waihou River.

"It has made a huge difference to our farm and the use of lowland, which is among the last areas to dry out round here in summer."

The farm's old walk-through wooden shed has been replaced with a 20-aside herringbone shed, where sharemilker Tim Roskam milks a herd of 200 cows.

Recently an effluent pond with 90 days' storage capacity has been constructed and effluent is irrigated onto pasture.

The day-to-day running of the farm is now in the capable hands of Tim and Jolene Roskam, but Eric is still involved.

"I go round and find any problems like electric fences which aren't working, or clearing drains, spraying weeds or cleaning water troughs."

In Charles Mace's day there was a railway instead of a public road between Te Aroha and Paeroa.

Today there's a busy highway linking the two towns. The railway tracks have been removed and along the route Charlie once walked, cyclists pedal the Hauraki Rail Trail.

"I can see them from my lounge. There's almost always someone going by, especially on a fine weekend."