The dark, mysterious plague doctor on Holland Road Distillery's bottle labels hints at the ethos behind Terry Rillstone's gin.
Terry has been experimenting with distilling and blending gin for the last six years at his Eureka distillery.
Despite having no background in spirits making, and being a resin craftsman by trade, he must be doing something right as all three of his commercially produced gins took home medals at this year's NZ Spirits Awards - a double gold medal, a gold medal and a silver.
Although not a big drinker himself, Terry has always liked gin because of the wide variety of flavour profiles and the use of botanicals.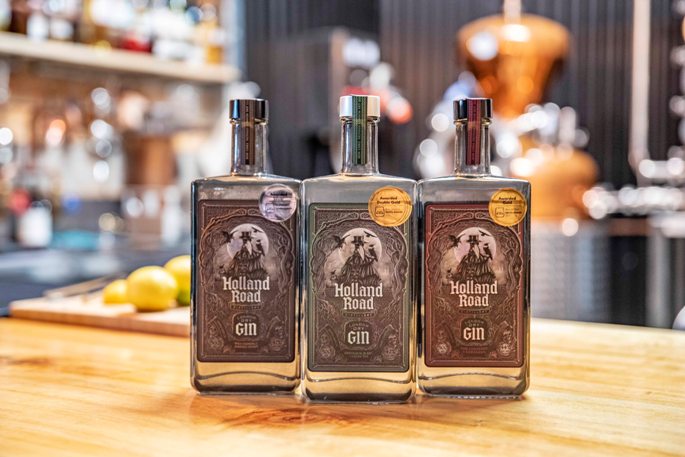 Holland Road Distillery's three award winning gins.
"Plague doctors used the innate power of botanicals as both protective talismans and as a source of natural healing.
"Their knowledge was passed down through the centuries and is still important to those who practice the alchemy of distillation, the ancient art of creating medicinal tonics from plant based ingredients."
Terry's ingredient shelves resemble an apothecary shop from centuries gone by, with glass jars containing dried fruits, leaves, herbs and spices to name but a few.
His journey into gin started when he borrowed a mini still from a friend and started experimenting.
"There are so many flavour combinations and I loved playing with different ingredients that don't traditionally work together. Distilling is a balance between science and art."
Family have been very supportive as the business grows, with Terry's wife Kristin helping with the bottle labelling and accounting side of things.
"Once I decided to make the big leap into commercial production, I knew I had to have a bigger still that also had multiple uses. I spent months researching and ended up sourcing parts from China and the USA and assembling everything bit by bit here."
Not everything went according to plan, but using the old number 8 wire mentality, Terry eventually got the still working and running how he wanted it to.
Terry likes to use the traditional London Dry method of production. Everything is put in the still, then steeped, boiled and vapour infused in one shot over a six to eight hour period. Under the international rules for London Dry you can only add ethanol or water to the final product to get the ABV% you desire.
Blending is the art of gin making and Terry admits to having hundreds of recipe ideas going around in his head, sometimes even keeping him awake at night. He experiments on one-litre amounts to see what ingredients work before scaling up on the big still.
"However, distilling isn't a numbers game so you can't just multiply a recipe up from one litre to 100 litres. You may use 10 grams of an ingredient in your one-litre recipe but when you go to 100 litres, 1kg of the same ingredient is likely to be way too overpowering!"
For his next range of gins and vodka, Terry is going to focus on approaching some of the local growers in Eureka and Newstead for some completely different products that will really localise them.