Dark stores may be part of an enlightened revolution in grocery shopping with significant benefits for fresh produce such as fruit, vegetables, meat and cheese.

Market Intelligence managing director Chris White says supermarket shopping is not pleasurable, but a chore for many.

Market Intelligence managing director Chris White says consumers want some excitement in the way they buy food.

Market Intelligence is publisher of 'Eurofruit' and 'Asiafruit' among other fresh produce trade magazines.

Thanks to dark stores, fresh produce may be part of the rejuvenation of enjoyable shopping, as evidenced by what's happening in Europe; and dark stores in France are a model for how retail might evolve.

Chris explains dry goods, like toilet paper and detergent, are ordered online and collected from a drive-in dark store, where the customer present a receipt for the groceries.

"The guy from the big black box brings out the shopping and puts it in your car. There are 3000 of these drive-in stores in France."

Next to a drive-in Chris visited is a big, fresh market offering fruit and vegetables, meat and cheeses from all over the world.

Beautiful store
"This does not seem like normal supermarket. It feels like a traditional market in a French town on a Sunday morning.

"It is a beautiful store, the kind of store where I'd like to buy fresh fruit and vegetables."

Another example found in the port city of Rotterdam is "a farmers market which is an architectural masterpiece where people sell primarily fruit and vegetables".

The building is a huge archway, which has a ceiling decorated with images of fresh produce.

Another innovation is the emergence of a small retailer owning five to six outlets, which are essentially farmers markets with difference.

"They didn't want to be amateur, but want to borrow all the high skill expertise of retail."

They've brought together producers from the regions, partnering with only one supplier of each product such as eggs and poultry in each region.

"What this is doing is making sure the producers feel they have an investment in that store; and they don't have to compete with other suppliers."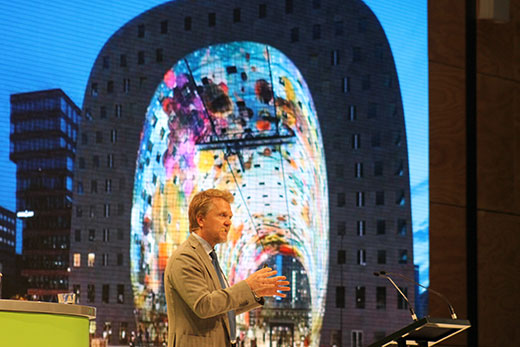 Market Intelligence managing director Chris White, with an image of the "architectural masterpiece" which is Rotterdam's farmers market.

Supply chain
The retailer also wants to democratise the supply chain. "Each and every trolley in supermarket has signs, which talk about cutting out all bits in middle to make sure the producer gets to the consumer through a retail outlet with a short supply chain.

"I thought this was bizarre. I thought people don't want to know about supply chain, but talking to shoppers I found they did understand what it's all about and responded favourably.

"What the retailer is also doing is showing exactly what the costs of the supply chain are. "For a product that costs three Euro the supplier gets two Euro, the retailers takes 81 Euro and the customer pays 19 Euro in tax."

Despite the fact the supply chain isn't short, Chris says the retailer does stock New Zealand kiwifruit because its customers want it.

Tipping point
"We have reached a tipping point, where standard brick and mortar retail has got to find ways to interact with consumer who want some excitement in the way they buy food."

Big supermarket chains like Tesco are losing market share to discounters and other competition. "Tesco, I would suggest, is not doing what it needs to do to market fruit and vegetables and the rest of its offering as it should."

Chris believes it's important producers, including kiwifruit orchardists, understand consumers and the markets – "as knowledge is vital to their business".

The market for fresh fruit and vegetables is constantly changing and there's an increasing demand for quality, taste and novelty.

Chris is impressed not only with the taste and appearance of the new Zespri gold variety G3 but also its name SunGold.

"That's a good name, which will attract new interest to the category.

"When it comes to fruit it's all about taste. People remember a really good taste experience and that prompts them to purchase again."

For the last 26 years Chris has travelled the world writing about fruit and vegetable growing, harvesting and marketing; and it's a job he loves, even if it's not the career he set out on.

Chris went to university in England to study languages and speaks French, German, Italian and Spanish. "I'd always been interested in journalism but didn't know anything about trade magazines, until I was offered a job with one."

Today Chris is managing director of Market Intelligence, the publisher of 'Eurofruit', 'Asiafruit', 'Americafruit', 'Fresh Convenience' and 'Produce Plus', as well as the 'Fresh Produce Journal'.

Chris joined Market Intelligence in 1988, becoming 'Eurofruit' editor in 1992. He helped to launch 'Asiafruit' in 1996 and 'Americafruit' in 2000. He was among the keynote speakers at November's Zespri's Momentum conference in Tauranga.