Current committee member of the Waikato Vintage Tractor and Machinery Club Inc., Stephen West, has a small collection of tractors himself, and his favourite is a David Brown 770A which has been in his family since he was a child.
It was purchased new in 1970 for the West family dairy farm at Te Puninga.
"Our Nuffield 342 was traded in to buy the David Brown," says Stephen.
Stephen spent most of his childhood and teens in the David Brown's driving seat. From the age of eight Stephen rode shotgun with his dad, and drove it himself from the age of 12.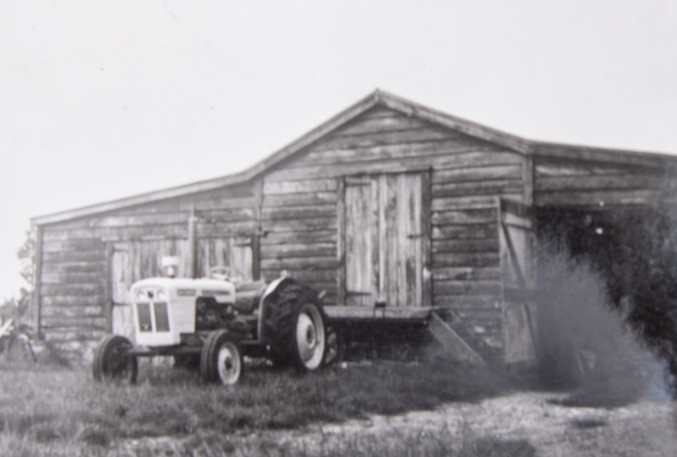 A treasured photo of his father's shows David Brown in the 1970s, taken by Stephen West while doing his Cub photography badge. Photo: Stephen West
"I used to feed out, mow, ted, bale and plough with that tractor. It was used for general purpose farm work."
Imported from England, the 770A has a three-cylinder, 33 horsepower diesel engine with 12 gears, including four reverse gears.
"It was available in a petrol version, and the diesel injector pump is where the petrol distributer would have been."
Stephen worked on the farm throughout his college years, spending an intensive three weeks in summer tedding during haymaking. He then trained and worked as a welder, before spending 30 years as an owner-driver in a contract fertiliser business. He now works for himself.
The 770A had a roll frame added when the new laws came in during the 1970s, and the sun canopy was added later. The mud guards also needed rebuilding, but apart from that, the tractor is original condition.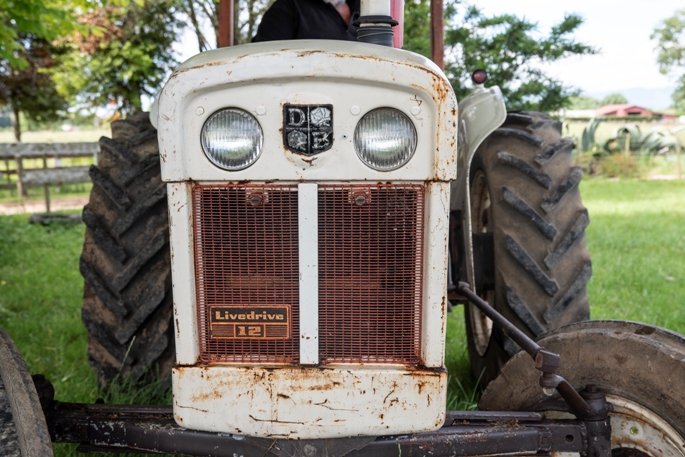 Photo: Catherine Fry
It still lived with Stephen's father, on his sister's goat farm, until Stephen joined the Vintage Machinery Club, when he "confiscated" it to use in ploughing competitions.
In exchange for a couple of bottles of rum, he had acquired an older, two furrow Clough plough, which makes 12-inch furrows.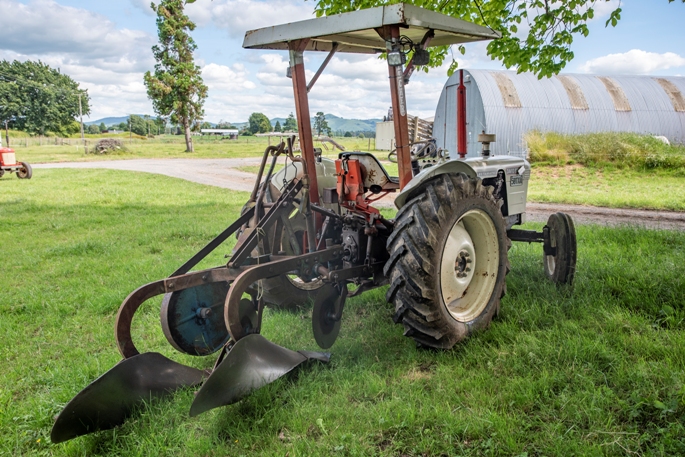 Photo: Catherine Fry
"I won the novice class twice with it and it's still in my shed. I get asked to return it, but I wouldn't want the goats nibbling it would I?"
Stephen has a treasured black and white photo of his father's tractor, which he took while doing the photography badge as a Cub.
The tractor is still well used for feeding out the dairy heifers and hay making on Stephen's property.
"Each year, we also take it to the speed boat events at Lake Karapiro and help with launching them into the lake."
As an active member of the Vintage Machinery Club, Stephen takes it on tractor treks, competes in ploughing events and participates in other club events.