Richard and Truus sold up in 2008 and "retired" to town, and Johan was leasing a farm.
"They really missed farm life, so we waited until our farm lease expired, and my wife Kylie and I went in together with my parents and bought a 76-hectare dairy farm in Tatuanui near Morrinsville," says Johan.
"It got us into farm ownership in 2010, and my parents were part of farm life again, without the full-time commitment."
In the 2021 Ballance Farm Environment Awards, the partnership was the Waikato Regional Supreme Winner and took home four other sponsored awards.
Their farm grows 8ha of maize, has a 66ha dairy platform and was milking 245 kiwi cross cows. Eleven years on, after many improvements, they are milking 215 cows with a higher production.
"Originally with 245 cows, the average annual production was 70,000 kg/MS, but now with 215 cows the changes we have made, we are seeing an average of 100,000 kg/MS."
Feed and fertiliser
After finding the farm was quite wet in winter, a concrete feed pad with rubber matting was built to accommodate the whole herd. It is greenwashed using water recycled from the effluent pond.
"We realised how much maize and PK was not being eaten when feeding out as they were leaving feed in the feeders, so we reduced the amount."
Some extreme weather events in 2017 which flooded many areas of the farm, saw the cows spending extended amounts of time on the feed pad. Due to the rubber mats, they were able to lay down in comfort.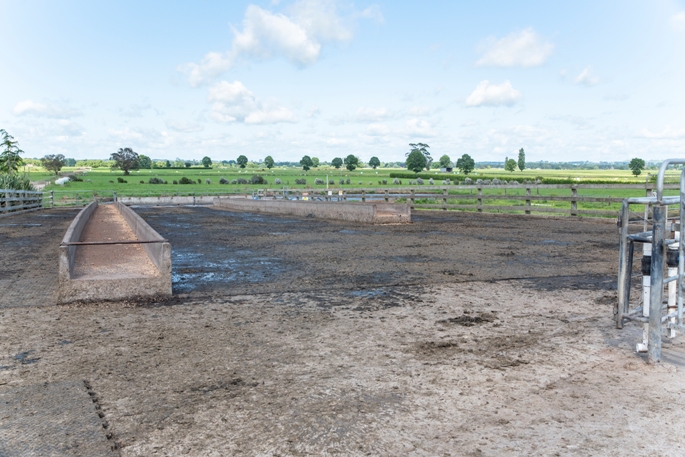 The rubber matted, concrete feed pad uses recycled green water from the effluent pond for washing down. Photo: Catherine Fry
Animal comfort was also a priority when improving the 1.82-kilometre race running right through this original soldier settlement farm. The race was raised and dried out, and a stock rock base added to look after the cows' feet during the long walks to the shed. Drainage channels were dug out and planted with sedges to filter out nutrients before they reached the waterways.
"A focus in our Farm Environment Plan, was our contribution to the Piako River Catchment, as the Waiharakeke West Stream runs through the back of our farm, with much of our drainage entering it."
Johan uses computer software to monitor the inputs including stocking rate, fertiliser, effluent use and feed, and outputs on the farm, with the soils tested yearly.
"A baseline for nutrient figures is really important, so when you make changes, you can see the difference. Fertiliser is an expense, and we need to be efficient with it."
Johan uses TracMap for recording and monitoring of fertiliser uses through GPS precision accuracy.
When he signed up with TracMap, they mapped out all paddocks and isolated out areas of high loss risk such as troughs and gate ways. Johan's fertiliser orders are directly sent to his fertiliser spreader company. Their trucks have TracMap recording capabilities and are regularly checked against Spreadmark certification. This ensures the fertiliser that is put on farm is spread evenly and no high-risk areas are fertilised. It's an easy proof of placement tool and makes efficient use of fertiliser.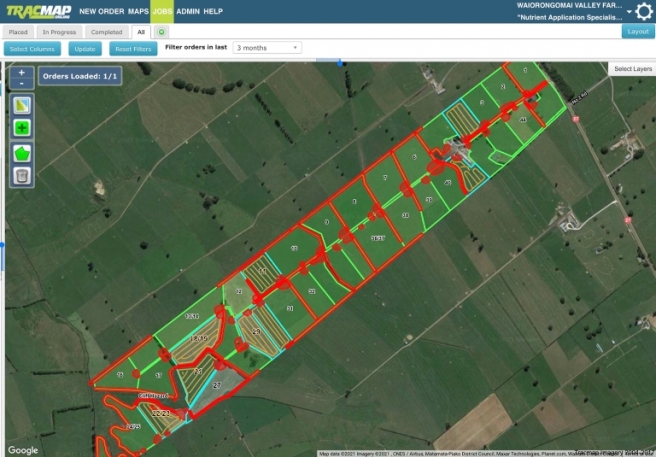 The farm's fertiliser application map through TracMap with gateways, troughs and waterways excluded. Photo: Catherine Fry
Effluent and water
With 70 per cent of the farm reached by the effluent irrigators, it's essential that this highly nitrate and phosphate concentrated medium doesn't over saturate the soil.
"We use computer software which shuts the system down if there's a breakdown or burst pipe and geo fencing ensures that effluent isn't spread close to the waterways."
The system also captures data on the effluent content which is used when making the overall fertiliser decisions.
The farm bore water was high in iron and manganese, contained E. coli, and was very hard causing build ups in the milking shed machinery. In 2017 the farm invested in a unique water filtration system which filters out the metals, and softens and chlorinates the water, killing the E. coli.
"Our cows now drink water that is better than the World Health Organisation standard for humans. Drinking quality water is all part of the bigger health picture."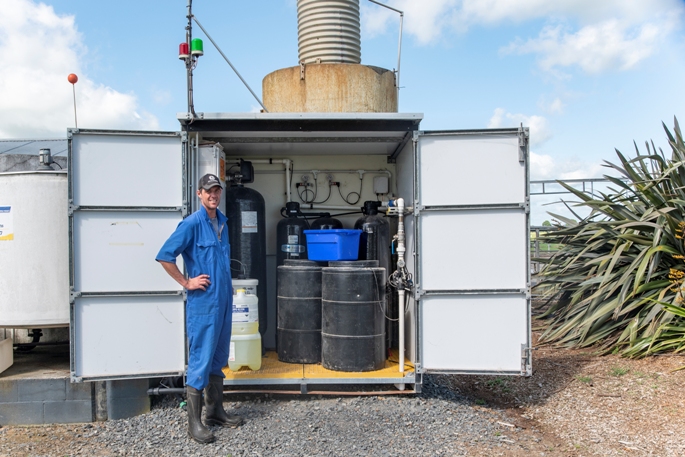 Johan van Ras by the specially designed farm water filtration system. Photo: Catherine Fry
Riparian planting
Alongside their commitment to planting waterways and mitigating nutrient flow into them, the van Ras family have retired a wet, low-lying area of the farm close the Waiharakeke West Stream.
Rather than attempting the "megabucks" process to drain the 4.5ha, they are in the process of planting 8000 natives there and returning it to wetland.
Funding for the project came from Waikato Regional Council, and Johan says they have been amazing with their advice and support.
Johan is happy to share their farm's environmental journey, and his main message would be to know your input and output nutrient numbers from the start.
"Then you can make your input decisions, keeping it efficient, good for the environment and good for the back pocket, it's a no brainer."