2021 saw the start of a five-year cover crop research project by the Foundation of Arable Research (FAR), with Senior Researcher for maize, David Densley, at the helm.
A 'PREfocus' maize research strategy encompasses profitability, resilience and environment, and the strategy has been set up to provide new knowledge on evolving maize production practices to improve financial performance and environmental sustainability.
"A growing number of global food manufacturers requiring and incentivising their farmer supply chain to reduce environmental impacts and increase sustainability," says David.
The trials are looking at four different cover crops followed by three different maize establishment systems - conventional cultivation, strip till, and no-till. Soil types and historical maize production systems vary across the five on-farm research sites.
Three of the sites have had a monoculture maize/ ryegrass production system for more than 10 years, with one site growing maize since 1975. Soil types include heavy clays, loams, and sandy loams.
"It's intended that the cover crop by maize establishment system research will run for at least five years for many of these sites, as it is likely that any measurable difference between treatments may take this period of time to visually and physically materialise," says David.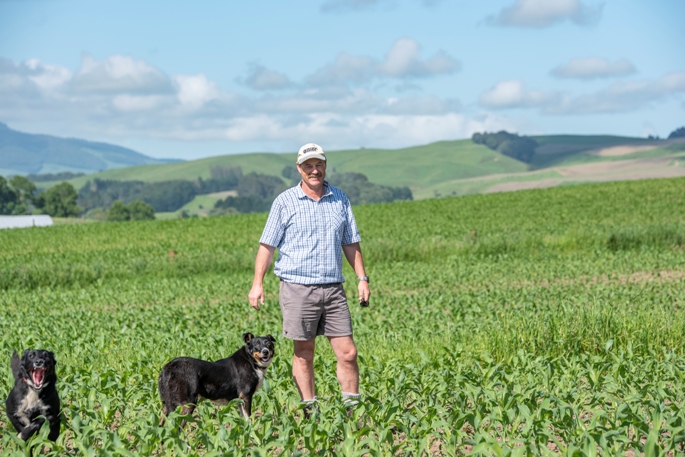 Karapiro farmer Grant Dixon discusses cultivation methods in the FAR maize trial beds on his farm. Photo: Catherine Fry
Participating farmers
Drystock farmers Grant and Sue Dixon have allocated a hectare of their leased 132ha farm near Karapiro, for this particular maize trial.
The couple run 130 beef bulls for the hamburger market, 400 ewes, lambs for the meat market and rams for commercial use. Thirty-three hectares are put to maize.
Grant has 23 years of experience growing maize.
"I remember listening to a talk by the respected arable and dairy farmer, Craige Mackenzie, and he was comparing golf and farming in a memorable way," says Grant.
"He said that a farmer has about 30 seasons in his working life, and that's 30 times to get it right, but with an expectation that they would be a Tiger Woods of farmers well before that. However, if someone played 30 games of golf, they wouldn't be anywhere near becoming a Tiger Woods."
Grant feels this analogy is very accurate and is therefore very supportive of extensive research into anything agricultural, so farmers have the best knowledge to make the most of every season, and not lose a season due to lack of experience.
"At the moment there's a real push back from farmers to get a balance between soil and environmental impact, and yield. It all comes down to resource use efficiency, the globe is finite and needs using wisely. The optimum economically doesn't necessarily mean the highest yield. We need to get more output with less inputs."
Comparing different cultivation types
FAR map the land used in their trials, till and plant, and make regular pre-arranged visits to the farms, through the season.
The Dixons routinely use minimum till cultivation on their farm and have noticed a difference in the organic matter of their soils.
"I've got 20 years of data, and since we have used minimum till, the percentage of organic matter in the soil has gone up. We also alternate varieties in the rows as a risk mitigator, and to make the pollination and harvest windows larger."
"On the Dixon farm we will compare minimum till rather than conventional till to strip till and no-till methods, as that is their method."
A significant level of research will be undertaken at a few of these sites, with yield and forage or grain quality measured, and gross margins calculated at all sites. Baseline intensive soil assessment will include soil water retention, soil carbon and nitrogen content, aggregate stability, and bulk density at 7.5cm increments to a depth of 120cm.
Best practices and sharing information
Maize planter set-up is possibly the most important principle to consider in no-till establishment. A properly set-up, fit-for-purpose maize planter will ensure proper closure of the seed trench, uniform planting depth and emergence, and within row seed spacing uniformity.
"We'll continue to explore strip till and no-till good management practices as part of the maize PREfocus strategy. We've provided a significant number of planter upgrades to the FAR planter," David says.
Extension field days will be held at some of these on-farm sites throughout the year.
Despite Covid-19 restrictions, the first of these was able to go ahead in September 2021 and was a great success, attracting more than 40 farmer and industry personnel (masks and all).
Regular field days are planned, reviewing maize growth and development from the early stages right through to harvest.
Grant finds it interesting watching the different cultivation methods used simultaneously on his farm.
"It takes a few years to find the fishhooks in the different cultivations and for Mother Nature to reveal the weaknesses, so a project over several years is invaluable."