When Oruanui residents Bev Roberts and her husband Paul Dingle were given the opportunity to buy a local miniature farm park, they took it. Familiar with the Taupo area, and living locally themselves, it seemed a good skill set match for them.
"I'd run a tourism adventure business previously, so I knew the ropes, and I'd helped out at the animal park before," says Bev.
Lilliput Farm had been set up in 2001 by a couple who had built it up into a real rustic and old-fashioned day out. By 2019 it was time to retire, and pass the park onto someone else to continue its legacy.
"I've always loved animals, and we have a 15-acre block down the road with cattle, sheep and horses."
Bev's primary concern for the animals she now looks after is their health and welfare, and the appropriate land management of the 10-acre park.
"I enjoy learning, so I did a lot of research about the animals that are now in my care, so I could be sure I was meeting their needs."
Bev rotates animals through the paddocks to avoid worm issues and sour pasture, and also rests each paddock in turn.
The larger animals include donkeys, ponies, deer, llamas, alpacas, sheep, goats, pigs and a mule. Each breed has its own vaccination, drenching, shearing, foot care and feed requirements, and Bev has learned how to handle each animal.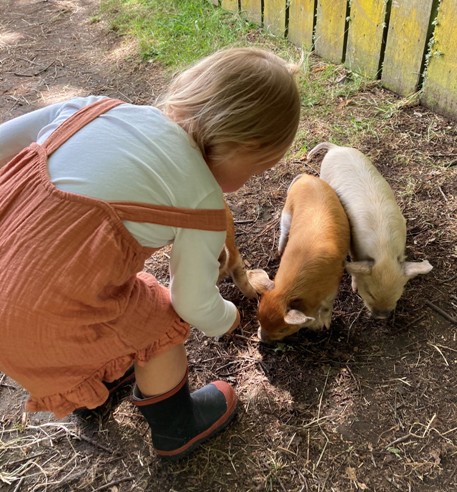 Park owner Bev Roberts' granddaughter Augustine feeding the piglets. Photo: Bev Roberts
"The llamas and alpacas are harder to manage, so when they are contained for shearing, they get the full spa day works with teeth filing, toe trimming, vaccinations and vitamin injections!"
Ostriches and emus can be unpredictable if you enter their paddock, so Bev regularly spends time with them. Other birds include chickens, geese, peacocks and ducks, which roam the park freely.
Squeak, the 37-year old, sulphur-crested cockatoo has a liking for male visitors and is always a hit with the kids.
The rabbits and guinea pigs can all be cuddled by visitors. Bev has several lizards and is working on expanding their habitats so they can get outside during the day and bask in the sun while safely contained.
Feeding includes specialised diets depending on each breed's needs, but a large part of the feeding if carried out by park visitors.
"The majority of the warm-blooded animals can eat a multi-feed pellet containing grain and vitamins. Visitors being able to hand feed all the animals through the fences and have an up close experience with each one is what the park is all about."
Bev has noticed that the cellphones are put away, and families really interact with each other and relax in the atmosphere of the park. She talks to her visitors about the animals and enjoys educating the kids with animal facts.
Covid-19 and the lockdowns have hindered Bev's plans for upgrades and alterations she wanted to make to the park.
"During the first lockdown we fostered out the smaller animals to people we knew, and many of the larger animals we took and put them in our home paddocks."
Concern for the animals' mental health was genuine as they are used to company and interaction from visitors. Bev went to the park daily to feed and check on the animals that remained there.
Day to day care is carried out by Bev, with assistance from shift worker Paul and some teenage animal lovers. Cleaning enclosures, paddocks and hutches is a constant and important part of the animals' welfare.
The park is full of mature trees, and has a gently undulating contour and older style playground equipment. It's exactly the experience Bev wants to offer - a respite from the busy lives we lead and a connection with the animal world.
www.lilliputtaupo.co.nz