You would think that beekeepers are used to 'social distancing' when it comes to getting up close with bees, but actually a happy beekeeper is one who loves to be around a swarm of bees. And collecting new swarms.
Right now is the season when new colonies of bees start to form.
"Typically a hive establishes itself in a season and the following season if the hive is full it can decide to split and create a second colony," says Chris Mitchell of Seaside Bees.
"Because they need a queen she goes with them. Before they leave, they raise a new queen and only take off when she is about to emerge. If it is raining that day they sit on the lid and keep her in her cell until they're ready to go."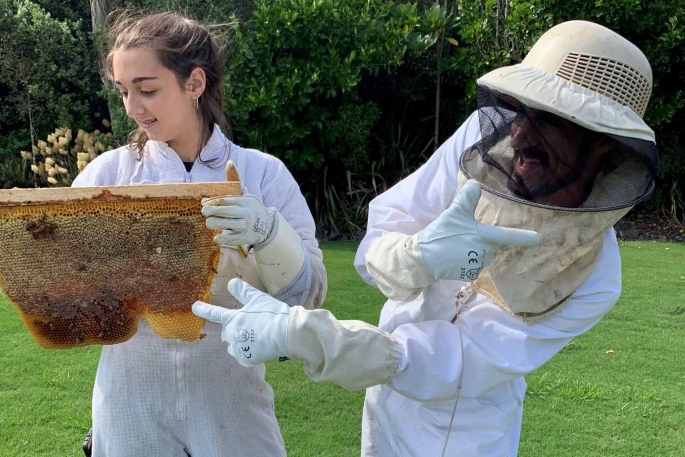 Fer Nieto and Pacho Nieto with a swarm. Photo: Chris Mitchell.
Chris says the swarming bees fill up with about a week's worth of honey before taking off.
"Generally swarming bees can't even bend over to try and sting you as they are so full of honey, so swarms are totally safe.
"The new swarm generally flies only a short distance, 20 metres to 1 kilometre downwind from the maternal hive, because the queen is large and heavy so she isn't a good flyer."
The bees normally park up in a sheltered tree for up to a week while a scout bee, or as Chris puts it 'housing committee' checks out all the possible locations for a new hangout.
"If they haven't found anywhere after a week things can get dire as the honey in their tummies runs out. Week old swarms can be very stressed and grumpy. If they find a hollow tree or your house, they'll generally be impossible to move once the queen has laid eggs and they start raising brood."
The BOP Beekeeper Group has registered beekeepers experienced at swarm collection, usually removing swarms at night when the bees are together.
The group has a map on https://bopbee.weebly.com/collection.html with phone numbers of the beekeepers so the public can quickly contact someone to collect a colony that's arrived in their house or nearby tree.
The group meets monthly to visit beekeepers, learn about bees and help each other. They own honey extractors, a small library and co-operates in various ways. There are several hundred members but 50 or so at a typical meeting, where they have guest speakers, honey tasting and visit home apiaries.