Construction of the Ōpōtiki Harbour Development Project, which aims to create a hub for aquaculture and other marine related industries, is making good progress.
At the time of writing this, 40 per cent of the project was expected to be completed by the end of September.
"We are very pleased with the progress of the project to date and the support and patience of the Ōpōtiki community with the changes, trucks and other disruption," says Ōpōtiki Harbour Development project director John Galbraith.
"We are on track to complete works and open the new channel in late 2023."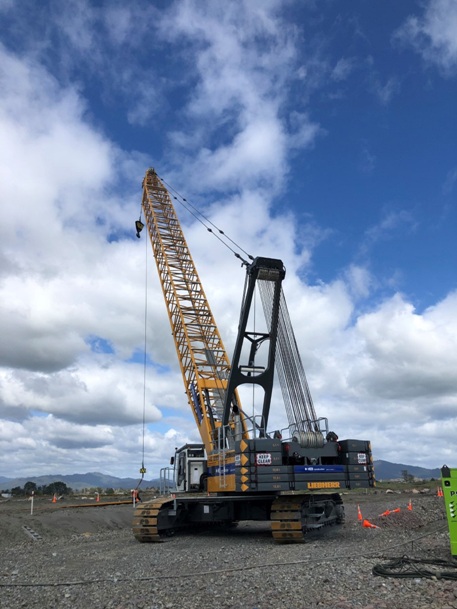 The delivery of a huge crane, transported in parts by several different trucks, turned heads in Ōpōtiki. Photo: supplied.
New equipment
Ōpōtiki Harbour Development project manager David Wyeth says a huge crane, which has been purchased to work on the harbour entrance, has been a great addition to the worksite.
"The new crane is a Liebherr 895 with a lifting capacity of 200T. It has nearly 1000 horse power and can be rigged with a maximum of 80m of boom, although it has 42m of boom in its current setup," says David.
"The crane is a very versatile piece of equipment and can be used with grabs, drag buckets, diaphragm wall grabbers, oscillators as well as demolition and dynamic compaction equipment.
"It is the dynamic compaction feature that will be its primary use on the project but it will also be involved in sheet piling and placing concrete hanbar units.
"When Covid levels allow, we'd like to find a way for the community to suggest names for the crane so keep an eye out for more information on that soon."
Meeting demand
The world demand for seafood is increasing rapidly, with the World Bank predicting aquaculture will supply more than 60 per cent of the fish we eat by 2030.
Ōpōtiki is poised to contribute, with 160 kilometres of coastline encompassing thousands of hectares of highly productive seawater that has the potential to support a sizable aquaculture industry.
Large scale aquaculture requires a safe, accessible harbour for boats servicing and harvesting product from offshore marine farms, however, the existing Ōpōtiki harbour entrance is limited to smaller boats, which can only cross the bar in good conditions.
The project is underpinned by a strong commitment from local community leaders, including iwi and council, to improve the community's social and economic wellbeing by creating new jobs, increasing the average household income across the district, and adding millions to the economy.