Deep in the King Country, the relatively new King Country Hunt has a small but enthusiastic and dedicated field that hunts terrain ranging from rolling dairy country to deep gullies and steep rocky inclines.
Current Master, Joy Hurley, is in her first year in the role, initially as a Joint-Master with Sue Smart, who had to withdraw prior to the season due to a serious knee injury.
"We are incredibly lucky to have three past Masters still hunting with us, who bring plenty of support and advice to the field," says Joy.
Joy has hunted with the King Country Hunt since it began in 1975. It was a family event for Joy as a child, with both her parents and two of her sisters regularly joining the field.
"I have an absolute love of hunting, there's nothing like it," says Joy.
Huntsman, Shane Neill also has family links with the Hunt since his childhood. His uncle, Bruce Neill, was the Hunt's second Huntsman. Shane now lives on the Hunt's 15-acre property near Te Mapara, running the kennels, breeding and caring for the hounds.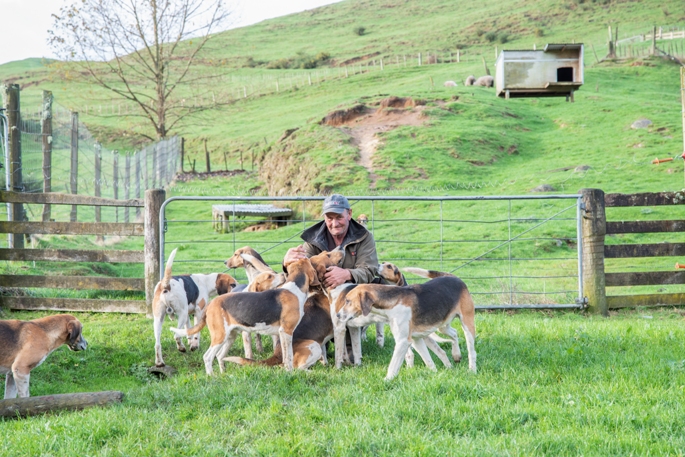 King Country Hunt Huntsman Shane Neill with his hound pack at the hunt kennels Photo: Catherine Fry
Shane gives huge credit to his partner Gemma, who looks after their horses and helps out generally.
"As a Huntsman, you need a good, understanding partner!"
The early days
From as early as 1947, when the Piopio Light Horse Club was founded, members held mock hunts and point-to-point meetings, and hunted with both the Taranaki and Waikato Hunts.
It wasn't until 1975 that the King Country Hunt was established officially, and accepted as members of the New Zealand Hunts Association.
Founders Trevor Benton and Gary Williams had acquired two harrier hounds while selling a hunter in Pakuranga. Taupō, Taranaki, Hawke's Bay and Waikato also each presented a couple. Trevor became the first Huntsman, and the first hounds were kept on his property in Āria.
The first Master was Graeme Nelson, who along with his wife Judy, brought extensive and valuable hunting knowledge to the newly formed group.
Every hunt is only as good as its hounds. Early hound breeding programmes were aiming for classic lines. Today, Shane isn't too worried about hound colour, with his pack showing colour traits of the dogs and bitches he has used for breeding from different New Zealand packs.
"I breed for hunting," says Shane.
"Their ability to hunt and give good noise is my priority."
He has 30 hounds ready for hunting, and a number of puppies and new entrants rising through the ranks.
Brought up on a sheep and beef farm, Shane evented, show jumped and hunted for many years before the Huntsman job came up. In the hunt off-season he does machinery and blacksmith work, while preparing the hounds for the next season.
"I thought I'd give the role a go, it's the passion for the hounds and providing a good day for the Hunt members that drives me."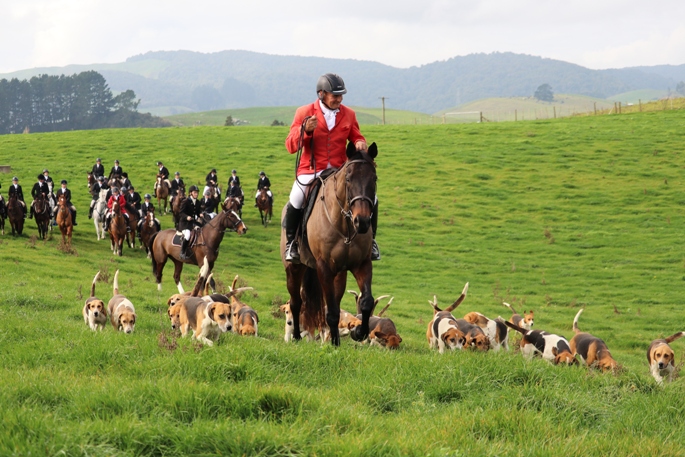 King Country Hunt field following Huntsman Shane Neill and the hounds Photo: Warwick Rapley
The Hunt today
The King Country is known for its ruggedly beautiful land. Most properties are prepared for hunting and Joy says the local landowners are very supportive, with many being Hunt members.
The Hunt covers most of the King Country, across to Marokopa on the west coast, and from the Te Kawa cross roads in the north to the harsher conditions at Tongariro in the south.
Each season the Hunt enjoys joint fixtures with the Taupō, Waikato, Taranaki and Maramarua Hunts, plus the Pakuranga and Rotorua Hunts with whom they have a long, supportive history.
"Our horses are definitely tougher, and the hounds and horses are very fit from hunting the King Country," says Joy.
"Some of the country is quite challenging and we notice when we hunt with other Hunts on their land, our horses are still pulling at the end!"
Shane also enjoys their country and says it's a pretty fast pace.
"There's not much sitting on hills watching for our field, they have to keep up!"
Around 40 to 45 stalwart members turn out regularly for Wednesday and Saturday meets. The membership has grown slightly this year.
"Most members are from farm backgrounds, with a few lifestylers," says Joy.
"Us men are significantly outnumbered by women, and they hold the majority of our leadership roles," says Shane.
The close knit group are good friends, who all share a love of hunting.
The Hunt's 45th affiliated season was celebrated with the opening hunt in Piopio with a champagne breakfast and a hound auction.
After a "brilliant season with only one cancellation" the closing hunt took place on Saturday July 10 2021 and Joy is already looking forward to the next season.
"The thrill of following hounds on horseback keeps me going back for more every time."