Something of a carrot-tastrophe is developing near Ohakune where a significant portion of the country's carrot crop is stuck on the wrong side of a dodgy bridge.
The Ruapehu District Council has had to place a weight restriction on the Mangateitei Bridge, a rail overbridge near Ohakune, following an engineering report highlighting safety issues.
The bridge is the only public access in or out of Mangateitei Rd, which is home to 20 per cent of the country's carrot crop, amongst other crops.
Major grower Kim Young and Sons is one of those affected by the bridge restrictions but it could have been worse had they not cut a forest access road through their property 12 months ago.
Field manager Scott Young says the weight restriction is such that once the weight of their trucks were taken into account, it didn't leave room for the huge volumes of carrots and potatoes they grow up Mangateitei Rd.
"It's quite a big impact. Forty percent of our crop is up Mangateitei Rd itself," says Scott.
Fortunately they had cut a road through the farm and across the railway line for forestry purposes a year ago. It's not ideal though as the harvest will disturb stock prior and during lambing later in winter and spring.
Seeking solutions
It is also a cost they were not expecting insofar as the maintenance on the private road and the extra time it takes trucks to get produce off the farm.
"We are paying rates for the council roads. It is more costly to us as a grower."
The Ruapehu District Council says local growers have appealed to them for an urgent solution but it was an issue of funding.
Cameras have been placed on the bridge to ensure compliance until a solution is found.
Mayor Don Cameron says the issue highlights a problem facing many rural councils where they are balancing the need to renew infrastructure against affordability.
Mangateitei Rd is one of two wooden rail over-bridges, along with another on Ruapehu Rd (max 3500kg), where the council has had to introduce new restrictions following recent engineering reports.
He says the two bridges should have been replaced some time ago, but they have been unable to access Waka Kotahi NZ Transport Agency's (NZTA) 75 per cent subsidy because of the criteria.
The council has put aside its $1.2 million share of the cost of replacing the two bridges and is now awaiting a review by NZTA on its share.
In the meantime, other solutions are being sought including using a temporary Bailey Bridge or installing a level crossing.
"In the case of the Mangateitei Rd bridge this is a significant issue as it is the only option for the local growers, farmers and forestry who rely on it, and supply produce nationwide and for export, including 20 percent of New Zealand's carrots and potatoes," says Mayor Cameron.
He says it is a nationwide issue.
Old stock
"These old, aging, structures help support the rural backbone of New Zealand's economy that feeds the nation and are critical to exports as we recover from Covid-19."
Ruapehu has 341 old bridges including large culverts. Mayor Cameron says the majority were built about 100 years ago, across a 350km road network of which two thirds is unsealed.
"Multiply this situation across rural New Zealand there is likely to be a large bow wave of aging bridge stock vital to the economy that small regional councils cannot afford to renew," he says.
Without further government assistance, the council's debt level is projected to grow to an "uncomfortable" $100m, driven mostly by the government's water quality reforms.
"Accelerating our bridge renewal program without the co-investment [from NZTA] at a time when we are already committed to meeting legislated water quality upgrades would hasten affordability issues for council."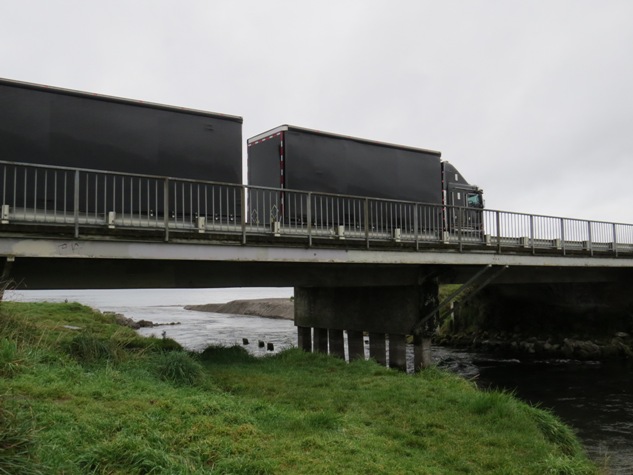 Rural bridges all over the country are coming to the end of their useful life which is starting to pose funding problems for smaller councils.