"Riding a cutting horse is an amazing buzz," says Julie Gregory of Taupo.
"Once you have your cattle beast separated from the herd, you put your hand down on the horse's neck – so you have no reins to control your horse.
"Then your horse takes over, working the cattle beast on its own with only the rider's legs to guide them. This is the wow moment on a cutting horse – it's such an incredible feeling."
Julie says once a rider decides that the horse has worked the cattle beast long enough they can then use the reins to 'quit' the cattle beast and enter the herd to select another animal to cut.
"Each competitor has 2.5 minutes to show the judge what their horse can do."
Julie and husband Steve Gregory have been Central Plateau Cutting Horse Club members for 35 years.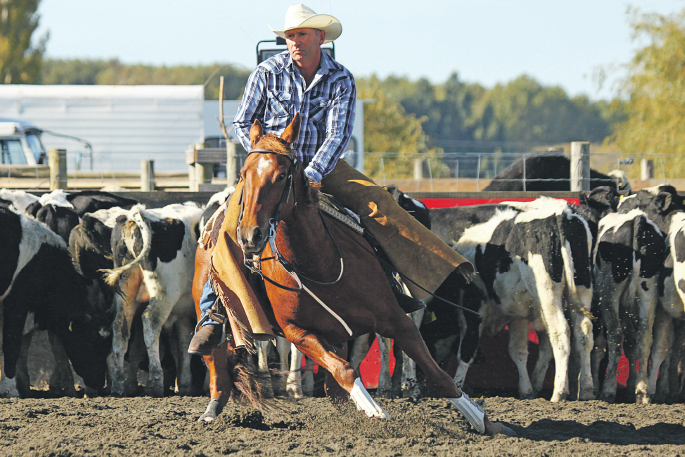 Steve Gregory.
"We have five children and Joel, one of our sons, is also a club member and competes with us at the local shows.
"Our son-in-law Nathan is also very keen to learn cutting, and Steve is enjoying teaching him the basics."
The equestrian sport of cutting horse competition is an old Western tradition – and one that still remains in the North Island of New Zealand, thanks in part to the Central Plateau Cutting Horse Club.
A cutting horse is said to possess an innate ability to anticipate or read a cow's intended moves.
And the art – well, sport – of 'cutting' dates back to a time when ranchers in the American West hired cowboys to work herds of cattle out on the open range, says Julie.
"Ranchers used the cutting horse to separate individual cattle and move them into corrals and pens. "With cattle drives and general ranching duties, the cutting horse was invaluable in separating and holding animals from the herd."
It was from this that the sport of cutting originated.
"The cowboys would have competitions amongst themselves to see who had the best horse at separating/cutting a cattle beast from the herd and keeping it away. Thus, the competition was born."
Julie, who is CPCHC treasurer, says cutting competitions have remained relatively unchanged throughout the years.
"In saying that, the standard of competition has improved greatly through access to international trainers coming here to run training clinics, YouTube training videos, and better blood lines being imported into New Zealand."
While most CPCHC shows in the early days were held on Lands and Survey Blocks with a few on private properties, today all shows are on private properties where riders have access to cattle and a worked up arena, says Julie.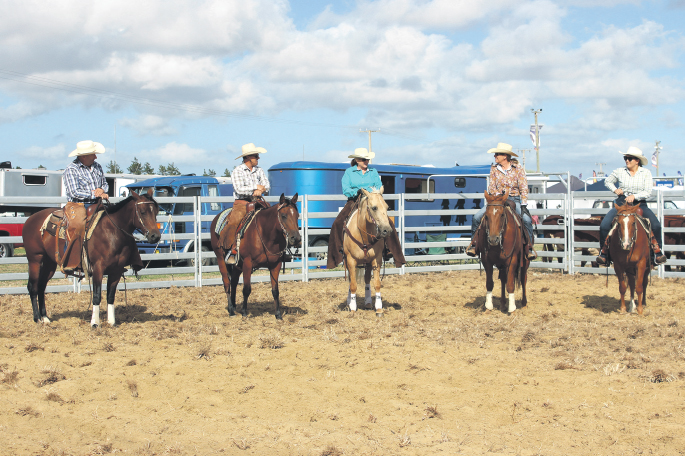 Her club attends several competitions throughout the year with four fellow clubs affiliated with The New Zealand Cutting Horse Association.
"Covid-19 caused us to cancel our North Island Finals Show last year, which is run by our club, at the end of March, and postpone our National Finals Show."
Julie says Covid-19 will also prevent New Zealand clubs from hosting overseas trainers and judges, until the borders reopen.
Julie says CPCHC formed between 1978 and 1979, which is believed to be even before The New Zealand Cutting Horse Association was established.
The club has 30 members from as far as Taranaki to Whangarei and no official location – members just meet and hold competitions at each other's properties.
"The club originated in Taupo, but as the years have gone on and numbers have lessened, members are coming from further and further.
"New riders need to have reasonable balance and a moderate level of riding ability to stay on a cutting horse, because they're very agile and quick moving.
"CPCHC run training clinics and beginner days to help anyone who wants to check out what it is all about."
Julie and Steve, a former CPCHC president, just love the sport.
"Steve enjoys training a young horse and usually has a young futurity prospect every two years.
"It takes about 18 months to two years to train a young cutting horse.
"At the moment, we both have a young horse to train."
For more information, search Central Plateau Cutting Horse Club on Facebook.