The Taupo landscape has altered significantly in the 50 years Clark Tickle has lived there –and he's been responsible for some of those changes.

Phyllis and Clark Tickle on a trust farm, tucked under Mount Tauhara.

"I worked on Lochinver Station for the Stevenson Family when the station had just 100 head of cattle and 250 breeding ewes," says the 79-year-old, who now manages a drystock farm for Gardon Ltd which leases the drystock block from a number of Maori trusts.

Today, the livestock at Lochinver Station includes 19,000 breeding ewes and 1323 mixed age breeding cows plus young stock.

Among Clark's tasks at Lochinver was driving a bulldozer breaking in new ground for pasture and crops.

"I sat on the bully all day for days on end and was so covered in dust I didn't realise I'd got badly sunburnt. I'm paying for it now with skin cancer but back then you didn't think about that."

Clark also built kilometres of fencing at Lochinver and at Landcorp's Rangitaiki Station, also on the Napier Taupo Highway.

He learnt his craft from his father, who taught Clark to split posts from native timber. "The best timber to use for fencing comes from trees which grow on the cold side of a hill because they are slower growing, with stronger grain."

Horse muster
Clark used those skills and knowledge to design and build yards for the first controversial muster of Kaimanawa horses from the Central Plateau in 1993.

"My mate John Tullock asked me to help design and build the yards; and we did it in 12 hours, in a snow storm. Those yards are still in use, although we've had to replace some of the rails.

"Early on, one old mare broke right through some rails like a cowboy entering a bar in a John Wayne movie; so we had to make the rails stronger," says Clark.

"I was happy to be part of the muster, and have been ever since, even though some people protested against it. The first horses we brought in were skinny and many of the mares had swollen muzzles and joints and other symptoms of calcium deficiency because they were giving all they had to their foals.

"Now when we bring the horses in they are healthy with foals with bulging bellies because they are so well fed. It's great to see."

The Kaimanawa horses are mustered every two years to keep numbers to about 300, a level the Department of Conservation says will ensure the horses remain healthy and reduces their impact on the fragile environment of the Desert Rd region.

Homes are found for the majority of horses rounded up and many are making a name for themselves in pony club and show jumping circles.

Clark remembers the early musters, when protesters climbed onto trucks or handcuffed themselves to the vehicles to stop the horses being taken away.

"Some of them even kicked in the doors of my ute because they didn't like what we were doing. We had to call the army in to keep things safe."

Splitting posts
Clark was born in Greenhithe, Auckland, but later his family went farming at Onewhero.

"My schooling was through Correspondence School and we had to ride a pack horse four miles to get the bread, groceries and mail. Dad split posts for fencing from the bush and we brought the timber out by horse and dray."

That was the beginning of Clark's love of horses and for most of his adult life he rode horses, including droving cattle across the central North Island.

Though he no longer rides or own horses Clark does have four working dogs; three of them are his beloved 'beardies' and one huntaway rescued from the Taupo pound.

With wife Phyllis, Clark lives on the trust farm tucked under Mount Tauhara at an elevation, which enjoys stunning views of Lake Taupo.

He may be well passed formal retirement age but Clark says urban living is not for him. So long as he can walk the pastures and work his dogs, he'll continue to do so.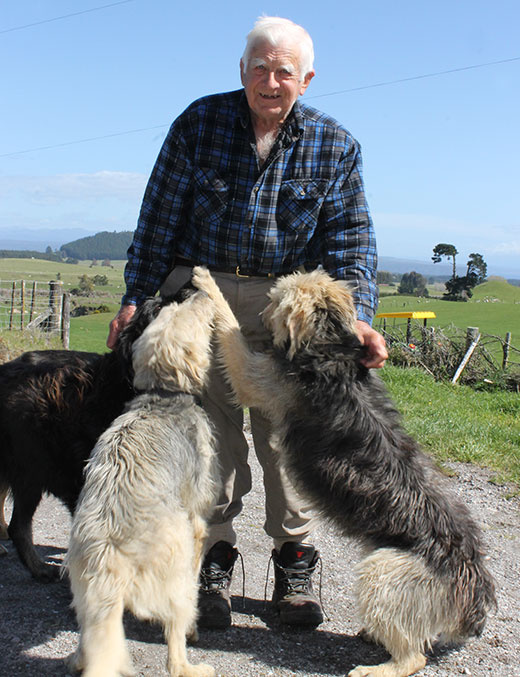 Clark Tickle of Taupo loves his faithful working dogs.