"It's all Paul's fault, he started this!" says Janette Barnett, referring to her husband's part in the conception of their company Amore Roses.
Fourteen years on, Paul Barnett is immersed in his own business while Janette and the couple's daughters, Briony and Melanie, run Amore Roses.
The Waikato rose nursery is filled with new roses that have proven themselves in the NZ and have never been seen or sold here before.
Janette wanders through the stunning trial beds, bending and smelling her favourites, and explaining how one of the recent trend is freckled rose petals. She knows all the names, where they came from, and how they are doing.
She has always been enamoured with roses and is an international rose judge.
Her grandfather wrote the Rose Notes column in NZ Gardner magazine for 30 years.
During their marriage, Paul and Janette have travelled all over the world attending rose conventions. Their four children sometimes travelled with them, growing up with a love for both roses and travel.
In Japan in 2006, while Janette was attending lectures, Paul was having interesting conversations with other rose breeders over a beer or two.
"He was talking to the late Frank Bernadella, an American who hybridised some of the finest roses in the world, but they could never get those roses into NZ," says Janette.
"Frank said we should start importing roses from the rest of the world."
The start of Amore Roses
Inspired by the concept, Janette and Paul worked with the Ministry of Primary Industry and brought in their first consignment in 2011.
After starting on their urban property, they moved to their current 17 acres in 2014.
Their plant quarantine facility now has six units.
"Anyone entering has to use a foot bath and wear latex gloves and a lab coat."
Janette applies for a permit to import after she and Paul have attended that year's overseas rose trials. Around 30 varieties per unit are ordered Northern Hemisphere in autumn and are air couriered to NZ.
"Each plant comes as budwood, which is just a stick with vegetative buds, wrapped in a damp cloth."
Consignments are kept separately in quarantine for their first year, with their own watering and drainage systems so no cross contamination occurs. MPI inspect the plants four times during their growing period and test for bacteria and viruses.
It is vital that several diseases from Europe aren't let into NZ, as roses are from the same genetic family as important export products like raspberries, cherries, apricots, plums and apples.
The trial beds
Once cleared, the roses are planted in the trial beds and observed for at least three years. Briony and Mel laugh as they remember laboriously hand-filling 188 raised beds with compost.
"The trial beds are the ultimate test for the roses in NZ conditions and climate," says Janette.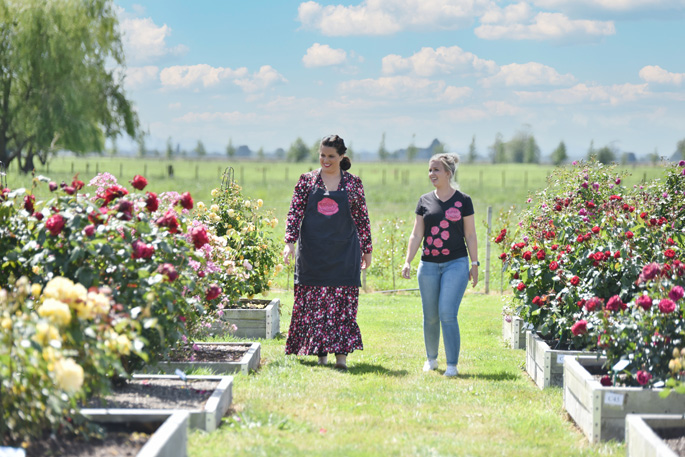 The peat soil on the property is a "glorious medium" for the roses, acting like a good potting mix, as long as it is kept damp. The 17 acres offers a buffer zone from any spraying activities from neighbouring properties.
The roses have been bred overseas to be disease resistant and are occasionally sprayed in their first year if struggling. Winter applications of copper and oil are required as you can't breed resistance to rose scale.
In year two and three they have to stand on their own two feet and deal with the NZ droughts, humidity, frosts and pests.
"We do get aphids, but as long as we don't spray, the harlequin ladybirds are never far behind and they do the job for us."
New roses for NZ
If the roses haven't succumbed to disease and are considered to be marketable once the three years is up, Janette starts propagating from them.
"Even a healthy rose may not make it to the market if it's not unique."
Mel helps during busy times and does social media, rose shows and open days.
"I grew up looking after roses and I love them, and enjoy being part of what Mum has built."
Briony and her husband Alan grow roses themselves for Amore on a part-time basis.
"They are very easy care and disease resistant.
"I love being part of Mum's business. It's hard not to get caught up in her passion for such beautiful flowers."
When asked why Janette puts some much of her life into her roses, her answer is simple.
"Roses are the queen of flowers.
"What other flower blooms for nine months of the year and has such variety of shape and form, with so many beautiful colours and amazing scents?"
For more information, visit: www.amoreroses.co.nz