A pasture management system common in the days of lower stocking rates and haymaking is enjoying a revival with trials by farmers and scientists showing that deferred grazing can increase pasture density and resilience, and bring cost savings from not making or buying in feed or under-sowing pasture.
Deferred grazing or summer fallow takes ryegrass-based pasture paddocks out of the grazing rotation during late-spring and summer to allow the ryegrass to flower and re-seed and build root reserves before being grazed in autumn.
Typically carried out on hill country where mechanical harvesting of surpluses is impossible, taking a paddock out of rotation allows grazing to be concentrated and therefore pasture quality retained on the balance of the farm.
Regenerative agriculture
Katikati drystock farmer and 2014 Bay of Plenty Ballance Farm Environment Awards supreme winner, Rick Burke, says deferred grazing was a saviour for Pukekauri Farms this summer.
"A lot of the deferred grazing principles were part of the way we farmed years ago. Now there is much talk about regenerative agriculture and deferred grazing fits exactly with that," says Rick.
"For me it's a simple low-cost, carbon-friendly and low-stress way of maintaining quality in the late-spring by shutting up paddocks and shifting the surplus feed to be grazed at a time of need in late-summer/early-autumn.
"Deferred grazing is a tool that helps take the stress out of a drought situation. I shut-up 10 per cent of my farm, which means I can break feed the deferred pasture with dairy heifers or store cattle, leaving a large area of the farm to recover from the drought.
"The big benefit is that you will grow up to 25 per cent more grass in the deferred paddocks in the year of deferring."
Feed costs
Kaimai farmer and Ballance Farm Environment awards winner, Allen Coster, says buying in or making feed at 45 cents or more per kg of dry matter isn't viable for sheep and beef farmers.
He targeted paddocks that had suffered pugging and where ewes and lambs had been grazed in the late-spring.
"This form of integrated grazing helped keep internal parasites at bay and gave us a worm-free pasture in the following autumn when we re-opened the paddocks to dairy heifers which are good at mowing down that sort of feed.
"We had good weight gain from the stock. I plan to reduce the number of dairy heifers I graze in future and shut up 20 to 25 per cent of the farm for deferred grazing."
Rygrass resilience
DairyNZ's Wendy Griffiths was part of a team conducting trials at Scott Farm near Hamilton.
The aim was to look at ways of recovering perennial ryegrass populations through grazing management.
Through discussions with a group of Waikato dairy farmers, two management interventions were identified: extending the spring grazing rotation and deferred grazing of pasture in spring and summer.
These were compared with two other management interventions: autumn under-sowing, and current best practice spring and summer management.
"Deferred grazing is a viable option for rye grass pasture regeneration. It allows the recovery of the tiller population and the shedding of seeds to recruit new plants. There are also cost savings from not having to under-sow," says Wendy.
The findings
"My observations are that a mass of seedlings become established under the mulch and that mulch, in a drought situation, helps retain soil moisture.
Another advantage of the system could be a reduction in soil degradation due to cropping. "Seed sales data indicate that 30,000ha to 50,000ha has moved to annual crops and pasture in NZ since 2007.
"From what farmers are telling us we believe that some of this increase is due to failure of perennial pasture to persist. This is a significant cost and also carries an increased risk of lasting damage to soils."
Wendy says while there is more research to do, DairyNZ will produce a simple manual to help inform on-farm decisions about how to implement deferred grazing.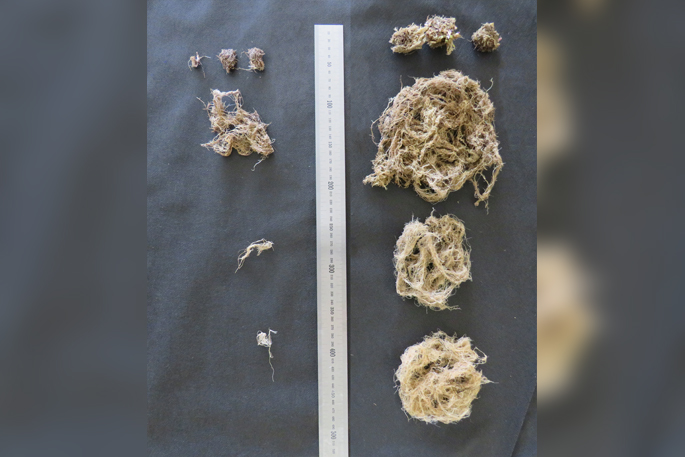 A glasshouse study investigated the impact of simulated 'deferred grazing' on the root mass when ryegrass plants were grown in 1m deep tubes. The root mass was much smaller in the simulated 'standard rotation' treatment (left) than in the simulated 'deferred treatment' (right).