In 2001 industrial designer Paul Quinn assisted his parents, Maureen and Paddy Quinn, to build new greenhouses for their blueberry business on the outskirts of Hamilton.
He stayed on to design roll-down canopies in the mesh houses, and is still working there today. "Around 2008 we were experiencing increasing pest and disease issues in our blueberry bushes," says Paul.
Leaves were developing brown patches around them, and developing what the Quinns describe as "leaf burn".
"We were in danger of losing all our plants to this dieback. Scientists found it was a sodium excess, but we eventually discovered that the plants will substitute with other elements when one is short."
The shortage was potassium, so the plants were taking in extra sodium, causing them to draw in more water via osmosis. The "leaf burn" was cells rupturing from an excess of water.
Changing their ways
Paul remembers an interview on RNZ more than a decade ago, which presented a nutritional study by a New Zealand university, evaluating the differences in the nutritional density of food grown now, and in the early-20th Century.
"Our soils are so depleted of the elements, micro-organisms, fungi, and organic matter needed to grow nutrient dense-food nowadays," says Paul.
"We started to think about the importance of soil composition as the basis for growing healthy plants that produce nutrient-dense foods."
Paul and the family started to research and experiment with their blueberry bushes. "We were facing losing our plants, so we had nothing to lose by changing how we did things," says Maureen.
"Paddy and I were behind Paul's ideas 100 per cent."
The Quinns adopted the phrase 'looking after the soil so the plants can look after themselves'.
One significant change was the purchase of a decent mulching mower for the grass strips that were thick with fallen leaves. "This left the strips covered in brown, fine leaf debris. By morning they were green again, and we realised that the soil biology had consumed much of the mulch."
Soil composition
One of the farm's advisors and suppliers, Clive Umbers of Air8tors, encouraged a focus on the soil biology. This is easily monitored by brix levels, smelling the soil and how easily weeds pull out with mycelium attached to their roots. The brix level is the percentage of solids present in the juice of a plant, measurable using a refractometer.
A healthy soil ecosystem has a diverse and balanced 1:1 ratio of fungal and bacterial life, which will buffer and administer to the plants' nutritional needs in exchange for carbohydrates in the form of plant sugars and other root exudates.
Levels of the macro elements nitrogen, phosphorus and potassium, and levels of the micro and trace elements such as calcium, boron and selenium, must also exist in the correct balance to maintain the plant ecosystem.
"Fungi act like a broker to source relevant bacteria to sequester a required element in the soil for the plant," says Paul.
"Reliance on the grower to supply the correct amounts can lead to over-application and destroy the fungi and bacteria as the plant uses the fertiliser and neglects its relationship with the soil's microbiology."
A good soil should also have a 7:1 carbon to nitrogen ratio, be five to six per cent organic matter, and contain 50 per cent air, 25 per cent moisture, and 25 per cent mineral parts, according to Paul.
Regenerative farming
True regeneration of the soil incorporates animals, but regenerative agriculture can be done without animals too, says Paul.
"In the wild a herd of animals would pass through the landscape trampling the plants and soil, and their saliva, urine, and faeces are left behind.
"When the rains come, the bacteria, viruses, fungi and microbes allow the vegetation to thrive, creating the perfect environment for plant life."
This 'circle of life' means the soil ecosystem is balanced leading to healthier plant life, as they get the required nutrients to fight off insects and diseases.
Paul says modern farming practices try to force the circle of life using chemicals, which results in soil health issues, and ultimately a decline in the nutrient density of the food plants produced.
Looking ahead
He recommends the Regenerative Agriculture Podcast website as a starting point for people interested in learning more. See the Scan QR code below.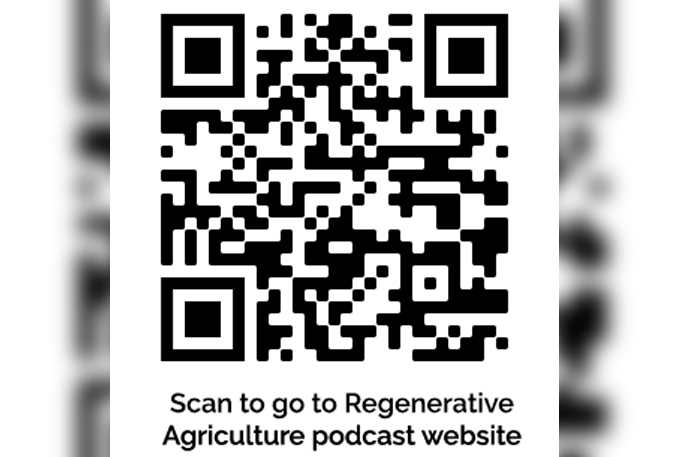 Dr Zach Bush and David Johnson are also worth researching, along with Dan Kittredge who is developing smartphone technology to analyse vegetable and fruit nutrient density. This will be a game-changer for both consumers and growers, as the information will be made publicly available.
Paul hopes to one day put into practice all he has learnt while blueberry growing, and produce quality nutrient-dense food for family and friends from a small holding of his own.
"Once established I'm hoping to share my findings with the wider public, encouraging and educating people to pursue regenerative farming practices."