Tauranga's Riding for the Disabled facility is set to reopen later this month with classes completely booked out.
Tauranga RDA manager Elisha Olds says the facility was permitted to reopen in Covid-19 Alert Level 2 but opted to wait and restart at the beginning of Term 3 on July 20.
"Term 3 and 4 are booked up, and we have a long waiting list."
The equestrian therapy centre has been closed since March 21 due to Covid-19. Before closing, 171 riders with disabilities would attend every week, as well as 12 riders in mainstream classes.
Holiday programmes ran between school terms, inviting even more riders to the Welcome Bay farm.
Riders and their parents have kept in touch with Elisha since RDA closed, saying how much they miss it.
"Some of the kids were pretending to be their instructors and would name their toys after RDA horses.
"Riders have the same horse every week, so naturally they get quite attached, and treat them like their own.
"That's why we've stayed active on our Facebook page during the time off, so riders can keep up with their horses while they're having a holiday."
Rider and volunteer Bethany Dawson, who is 22, is patiently looking forward to taking the reins again.
"I've really missed riding at RDA. I miss the horses, volunteers and my awesome coach; I can't wait to go back."
Tauranga RDA have riders attend from as far as Pukehina to Katikati. Elisha says interest continues to grow, as people are becoming more aware of the benefits of therapy riding.
"We have a big population of people to cover – the next closest RDA is in Te Aroha. Some riders come year-round because the movement in riding has real physical benefits for them. The social aspect is great for them too."
To look after RDA's 18 horses during lockdown, the centre's horse manager moved onsite and shared a skeleton roster with a few helpers.
Elisha says despite the high number of riders set to return, the financial impact of Covid-19 on RDA will be significant.
"Rider fees only cover 20 per cent of costs, with the rest made up from donations, grants, sponsorships and the work of 120 volunteers from both NZ and overseas.
"Luckily, we employed a fundraising coordinator the day of lockdown who'll be a great help to us, especially with our flagship relay fundraiser coming up in November."
To donate to Tauranga RDA, visit: http://www.taurangarda.co.nz/ways-to-support-us/make-a-donation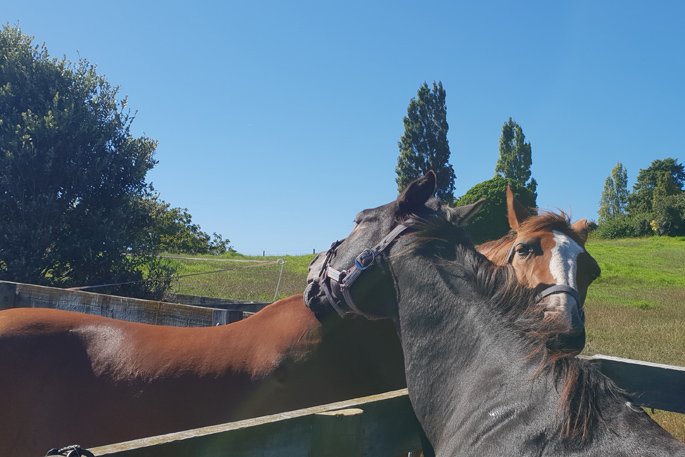 Tauranga Riding for the Disabled horses 'Guy' and 'Kai'.