One of our top Olympic equestrian contenders, Clarke Johnstone, is working hard preparing for Horse of the Year 2020, with his sights set on qualifying his 10-year-old bay horse for this year's Tokyo Olympics.
"I'm taking seven horses to the show, riding in a mixture of show jumping and eventing classes.
"But the main goal is to qualify Aces High for Tokyo and win the eventing title with him," says Clarke.
The pair have already had success winning the Puhinui International Horse Trials in December.
In 2016, Clarke came sixth at Rio with his talented 15-year-old grey, Balmoral Sensation, which has already qualified for Tokyo.
Clarke is based in New Zealand, at the family's equestrian property in the Waikato, however the gap between the end of the New Zealand equestrian season in May, and the Olympics in July, is too long.
As a result, three contenders for the New Zealand Olympic equestrian team, and their horses, will be heading to the United Kingdom and join other squad members already based there. As soon as Horse of the Year is over, Clarke and his two horses are flying out.
"It's likely I'll lease stables at an equestrian facility near Reading, Berkshire."
Clarke hopes to include Tattersalls International Horse Trials in Ireland, and one of the few team events, CHIO Aachen, in Germany. This offers the NZ squad the opportunity to compete as a team before the Olympics.
"To keep us all competition-ready until July, we will train and compete in the Northern Hemisphere summer events."
While at home in NZ, working nine horses, and coaching other riders takes care of Clarke's fitness.
"In the UK, I have to top it up with running and gym work."
In mid-June, the NZ equestrian team of three riders and four horses will be announced, and it is Clarke's goal to be one of the three riders.
"Ritchie is already experienced, reliable and consistent and I'm hoping Aces High will prove to be a great second horse option for me."
Clarke is already thinking beyond Tokyo, and would like to stay on in the Northern Hemisphere.
"I've got a six-month visa, so I'd need to find a suitable employer to sponsor me. I love living in New Zealand, but I need to spend some time overseas competing in tournaments like Badminton and Burghley Horse Trials."
Despite the big year ahead of him, Clarke remains calmly focused. "I'll just have to see how things pan out," he says with a smile.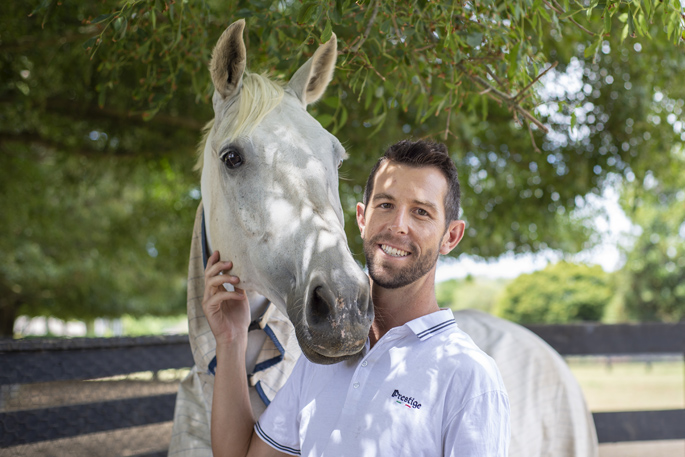 Clarke Johnstone, with Olympic qualifier, and sixth place winner at the Rio Olympics, Balmoral Sensation.