Diesel looks like he's asleep. His eyes are closed and his head slightly lowered but Helena Mason says the grey horse isn't snoozing.

"He's temporarily 'shut down' which is his way of coping with someone or something different. People often mistakenly think horses which do this are very quiet. In fact they can be anything but."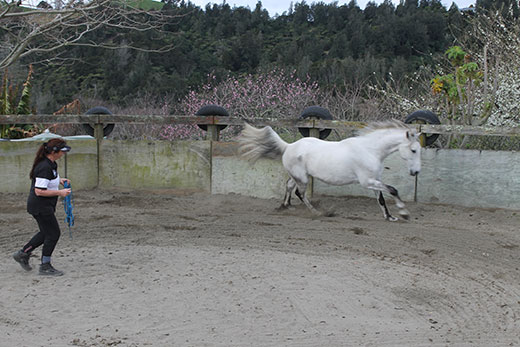 Helena Mason uses subtle changes in her body language to ask Diesel to walk, or trot around the ring.

Helena and husband Phil have learned to read the "horsenality" – personality – of horses thanks to 17 years of studying and practicing natural horsemanship. Their skills have gained them a reputation for changing the behaviour of so-called problem horses but now the couple are changing tack.

"We are breeding our own show jumping horses, using the best of bloodlines from our own mares, and those of Capatino GNZ from Redcliffs Equestrian of Kerikeri."

Capatino, who arrived at Redcliffs Equestrian in July 2013 was bred by Goldengrove Stud. His sire was by Casall La Silla, described as an international jumping superstar who provides the best Holstein bloodlines available. His mother Countess is a Nations Cup mare by Calato who was bred by a renowned breeder of top broodmares and performance horses.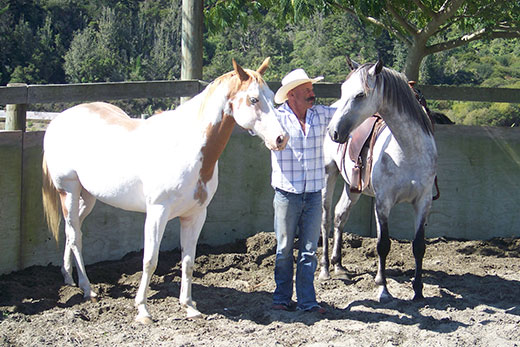 Phil Mason working with Bill (on the left) and Diesel.

First foal
Like Phil and Helena, Redcliffs Equestrian owners Kate Hewlett and Tim Featherstone have developed their own way of horsemanship based on the best of many methods.

Already the Masons have their first foal by Capatino GNZ – nicknamed Kevin - and they have high hopes he will be the first of many top show jumpers.
"These horses are so easy to work with, so willing and able," says Helena.

The aim is to sell the horses as youngsters ready for training as show jumpers or for dressage or eventing.

The change of focus is because Phil and Helena want more time to enjoy and ride their own horses which graze on their lifestyle block overlooking the Ohiwa Harbour.

"We have enjoyed working with other peoples' horses but it's very demanding, and often we find the owners need more training than the horses. They don't learn as quickly if they are not completely open to this style of training," says Helena who grew up in Auckland and has been riding since she was in her teens.

Phil grew up at Taneatua and credits the local butcher George Hayward for his early love of riding and horses. "I was one of five boys George used to get to do odd jobs for him – I think he saw it as a way to keep us off the streets. He was the huntsman for the local hunt and encouraged us to ride."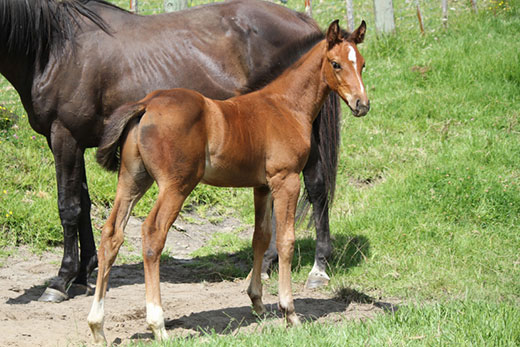 "Kevin" is Helena and Phil Mason's first foal by sire Capatino GNZ.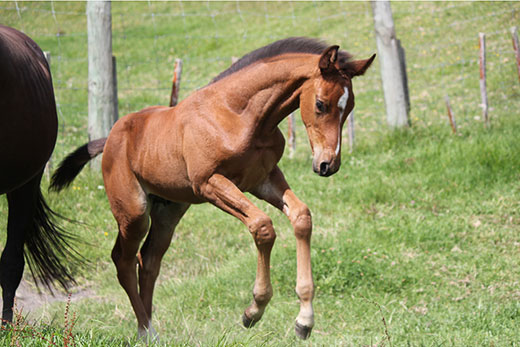 Gentling horses
Phil gave up riding for several years and didn't resume until he met Helena. They both became interested in natural horsemanship, a way of "gentling", not breaking horses by observing and understanding their natures.
"I had "broken" horses using the more traditional methods but never felt good about using force and pain to make a horse do what you want."

"Natural horsemanship techniques are so much more rewarding for both the horse and for us," says Helena.

"There's no such thing as a bad horse. People have just taught them to do the wrong things. All horses want to do is survive," says Phil.

"If their behaviour, like rearing up when led up to a horse float, means they don't have to go in it, then they'll keep doing that.

"When we work with a horse, we let them go through all the tricks in their quiver, and then begin working to change that behaviour. With some horses the change can be quite quick."

It might look like magic but Helena says it's not. "It has taken a long time for us to learn what we do and we're still learning. The day you think you know it all is the day you come unstuck."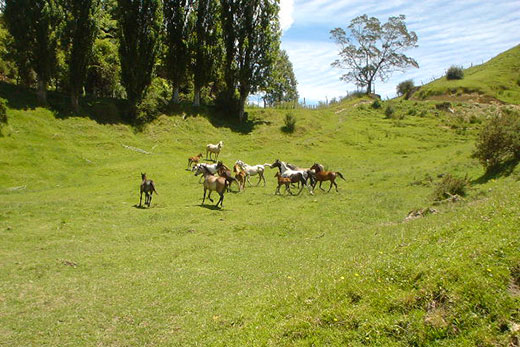 Testing horses
Diesel was one horse Helena had real reservations about. "He's a right-brain introvert and even now after months of working with him I have to be careful. If I introduce anything and try to push it onto him, he can just explode."

"These type of horses will test every part of your knowledge, but in saying that they also teach you the most, if you just take the time it takes to see it."

But that "explosive" horse, without halter or lead, will answer Helena's every request when in the ring with her, taking his lead from subtle changes in her body language."

"He will walk clockwise around the ring, then anti-clockwise -"a horse had two sides
and you must work both".

Another subtle command and Diesel trots. At another he will advance towards Helena, or back up. A gentle prod with a finger in his shoulder and Diesel elegantly walks sideways in a dressage-like movement.

Later Helena puts on a rope halter, but no bit, and with the lightest of pressure on the lead, invites Diesel to lower his head.

"I can only do all this with Diesel's co-operation. After all he's a 500 kg animal who could seriously harm me if he wanted to.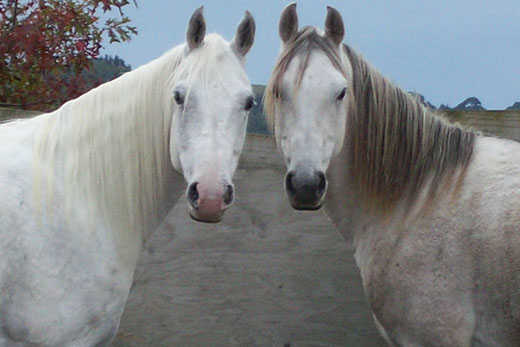 Frame of mind
"The two key factors when dealing with all horses of any horsenality is to have them wanting to be with you, in mind, under your leadership and for the handler to always deal with what frame of mind of the horse shows up on the day of handling any particular horse."

While they won't be training the horses they are now breeding for show jumping, Phil and Helena will "gentle" them using natural horsemanship techniques so they will be ready and willing to take the next steps with their new owners.