Rural contractor Neville Rawlings grew up on a 120-cow dairy farm in Mangawhero Rd, Otorohanga. His family were also rural contractors, and used a 1952 International 55-T motorised baler, which Neville still has today.
The petrol International A cub engine runs a belt-driven pulley, and according to Neville "it sounds real good".
There's a certain mischievous satisfaction in Neville's voice as he remembers a bit of grumbling from those who had to collect the hay bales.
"It's got a bigger chamber than most balers, and a huge capacity so the bales it produces are very dense and heavy."
The baler was towed behind mainly behind International or Nuffield tractors well into the 1970s.
It's had a few mishaps and adventures along the way. During the 1958 Otorohanga flood, it spent some time immersed in water but it survived. Neville recalls another incident where it ended up on its side after it was used on a steep slope, which would have been a real mission to rectify as it weighs around 1.5-2 tonnes. "After that it always had dual wheels on the engine side to stabilise it."
The machine was worked every season on the family farm until 1989, when Neville's father, Harcourt Rawlings, retired and the family farm was sold. Neville had moved into contracting himself.
"Dad was a keen member of the Otorohanga Vintage Machinery Club, and during his retirement, he collected and restored International tractors and equipment."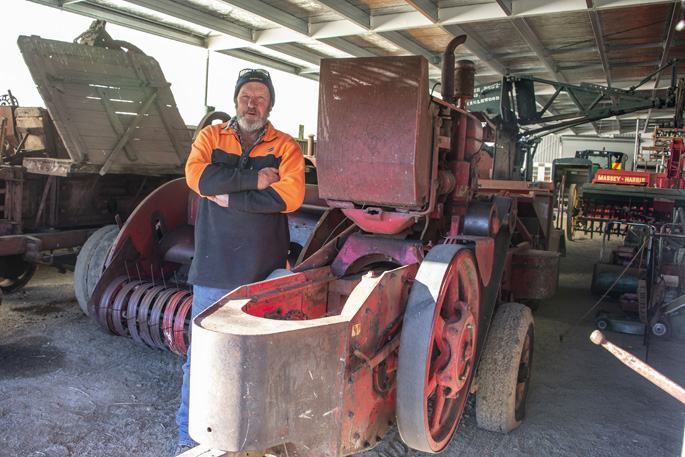 When he passed away in 2010, Harcourt had amassed 18 restored tractors plus other machines, and he still had the family's old baler. "I didn't want to see it leave the family, so I kept it back from the auction we organised for the rest," says Neville.
And he seems to have caught the bug for collecting vintage machinery too, as he also kept a 1948 International McCormick-Deering W-6 tractor that his father had restored. One gets the impression he would have liked to save them all. "I couldn't keep all 18 as I'd be divorced by now!"
Neville now has two tractors, the baler, and has his eye on another tractor. Neville lives on a quarter-acre block and is in the progress of building a 6m by 12m Versatile shed to house his growing collection.
Each vehicle is "boarding" in the sheds of other Otorohanga Vintage Machinery Club members, until their new home is ready.
The baler is still brought out yearly for the club's haymaking day, and is running well. It uses natural twine for the baling, and still churns out heavy bales as if it was back in its prime.