There are no citrus orchards in this country as large as the 1300 hectares Keith Pyle once managed in Zimbabwe, but the lessons he learned there are now being put to good use in New Zealand.

Keith Pyle is an advocate of pruning citrus trees, to open them up to light and to allow better application of sprays.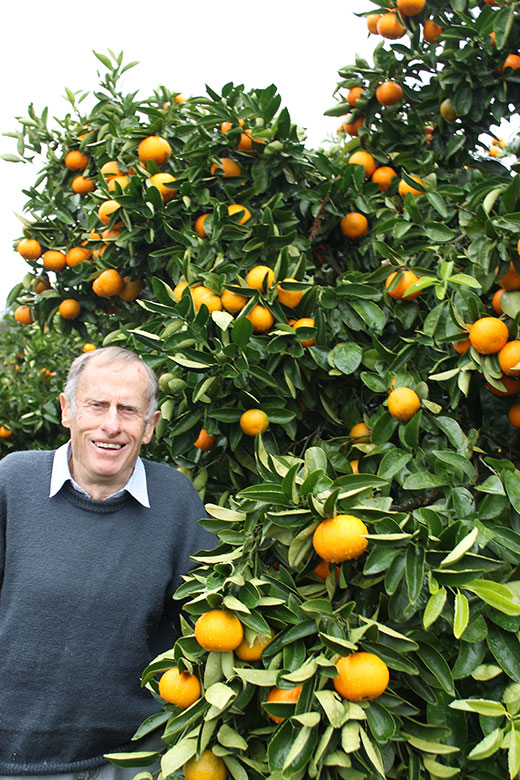 Katikati citrus grower Keith Pyle is a member of the New Zealand Citrus Growers Inc research committee.

Today Keith, who has a degree in agriculture with entomology, plant pathology and plant protection as the focus, is a member of the New Zealand Citrus Growers Inc research committee.

He's a citrus grower too. In 1998 when Keith and wife Madeline immigrated to New Zealand, the two hectare citrus orchard they bought near Katikati was considered by them to be small.

Today it's one of the few remaining in the region, where most citrus orchards have been replaced by kiwifruit.

However, the citrus industry is strong in Northland and Gisborne – and Keith's science background and years of experience on large commercial citrus orchards in Southern Africa was, and still is, in demand.

Keith grew up near Johannesburg in South Africa and was educated at Natal University.

His first job was in Rhodesia (now Zimbabwe), researching cotton pest problems.

An OE to the UK and time with Outward Bound followed – Keith is a keen hiker and mountaineer.

On his return Keith was involved in a programme to control tsetse fly, which transmits the protozoa causing sleeping sickness in humans, in some parts of Africa, and fever, weakness lethargy and even death in animals.

Hunting kudu
"The aim was to control the fly in low-lying areas to prevent its spread to the higher areas where cattle were farmed," says Keith.

Control involved Keith spending weeks in the outdoors managing hunting teams shooting bush buck, kudu, wart hog and buffalo – the main hosts in a corridor area.

The chemical DDT was also sprayed very selectively to kill flies in low-lying bush areas.

In 1974 Keith took a position on an estate north of Harare, owned by the Anglo-American corporation.

"The citrus orchard was initially 1300ha but we reduced that to 750ha and grew fruit mainly for the local market," says Keith.

"There were 40ha of limes – and despite the international sanctions against the country at the time, we exported lime juice to the UK for Rose's Lime Juice."

The estate also grew cotton, maize, soya bean and wheat.

Plant protection was the focus of much of Keith's work. "There was a problem with citrus greening and scale insects, red scale in particular, which had developed resistance to organophosphate sprays.

"Spraying with hard chemicals had also almost wiped out the beneficial insects. We began using mineral oils instead.

"Within three years we were able to turn the situation around. The scale insects were controlled by the oils and the beneficial insects were back."

IPM research
Keith and Madeline moved to Swaziland in 1981 where Keith managed a property with 800ha of citrus and 4000ha of sugar and a 25,000ha cattle/game ranch.
In their 17 years on the property Keith says he eventually spent more time on administration and less on research and citrus management, which is when thoughts turned to a new life in New Zealand.

Keith was in contact with the citrus company Kati Kist in Katikati (now Zeafruit) and felt there were opportunities within the citrus industry for him in New Zealand.

After settling here and purchasing an orchard, Keith became involved in New Zealand Citrus Growers Inc's research into integrated pest management, funded by the Sustainable Farming Fund.

He worked alongside Phillipa Stevens and others of HortResearch (now Plant & Food) running field and laboratory research, consulting with growers, and drawing on his South African experiences.

Keith is an advocate of pruning citrus trees to open them up to light and to allow better application of sprays.

"When I came to New Zealand not a lot of pruning was done and some of the trees were huge. Pruning also seems to have an influence on biennial bearing, making the trees fruit more consistently."

The IPM research focused on control measures which didn't destroy beneficial insects in orchards, but rather worked with them to control pests.

Today NZCGI research is co-ordinated by NZCGI in Wellington and Keith is still part of the team.

White fly
"The newest problem citrus growers are facing is Australian citrus white fly, which was first discovered here in 2001," says Keith.

"We believe it blew across the Tasman."

The insect's secretions cause black sooty mould to grow on citrus and attempts have been made to introduce a parasitic wasp from Australia to help in its control.

"So far attempts to get a colony of the insects established here have failed."

However, spray programmes are currently controlling the insect, along with other pests including thrips, but Keith says those sprays costs about$1000 per hectare, which is a significant expense for growers.

Another pest is the citrus flower mouth with its larvae burrowing into citrus flowers and fruit, causing cosmetic marking on Yen Ben lemons which means they can't be sold as premium grade one fruit.

There are other threats offshore, which the New Zealand industry hopes won't get here.

They include the Asian citrus psyllid Diaphorina citri, which has become a serious threat to California's citrus industry.

Not only does it feed on plants, damaging leaves, the insect is also a vector of the bacterium CandidatusLiberibacter asiaticus, associated with the fatal citrus disease huanglongbing, also called citrus greening disease.

If the disease ever got to New Zealand it could be devastating for the citrus industry, says Keith.

In between his research and consultancy work, Keith and Madeline grow Yen Ben and Meyer lemons, early and late Navel oranges, tangelos and mandarins – including the new variety Afourer – in their Katikati orchard.

The couple employ backpackers to help with picking and enjoy meeting young people from around the world.

Most of the fruit goes to local market, but this season five bins of lemons were exported to China.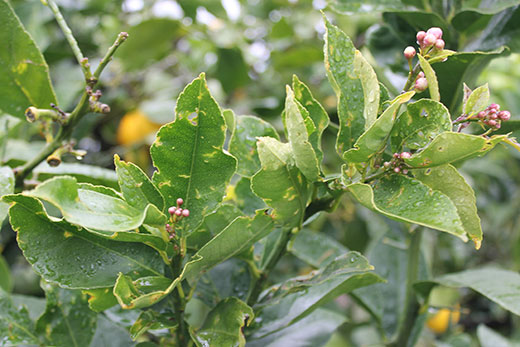 Damage to leaves, caused by the citrus flower moth.