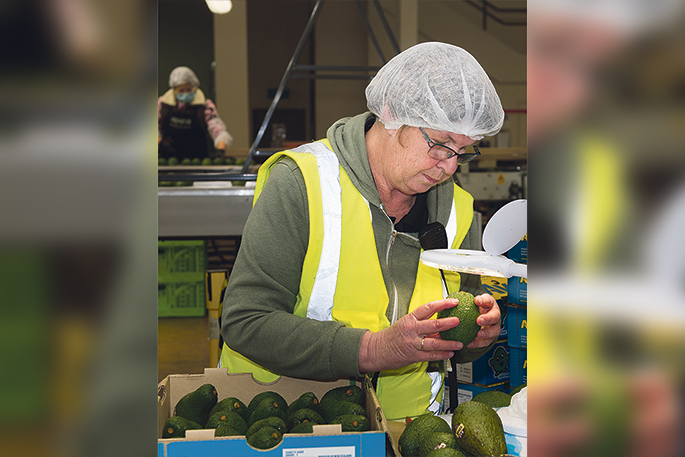 Apata packhouse quality controller Jackie Smith taking a close inspection of avocados destined for China. Photo: Nikki South.
Growers have had to sharpen their documentation skills, and packhouses are required to cut open a certain percentage of the fruit and keep close watch on their waterblaster efficacy.
But with these extra hoops to jump, there's a real sense of positivity in the avocado industry in seizing their first opportunity to export fruit to China – while also ensuring what is sent is representative of the quality fruit grown here.
Since access was granted in November 2017 a number of packhouses and exporters went on a learning curve in sending avocados through the newly set-up supply chain to the world's most populous nation.
Apata's avocado business manager and group safety and compliance manager Kate Trufitt's packhouse team packed and sent their first airfreight consignment to China on September 22-23 with no issues.
When Coast & Country News spoke with Kate, Apata – packing fruit for Avoco, which exports NZ avocados to various Asian markets under its Avanza brand – had filled their first 40ft container, which holds about 3300 trays.
"This one we shared with Trevelyans; we did about 15 pallets and they did the balance," says Kate, who admits a lot of work went into packing the fruit for China – with this being the avocado industry's first Official Assurance Programme.
An OAP describes the additional phytosanitary requirements of an importing country – usually for specific fruit and vegetable commodities – and exporters must meet the requirements.
"An OAP is from grower, to packer to exporter – so right across the export supply chain," says Kate, who has worked on OAPs in NZ's apple industry.
"They all have to register and all have to meet certain criteria. And being the first OAP for China, for NZ's avocado industry, it's been a real learning curve from grower, through to packer and exporter on those little extra specific requirements that are over and beyond what we'd normally do in our export process."
Avoco has sourced fruit from a tight selection of compliant Bay of Plenty growers, and packed it in three packing houses in the region.
Kate says growers have had to get better at documentation. "That's not something they've had to do before.
"As a packing company we're used filling in documents and having to verify stuff but for growers, it's a new thing."
And the OAP for China is very strict in terms of monitoring periods and when work is undertaken. "So that is a different mindset for the industry to cope with – we haven't had that before."
But Kate says many growers supplying fruit to China are crossing the 'T's and dotting the 'I's for the greater good of their industry.
"One of our growers, when we asked him about his motivation to take part in producing fruit for this programme for China, said: 'I'm doing what I'm doing for the better of the industry. I see this as an important market. And I see it as something I need to do as a grower to assist in developing this market'.
"So we've got some growers who are taking part to be champions for the industry."
More checks and balances are required when packing fruit for China too. Kate says commissioning of the packhouse waterblaster has to be annually instead of five-yearly, plus monitoring has to be constant to ensure all fruit is being cleaned properly.
The waterblaster operator and quality controller need to have a conversation every half-hour on whether there's any deposits coming through on the avocados, because that indicates the waterblaster is not cleaning 100 per cent of the fruit.
"For quality control the number of phytosanitary sample sizes is double than what we'd normally do. So it's two per cent with a minimum of 1200 fruit.
"Then we actually have to cut fruit – which we haven't had to do before."
Kate says this is due to other countries that export to China having burrowing pests. "We don't have burrowing pests but the Chinese were very keen for us to prove we don't have them. So we've had to cut the minimum of sixty fruit or five per cent of the phytosanitary sample. That's a complete change for us."
And while Kate acknowledges Chinese consumers are quite particular in how a fruit looks – and her quality control team is aware of this – the aim is to send avocados that are representative of what the NZ industry produces.
"It is something we're conscious of but we're trying to send fruit that is representative of what NZ produces because there is no point in us slaughtering the grower". "So we need to make our offering representative of what growers are producing here in NZ. This means there's no special grading for China but obviously there is an awareness that this is new and we are representing industry but also representing NZ Inc.
"So we want to get it right and make sure the fruit stands up – so we're trying hard to make sure it is as good as it can be."
Initially, Avoco was to export 50,000 trays of NZ avocados to China. But with programme delays in China, the total will be about 35,000 trays this season.
Avoco's marketing and communications manager Steve Trickett says China, like India and South Korea, will be developed with the view to it becoming a market for premium quality, larger-size fruit.
New Zealand is competing for shelf space in China with fruit from Mexico, Peru and Chile – the only other countries currently benefiting from market access.
"Being the closest and therefore freshest Southern Hemisphere source of avocados to China, the subtle differences in the taste and texture profile of our fruit, as well as presenting consumers with a larger piece of fruit backed by promotional investment, will help underpin our brand story, all aimed to secure a premium place in the market," says Steve.
Market access to China follows a successful technical audit of the regulatory system for exporting earlier this year. The Ministry for Primary Industries and China's General Administration of Quality Supervision, Inspection and Quarantine signed the protocol to agree export requirements in November 2017.