Raising calves to sell is not a get-rich-quick scheme and if you don't have contracts, don't do it – that's the advice of Mark Bocock, who raises calves on a large scale near Te Awamutu.

Mark Bocock enjoys rearing and working with calves.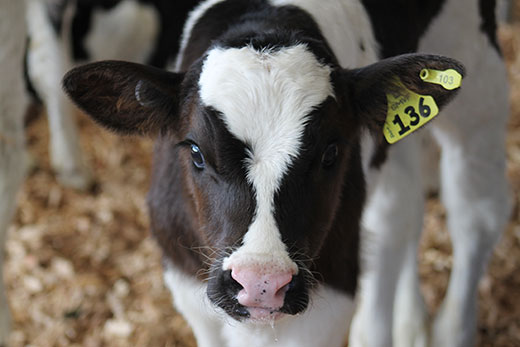 Mark says anyone considering commercial calf rearing should buy good quality calves and good quality feed.

"Don't take shortcuts, but at the same time don't spend too much. Ensure you have contracts, with deposits paid, or else at the other end you may find your calves are worth less than they've cost you."

Mark and Michelle have been raising calves for 20 years, steadily growing their operation, but it hasn't been easy.

"There have been good years and hard years," says Mark.

This year the Bocock farm will raise about 3000 calves, bringing in 80 calves daily, caring for them for 12 weeks. For Michelle, Mark and staff it's full on from July to December.

"I usually start around 5am or 5.30am. The staff come in around 6am and when things are running smoothly, we can be having morning tea by 9am, knowing every calf is fed and happy. However, there's still plenty to do after that."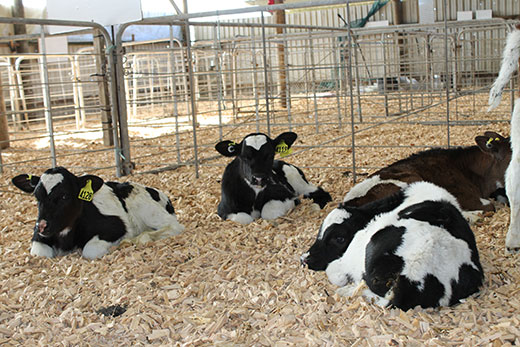 Newly-arrived calves are kept in small pens and closely monitored.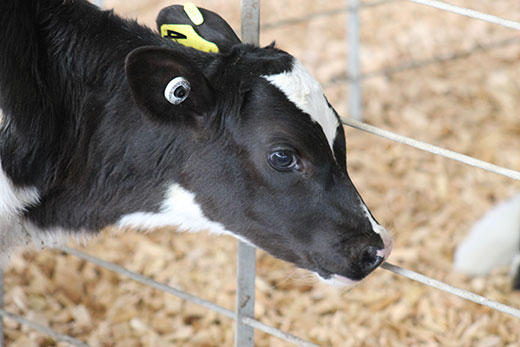 Fed Colostrum
Mark buys most of his calves from farmers he's dealt with for several seasons; and he's designed and built his own trailer to pick them up.

"I don't mind travelling to collect calves I know are going to do well – the ones who have been fed colostrum and cared for properly."

Calves are also bought through agents or from sales. And Mark has another tip on buying calves at sales: "If the big calf rearers are sitting on their hands and not bidding, it's probably a good idea for the smaller operators to do the same – or else they might end up paying too much".

"I've seen women who have worked hard all season rearing calves in tears at sales because their animals sell so cheap they've lost money. It's just not worth the risk unless you know you have guaranteed buyers for your animals."

Every calf on the Bocock farm has a NAIT identification tag, but also a unique 'Bocock' tag which identifies which farm they came from and when. "That way we can trace any problems back to the source."

Skilled staff
New calves are housed eight to a pen and cared for by staff skilled in their welfare.

"Women are the best calf rearers. They are more observant and patient than men," says Mark.

Each calf is monitored during the first few days and any problems, such as slow feeding, is identified and recorded on white boards above the pens.

Homeopathic remedies from Tineke Verkade, of Homeopathic Farm Support, are used to treat health issues among the calves – and Marks says they "work well".

"We use top end products to feed and care for our calves at all time."

When it comes to calf feeding no one carries buckets – all the milk is delivered by hoses.
Mark, who built the large covered sheds, has designed the milk reticulation system to increase efficiency and ease of operation.

Older calves
Milk, brought in from local farms, is heated by gas in an insulated vat and distributed throughout the complex.

For the newly-arrived calves, a hose is used to fill feeders in each pen.

Older calves are moved to central feeders, filled by overhead drums fitted with ballcocks to control the milk flow.

Mark has designed the pens and races so calves from each pen can be fed on rotation, thanks to the assistance of unpaid 'staff' – three huntaways Ziek, Ben and Suzie.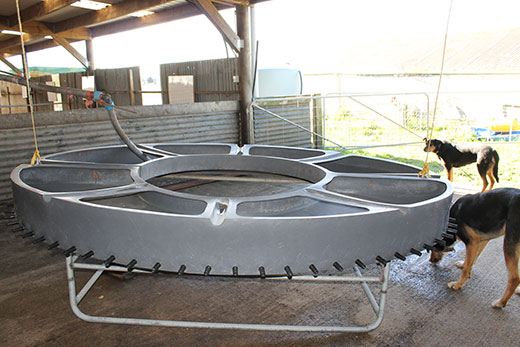 Large, central calf feeders are filled by overhead drums, fitted with ballcocks to control the milk flow.
Huntaways calf rearers too
"The dogs bring the calves up, and then take them back to their pen, sitting in front of the gate until someone comes to close it before the dogs go on to the next pen."

To say they're unpaid is not strictly correct. The dog team enjoys the 'fringe benefits' of spilled milk when they can.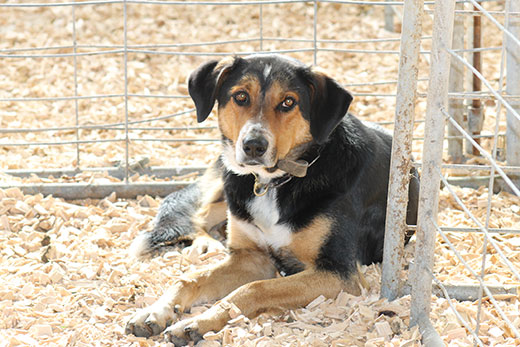 Huntaway dogs are part of the team which care for calves on the Bocock farm.

Every pen also has water, hay and supplements available on demand and a deep layer of kiln-dried wood chips line all pens.

"If you wouldn't be comfortable sitting down in your calf pen – then you shouldn't ask your calves to do the same," says Mark.

Keeping calves clean, warm, dry and comfortable is as important as keeping them well-fed – and Mark doesn't believe in cutting corners when it comes to supplements. Every load of supplement delivered to the farm is tested and Mark receives a report on its contents.

"Five or six years ago Beef and Lamb NZ and the Commerce Commission got involved in testing calf supplements and found the cheapest was in fact 40 per cent dearer in real terms because it had less available feed for animals."

As calves are weaned, they're moved to small one acre paddocks on the farm where they learn to graze before going on to finishing farms, or to join dairy herds as replacements.

After six months of hard work, the sheds are emptied of wood chips and left to dry out, and the success or otherwise of the season is reviewed.

"Throughout the season I think about the things which really annoy me – and staff tell me what annoys them – and where we can we try to find better ways of doing things," says Mark.

It's attention to detail, hard work, and willingness to change and evolve, which has seen the Bocock calf rearing operation succeed.

More than that it's the fact Michelle and Mark like what they do.

They like seeing the calves grow and do well under their care and enjoy interacting with them too.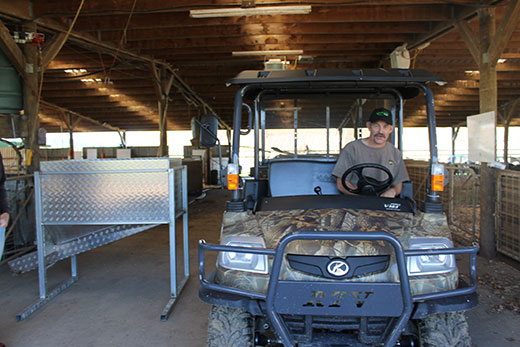 Mark Bocock has built a delivery shoot for calf feed (on left), which will fit on the back of this RTV.