Ozone gas is a powerful new tool in the fight against the kiwifruit vine disease Psa-V believes Allan Dawson, managing director of Aongatete.

"It's not a cure for Psa but it is a powerful tool in controlling it and also appears to improve plant health too," says Allan.

Roger Cherry of Biofume and Allan Dawson of Aongetete Coolstores in the Hort16A orchard on which ozone treatment for Psa-V will be trialled for another season.

With the help of Roger Cherry and Jaspon Costello of Mount Maunganui company Biofume, Allan trialled the use of the gas on a two-hectare Psa-infected Hort16A orchard from just after bud break through to harvest. The results, Allan says, are impressive.

"We had used some copper on the orchard previously but within a month of applying the ozone, relative to the previous season, the leaves looked magnificent – it was like chalk and cheese."

The orchard went on to produce more than 13,000 trays per hectare with an average size of 29 and a TZG (taste measure) of 0.8.

That was to have been the last season for the vines, which were due to be cut out and re-grafted with the new gold G3 (Sungold).

However, the results apparently achieved by using ozone are so impressive Zespri and Kiwifruit Vine Health have agreed to underwrite the orchard for another season, continuing the trial to see if those results can be replicated.

"The orchard was tending to be sick, but probably not overly so, but we have cut out quite a lot of Psa-infected material," says Allan, who is happy to continue the trial in the hope it will provide evidence to support the wider use of ozone in the industry.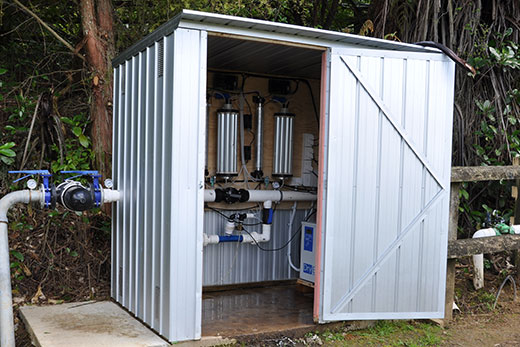 The ozone generating equipment is housed in a small shed on the orchard.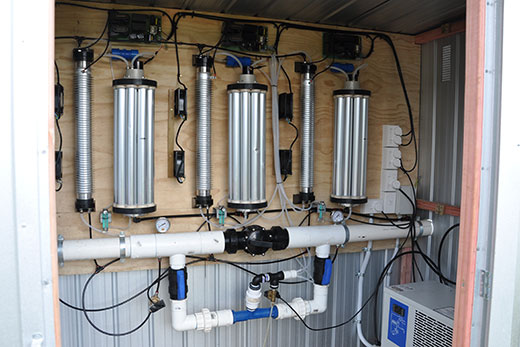 Insect control
"At $10,000 to $15,000 per hectare, including set-up costs, it's a relatively cheap Psa control – and especially when compared with a canopy cover at a cost of up to $200,000 per hectare, it's not bad," says Allan, who sees other benefits from the use of the gas.

"It appears to control insect pests and it leaves no residues, which is so important when you are growing and exporting fruit."

Roger Cherry of Biofume says setting up a system which would deliver ozone to plants in an open orchard posed a challenge for the three-year-old company.

Ozone is a gas which can't be stored and must be created on-site.

The company designs and produces ozone generators for use in coolstores – including at Aongatete – in place of ethylene scrubbers to control fungus and mould growth on fruit.

It is also trialling the use of the gas sprayed on carcasses in meat works to control bacteria. Ozone is also used in glass houses to control pests and diseases, to control bacteria in bottled water, in meat and fish processing plants, as well as in domestic homes and rest homes to purify air.

However, as far as Roger knows, Allan's is the first kiwifruit orchard to have ozone delivered into an open-air environment.

Adding ozone to water appeared to be the best form of delivery, so the Biofume team designed and produced a prototype system to add ozone to water sprayed on the vines by the existing irrigation system.

Breaks down
Although it can be tasted and measured in the water, and smelt in the orchard, ozone is delivered at a rate of just two millilitres per 2000 litres of water and has a half-life of about 20 minutes, after which it breaks down into oxygen.

Ozone is an inorganic molecule with three oxygen molecules joined together. Because it breaks down so quickly, its use in orchards or industrial situations won't, says Roger, do anything to enhance the earth's ozone layer, under threat from carbon emissions.

On Allan's orchard, the ozonised water was applied for 10 to 30 minutes every three-four days day when the leaves were small and this increased to about one hour daily as the canopy developed. It is also used after weather events such as cold, wet conditions which favour Psa.

Allan also applied copper before bud break and one chelated copper spray after bud break along with Actiguard. He's used a standard copper and Actigard programme after picking in late-autumn and into winter.

However, Allan says he has concerns about the impacts on plants and soil of prolonged use of copper, and will be pleased if ozone can reduce the number of applications.

"Ozone is not the total answer to Psa control and we will still need to use other tools, including copper."

Plant health
As well as controlling the Psa bacteria, Allan believes ozone is having an impact on plant health; though even with his science background, he's not sure why.

"It could be that it is stimulating or eliciting a response in the plant which is helping it protect itself from disease, or it could be that the elimination or control of disease is allowing the plant to more fully express itself. I haven't got the answer but it does appear to have a positive effect on vine health."

Roger agrees plant growth appears to be stimulated, but he too is not sure why. "It could be the reduction of attack by disease and insects is a factor."

Ozone doesn't kill insects, but Roger says when sprayed into an orchard, it creates an environment they don't find friendly.

Ozone sounds almost too good to be true – are there any downsides? "So far we haven't found any, but we're keeping an open mind," says Roger.