Bobby and Jade Millner have landed their 'dream' farming job, and they credit winning the 2016 Waikato Share Farmers of the Year title with helping them secure it.
"We can't speak highly enough of what the awards have meant for us," says Jade, who with Bobby is co-ordinating the 2017 Waikato awards.
Bobby and Jade Millner credit the Dairy Industry Awards in
finding them their dream job.
"Next year we take up a new role on a 540-cow farm at Orini, which is just the number of cows we were hoping for. It's a lovely flat farm operating a similar system to the one we are currently on and we are again going to be working with progressive, passionate farm owners."
The couple were approached about the position after they won the 2016 award. It was their aim to operate a sustainable, profitable and compliant dairy farm business that benefits all parties that most impressed the judges – and no doubt their new employer.
"One of our strengths is our focus on low-cost pasture first, as well as operating a sustainable and profitable business."
The couple, aged 28 and 27, is currently 50 per cent sharemilking 265 cows for Jim and Judy Barrett at Morrinsville.
"Our strengths complement each other well and we take charge of our own areas while still consulting one another."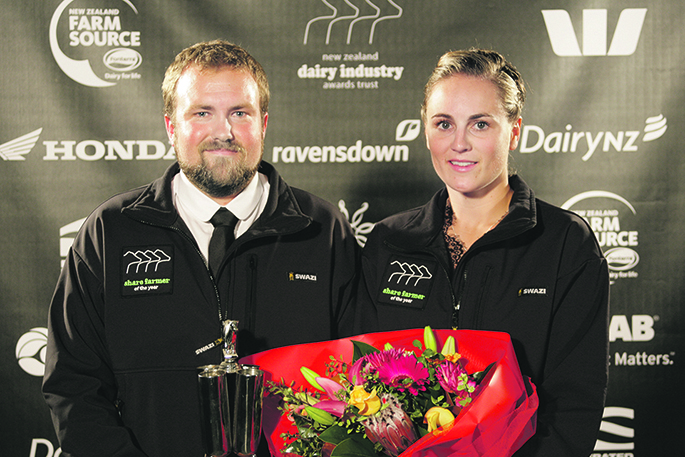 Proud moment - Bobby and Jade Millner the night they won the 2016 Waikato Share Farmer title.
Bobby takes charge of livestock, farm environment, dairy hygiene, and health and safety while Jade – who is completing a Bachelor of Business majoring in accounting – is responsible for pasture, financials, human resources and calf-rearing.
Last year was the first time they'd entered the awards, doing so to raise their profile, create a point of difference and gain feedback on how they can improve their systems and business.
Their goal was to progress to a larger sharemilking position. "We want to build enough equity to allow us to be in the position to enter into an equity partnership or land ownership within 10 years."
Jade and Bobby have found this year's co-ordinator roles for the Waikato awards challenging but enjoyable.
"We had no previous experience of being on committees and it was a little overwhelming at first but we have such a great committee in the Waikato and everyone does their job really well.
"We have 51 contestants across the three categories this year, which is great."
Jade says as well as the experience of competing in and winning the regional title, attending the national awards in Wellington was a highlight and an opportunity to meet not only other motivated farmers, but also industry leaders.
"The great thing about the whole awards is everyone is so positive about dairying. You don't hear any negativity. Most people seem to share our view that you concentrate on what you can control and don't overly worry about the things like the weather and the payout, which you can't."
The Waikato Regional Awards Dinner is on March 10 at Mystery Creek Hamilton with the winners' field day on March 23. The National Awards dinner is on May 6 at Sky City Convention Centre in Auckland.