"Pack-up," Lauryn Robertson calls – and 17 'couple' of harrier hounds respond by obediently trotting to form up behind him.

Waikato Hunt huntsman Lauryn Robertson with his horse and 17 couple of harrier hounds.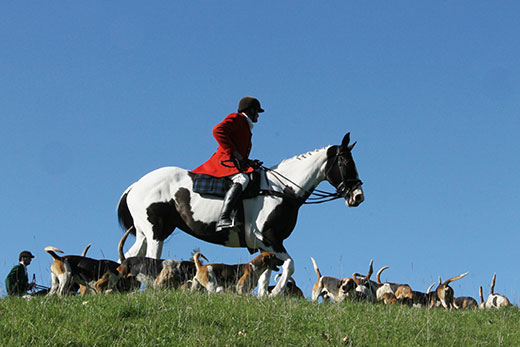 Waikato Hunt Huntsman Lauryn Robertson and the hounds lead to field for a day's hunting across farmland.

Each of the 34 hounds runs free, but every one is under his voice control and Lauryn knows each by name. "Rachel, Spot, Latte," he calls. Latte?

"That's right. We name each year's litter for a different letter of the alphabet and I had a young woman from Auckland working for me who named one of the pups Latte," Lauryn laughs.

It takes months of training to have the Waikato Hunt hounds ready to work but Lauryn reckons for him it's the perfect job.

"I left school at 14 and went shepherding, working with dogs, and later mustering in the South Island with horses and dogs.

"Now I still get to do both, and ride over beautiful countryside too."

For the last 24 years he's been a Huntsman, and 16 of those years for the Waikato Hunt.

It's Lauryn's role to breed, train and care for the welfare of the hounds and on this occasion he has 17 couple (34 hounds) ready to hunt.

"All hunting traditions go back to England, and hounds used to be 'coupled' together by a leash, two hounds at a time, when being walked to a hunt," says Lauryn.

Music
There are other traditions associated with the hounds – including the fact they are not referred to as 'dogs' but as 'hounds' – that they 'speak' or 'give tongue' not 'bark', and that their combined voices are referred to as 'music'. Even more important is the 'etiquette' Lauryn schools them in. "They are taught very early on that livestock, including sheep and cattle and chickens, are not to be touched.

"I often graze sheep in their exercise paddock and have chickens around their kennels. A well trained dog will completely ignore them."

That's essential if the hounds are to hunt with horses over farmland, near paddocks of livestock.

It's the older hounds who are the best teachers and Lauryn relies on them to show the pups what to do.

He also exercises the hounds on farmland, either by walking or riding with them.

"I start getting them ready for hunt season in about December. They have to be fit because they can travel 40 to 45 kilometres on a hunt and we hunt two to three times a week in the season."

Active
The New Zealand Hunt Association describes the ideal Harrier Hound as: "an active, well-balanced, well-muscled and good boned hound, full of strength and quality. Fearless, though of a kindly nature in or out of the pack".
"When being shown, hounds should exhibit presence and quality. Dog hounds should show masculinity and bitches be feminine – and all should show presence."
Lauryn looks for all these qualities and more in the hounds which make up the Waikato Hunt pack, including a good 'nose'.

"They are trained to follow a scent trail and when they find one, will stick to it tirelessly."
Before the hunt begins, the hounds mill around, tails erect, noses in action, eagerly awaiting the command from Lauryn.

Then they are off, leading the field with Master of the Hunt, Grant McGregor, and Lauryn. Close by are two 'Whippers-in' who assist Lauryn to control the hounds. It's Grant's role to keep the field in touch with the hounds, ensure that Lauryn has room to work the hounds, and that the field does not over run them.

Grant is also responsible for the field's care of the property and that there are no areas of concern raised by the landowner.

It's a colourful scene as hounds, horses and riders head up the steep hillside – one which wouldn't be out of place 100 or more years ago.