Yardmaster pumps from Reid and Harrison of Matamata can now be remotely operated via the HALO technology.
Reid & Harrison, the Matamata company renowned for the design and production of heavy duty, reliable Yardmaster pumps, has joined forces with the innovative IT company Tag I.T Technologies to provide farmers with a state-of-the-art system to monitor farm effluent from pond storage to irrigation from almost anywhere in the world.
The two companies launched Yardmaster HALO at the Fieldays, after extensive trials which Keith Cooke of Reid & Harrison says proved the efficiency and value of the system.
This is the first time Reid & Harrison has combined with an IT company and it's a partnership which is working really well, says Keith.
"Not only do we share a common focus on our customers but we are also combining our individual strengths to deliver an even better service for farmers."
Through the secure HALO dashboard, which is accessible from any web-enabled device anywhere in the world, farmers can access real-time information on effluent pond storage and the operation and position of irrigators on their property.
Information provided
"Using the dashboard, farmers can remotely start up or shut down effluent pumps and irrigators, based on the information the system provides including pond levels, soil moisture levels and weather conditions."
The same system can also monitor milk vat storage, primary cooler efficiency, water usage, tank storage, silo levels, weather stations and much more.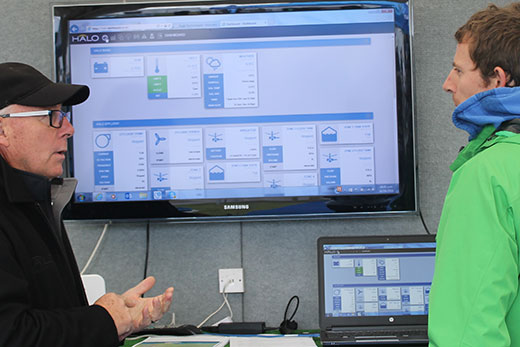 Tag I.T Technologies technical development manager Russell Gibbs explains how the HALO system works to a farmer on the Yardmaster site at Fieldays.
Keith says farmers who saw the Yardmaster HALO at Fieldays were impressed by the system, which gives not only increased control over effluent storage and irrigation but also stores vital data for future reference.
"Farmers liked the fact they can access information and have control over so many aspects of their farm operation from one dashboard without the need of several different systems."
The Yardmaster HALOSUPERSMART Monitoring and Control platform can be tailored to match the requirements of each farm and farmers can choose from a range of additional options.
Controlled rate
The system enables the application of effluent at a controlled rate and will adjust motor speed to the required effluent disposal rate.
It will monitor flow with an auto shut-off when interrupted or compromised, and text alerts when the system stops. Pump run feedback with remote start-stop is provided as is pond level management, including freeboard alerts. The system has the ability to manage up to six zones remotely.
As compliance requirements develop the Supersmart technology, which has unlimited cloud-based storage, means all of a farm's effluent data is ready to be shared directly with regional councils if needed.
Tag I.T began work on HALO product development in 2001 and have more than 180 systems live on farms throughout New Zealand, helping farmers, both sole operators and multi-unit businesses, to run more efficient operations.