A Bay of Plenty bred bull has been named sire of the season by the Jersey New Zealand breed society.
South Land Jericho which won the JT Thwaites Sire of the Season award, was bred by Mark and Megan Heslop, who have recently relocated to Cambridge from the Bay of Plenty.
South Land Jericho has won the Jersey New Zealand JT Thwaites Sire of the Season.
Jericho, one of LIC's artificial breeding bulls and is currently the sixth ranked Jersey bull, with 253 breeding worth.
Another bull, San Ray FM Beamer has received the Holstein-Friesian New Zealand's Mahoe Trophy. He was bred by Ray and Sandra Hocking (Takaka) with Stewart and Kathryn Anderson (Otorohanga) and is the number one ranked bull across all breeds with 328BW.
LIC bull acquisition manager, Malcolm Ellis, said it is an honour for the co-op's sires to be recognised by the societies again, after LIC sires took out both awards last year also.
"It's fantastic that two of our top sires have been recognised with these prestigious awards and I know the breeders are equally as pleased.
"These awards acknowledge the enormous contribution that the sires are making to New Zealand's dairy industry and they also recognise the expertise to breed these elite animals for LIC and our farmers."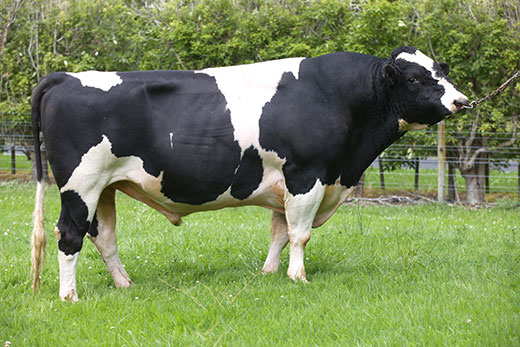 San Ray FM Beamer has received the Holstein-Friesian New Zealand's Mahoe Trophy.
The bulls are already proving popular with farmers for this coming mating season, Malcolm says, both sitting high on the industry's Ranking of Active Sires list for their breeds.
Both bulls are expected to form part of the co-op's Premier Sires teams for 2015, to be confirmed next month. Jericho is also available through the Alpha Nominated frozen service while Beamer has already sold out.
Beamer is a second generation winner of the Mahoe Trophy after his sire, Fairmont Mint Edition, took out the title in 2009.
Last year's winners of the breed society awards were LIC sires Willand SIA Duetto (JT Thwaites Sire of the Season) and Hazael Dauntless Freedom (Mahoe Trophy).