What do you get when you bring together the skills of an analytical chemist, a florist, a farmer and a marketing graduate? Strangely enough the answer is an award winning horticultural enterprise.

Emily Meese, Talbert de Jong and his parents Tineke and Frans of Southern Belle Orchards are the winners of the supreme award in the 2015 Waikato Ballance Farm Environment Awards.

Southern Belle Orchard near Hinuera, the winner of the supreme award in the 2015 Waikato Ballance Farm Environment Awards, is owned by Frans and Tineke de Jong (the chemist and florist), their son Talbert de Jong (farmer) and his partner Emily Meese, (marketing expert). Not one of the four has any orcharding background, and 12 years ago no one in the de Jong family had heard of feijoas.

"It appears," says Frans, "that all these diverse skills work pretty well together."

Frans and Tineke bought Southern Belle Orchard in 2003 after a holiday in New Zealand. "I was partner in a laboratory in Holland and while on holiday received so few phone calls from work that I realised the laboratory was running smooth and didn't need me anymore and it was time for a new challenge."

Their children Talbert and Simone made the move to New Zealand too. Talbert, who had been dairy farming in Holland, went on to run a home maintenance franchise and maintenance for Auckland's city theatres. Simone gained a university degree and is now working in tourism and marketing. It was through Simone that Talbert met Emily who studied marketing at Waikato University.

Talbert moved with Emily to Auckland, where Emily spent 10 years in marketing for not-for-profit organisations.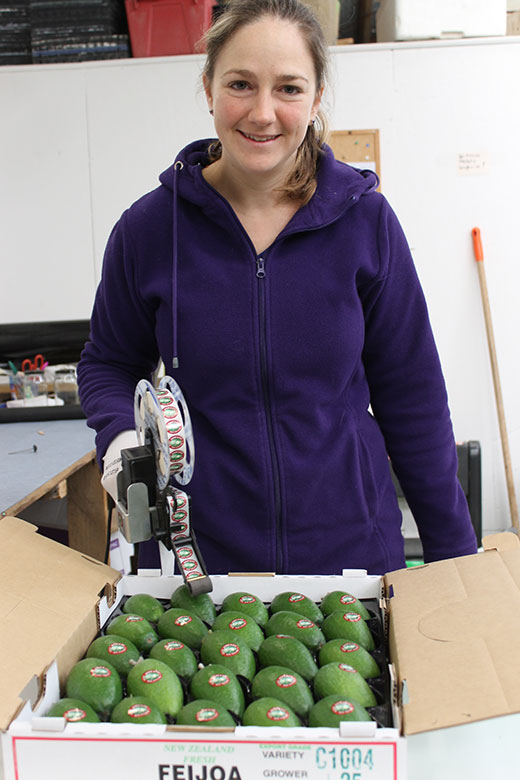 Emily Meese hand-labels Southern Belle feijoas, ready for airfreighting to Australia, US and Asia.

Succession plan
In 2013 Emily and Talbert joined Tineke and Frans in the orchard business, and a 10-year succession plan was put in place.

When Frans and Tineke bought Southern Belle it was growing feijoas, persimmons, nashi and blueberries as well as a wide range of glasshouse and outdoor vegetables.

"The mix was too great and we decided to concentrate on a smaller range of products."

Today the orchard grows feijoas on 3.5ha of orchard, mainly for export. A range of capsicum varieties, plus a small number of cucumber and chillies grown in 3000 sq m of greenhouses are sold through farmers markets in Tauranga and Hamilton as well as on the local retail market.

The existing feijoa trees are being replaced with new varieties, grown on an espalier system which is proving ideal for pollination, fruit size, ripening, harvesting, and canopy control.

This year they will harvest around 20 tonnes, mostly for export, but as the young trees come into production the orchard should produce up to 60 tonnes.

During feijoa picking and pruning season, from March until July, up to 20 staff are employed. Among them is Kim Nordstrom, who has worked on the orchard for 10 years, and it's a job she really enjoys. "I just love the smell of feijoas – the packhouse smells like candyfloss to me."

Picking, quality checking, packing and labelling feijoas is labour-intensive. The freshly picked fruit is deposited onto a small conveyor, leading to an electronic grading machine.

Each fruit is individually checked, with a blast of air used to clean the calyx of any tiny insects before the fruit is placed into trays lined in black.
"The plix liners used to be green but that did nothing to enhance the appearance of the green feijoas," says Tineke.

Labelling is also done by hand. The cartons are then ready for transport to Auckland and airfreight to Australia, US and Asia.

"It's expensive to airfreight but feijoas don't have a very long shelf life. It would be excellent if the research done so far on extending shelf life would have given us an extra month. Till now anything that works for other fruit is not working on feijoas. There is a lot more to be done in this field, but as a small industry we don't have the resources to fund that at present," says Frans.

Marketing and promotion is another issue for the industry which Frans believes needs more cohesion. "We won't get a Zespri marketing model but we could learn a lot from the avocado industry."

Arlene Singgo has been picking and packing feijoas at Southern Belle Orchard for four months.

Avocado lessons
Three seasons ago, after producing a record crop, avocado growers' incomes took a tumble when prices fell in an over-supplied Australian market. Since then there has been rationalisation of exporter numbers, an alliance between the two biggest companies, and increased co-operation between them all, which saw good returns this season, despite the biggest export crop yet. "We have to watch that the feijoa industry is not making the same mistakes and we can get our heads together as well," says Frans.

Healthy planting
Southern Belle is not an organic orchard but very few sprays are applied and there's a strong focus on soil and plant health.

"Our philosophy is simple – a plant stays healthy and productive if it is looked after and fed well in a natural way, giving it all the nutrients and micro elements nature provides. We do regular soil, leaf and nutrient tests, to be able to keep a good balance."

Australian plant and animal nutritionist Peter Norwood of Full Circle Nutrition is consulted for advice on what the trees need to be healthy. His recommendations have included the application of 500 kg of iron sulphate per hectare.

Compost is also made on the orchard, incorporating prunings from the greenhouse. When the growing season is finished, the water from the hydroponic system is irrigated onto the orchard, ensuring the water, and the nutrients it contains, is not wasted.

The orchard 'employs' a flock of unpaid residents to keep insects under control – starlings and mynahs who live in the 200 bird boxes dotted around the feijoa trees.

The philosophy of working with nature is also used in the greenhouses where plant health is maintained by ensuring the hydroponically grown plants have the right mix of nutrients delivered to their roots.

They are kept warm thanks to a system Frans designed which uses recycled oil to heat air circulated through a ducting system directly to the plant roots, and then dispersed upwards through the leaves. The system has reduced fuel consumption and cost by 40 per cent.

The potato physilid and thrips insects are among the biggest threats to the greenhouse crops grown at Southern Belle.

But rather than use sprays a New Zealand native predatory mite (Ambleidromalus Limonicus) with the trade name Limonica, supplied by Zonda Resources and Koppert Biological Systems, is introduced to the greenhouses.

"The mite can survive on pollen from the capsicums until there's enough 'meat' for them to eat in the form of physilid and thrips," says Frans.

Being prepared to try new approaches like this is one of the attributes which won praise from the environmental award judges. 'Keen interest and curiosity for analysis and experimentation has been translated into the business with much success,' was among their comments.

The judges described Southern Belle Orchard's owners as industry leaders who are 'paving the way and setting examples to follow'. Judges also noted the 'impressive analysis of production and forecasts, which prompts management to avert risk and drive efficiencies and productivity'.

Winners in the 2015 Waikato Ballance Farm Environment Awards were:
Supreme Award, Hill Laboratories Harvest Award, Massey University Innovation Award, WaterForce Integrated Management Award and Ballance Agri-Nutrients Soil Management Award: Frans and Tineke de Jong, Talbert de Jong and Emily Meese, Southern Belle Orchard, Matamata.

LIC Dairy Farm Award, Waikato Regional Council Water Protection Award: John Hayward and Susan O'Regan, Judge Valley Dairies Limited, Te Awamutu.

Donaghys Farm Stewardship Award: Anita and Hans Nelis, Tirau.

PGG Wrightson Land and Life Award, Waikato River Authority Catchment Improvement Award: Peter and Judi Buckley and Stuart and Lichelle Morgan, Loch Carron, Te Kauwhata.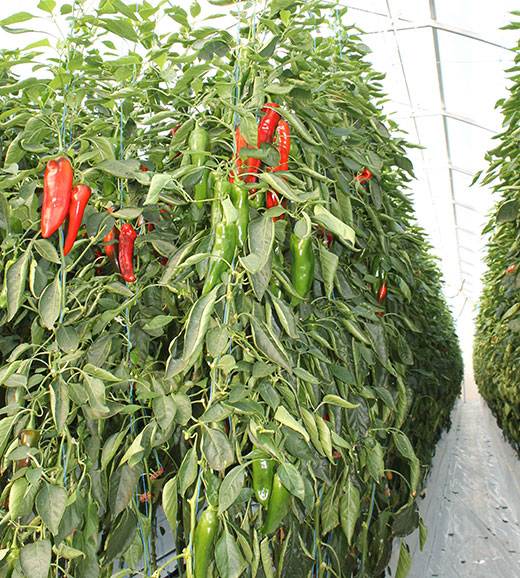 The hydroponically grown capsicums have the right mix of nutrients delivered to their roots.