A few years ago people thought of Morrinsville as a 'cow town'.

It had a Fonterra plant, stockyards, lots of tractors and rural supplies stores, vets, and even a rendering plant to cope with those that didn't make the grade.

Geoffrey Moober, painted by Carla Prouting, is sponsored by Maber Motors.

Art? That happened elsewhere, surely? But the owner of that rendering plant also happened to have the largest New Zealand art collection in the country – and, he wanted to show his hometown some of it.

Slowly, agonisingly so at times, the Morrinsville Art Gallery, part of which shows changing exhibitions of that art, came into being. With two more galleries showing off local and wider exhibitions, Morrinsville and the wider Waikato began to appreciate just how much 'art' was around there.

Then someone had a bright idea. Let's not just be a 'cow town' but make something of it, and 'The Cream of the Country' was happily accepted as a local descriptor.

Then others, who had probably travelled overseas, thought decorating the town with full-sized painted cows would make the point even better. So 'Herd of Cows?' was born.

With initial magnificent sponsorship from farm accountants Cooper Aitken, and the clever modelling skills of Matcraft Marine of Hamilton, which turned their attention from boats to cows at the rate of two or three a week, the herd was born.

Cow sponsors
More local businesses got behind the idea and became cow sponsors, and the art community flocked in droves to get chosen to actually paint them. Resene supplied paint in a myriad of colours, and the final gloss finish was sprayed by a local panelbeater, so they wouldn't be covered in graffiti.

As they were completed they climbed in the back door of the gallery, until the first herd of 15 were crowded there out of sight. And recently an enormous group of invited people –sponsors, artists, gallery supporters and local councillors, plus farming media – gathered at the gallery to see what had been achieved.

The cows were hidden in the Wallace Gallery, doors firmly shut, while the noise created by more than 150 people meeting in the foyer and other galleries, champagne glasses in hand, grew ever louder.
When the doors finally opened and they streamed in, there were 15 shrouded creatures, wearing large loose coverings.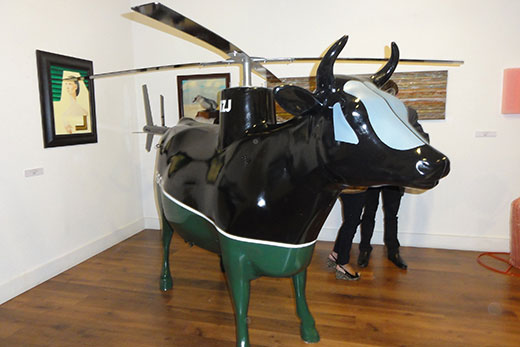 Rising to the Challenge, painted by P J Paterson, is sponsored by Greenlea Meats. (Note the rotor on top).

Cows revealed
First there were speeches and then, one by one, the 'art' was revealed, with a sponsor representative and the relevant artist providing the multiple stories behind the different forms of decoration.

Some sponsors had ideas, some just gave carte blanche to the artist, but in every case the result was world class, drawing applause and gasps of amazement from the throng.

Some examples were an electric cow, another with a rotor on top, a concrete truck cow which stood in painted wet concrete, a pharmacy cow, a striped cow, one showing all the opportunities for fun Morrinsville offers, a Kiwiana cow, a cow covered in triangles, another showing all aspects of Kiwi farming including a topdressing plane, and one which showed on one side what happened when disaster struck and how it helped to have insurance on the other.

A cubist cow, modelled on Picasso's ideas, also has a secret. If one crawls underneath, her tum has a wonderful owl hidden away.

Each of these wonders have now been hidden again by their sponsors, while they await the pouring of their 300kg concrete plinths, which will be sited in prearranged spots throughout the town, and the cows will be bolted to them. All should be revealed in early May.

In the meantime another 15 have been sponsored, created and await the next eager bunch of artists. Their launch is planned for July/August.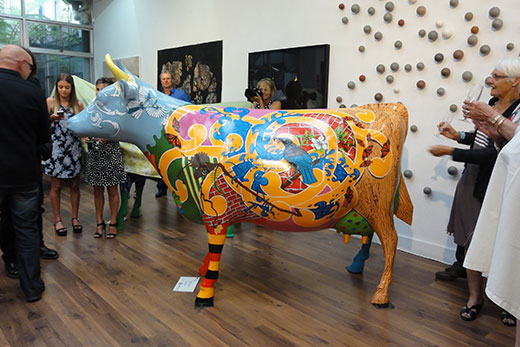 Kiwiana, painted by Aaron Smith, is sponsored by Evonik.

Cow makers
Before the unveiling I noticed two guys who didn't seem part of the Morrinsville crowd. They turned out to be the cow makers, and when they saw what had been achieved, their grins were definitely from ear to ear. And I'm happy to report the cows themselves are definitely Body Condition Score 5 – just perfect.

When the Morrinsville herd is complete, from overseas experience, it will bring visitors to the town in droves.

Google reckons the 'herds' in other cities around the world have been seen by half a billion people. The Morrinsville cafes had better get cracking on the scones and coffee ASAP.