Horticulture is an industry where demand for skilled employees is expected to grow during New Zealand's recovery from the impacts of Covid-19. This will mean more businesses requiring more people in management and technical roles to lead their teams.
Fruition Horticulture have a long tradition of offering education and training for people seeking to advance their career in horticulture. The Fruition Diploma in Horticulture Production is a Level 6 NZQA-accredited course available in person in for those in the Bay of Plenty and online, nationwide through Fruition Horticulture. The Fruition Diploma is designed to support your career advancement providing the opportunity for learners to earn as you learn.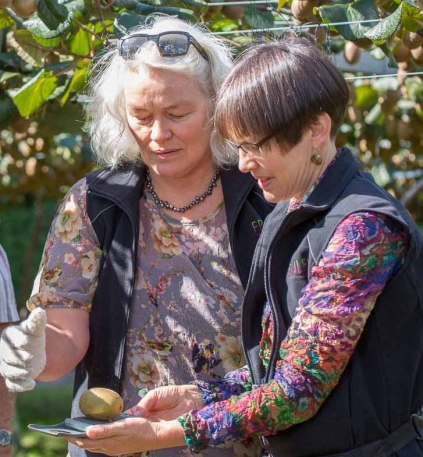 "Without the online option I would have not been able to study this Level 6 course especially with restrictions due to Covid-19. With the online option I can learn from lecturers, interact and share information with them and co-learners and access to videos if I missed some information. This is such a progress in the way we are learning. We do have great IT support as well, making this learning material easily accessible to anyone," says a current Fruition Diploma student.
While researching technology-enabled learning, Miranda Donovan of Scarlatti spoke to our learners to gain insights into the way in which they were able to access the programme. She was very complimentary following these discussions.
"And it sounds like we'll be holding up Fruition as the gold standard for tech-enabled learning.
"Such glowing reviews." Miranda says.
The Fruition Diploma is designed to develop the skills and knowledge of those employed within horticulture production, enabling them to contribute at an advanced technical or managerial level. It focuses on the specialist requirements for 'process improvement' for the purpose of meeting domestic and international market requirements and emerging opportunities for horticultural products. Learners who successfully complete the programme will be awarded the New Zealand Diploma in Horticulture Production (Level 6).
"It's gratifying to see people who have gone through our programmes, now in senior management positions within the industry," says Fruition Horticulture director Ruth Underwood.
"One of the pillars of our business, and something we are very passionate about, is the need to support the ongoing professional development of people within the horticultural industry and we do that, and have done so for many years, by offering quality training to those entering or already working in the industry," says Fruition Horticulture manging director Sandy Scarrow.
The industry's demand for innovative solutions means the course will also develop students' ability to assess the merit of products, processes or technologies so they can be introduced to a horticultural workplace. The programme will enable graduates to make informed strategic business decisions and the industry will benefit by having experienced technical specialists with the skills to optimise workplace efficiency and lift the competitive edge of their organisations.
"Fruition Horticulture is gratified at the number of learners who have put their trust in us by engaging in the inaugrual year of delivery. It can only get bigger and better from here," says Sandy.
For more information on the programme, and other training opportunities, visit: www.fruition.ac.nz or call our office on: 07 928 5350.