Rural Women New Zealand
Alex Eagles-Tully
Teacher trainee Joanne Siebert believes people living in rural areas of Aotearoa deserve an education equal to those living in our cities and so does Rural Women New Zealand.
One of the ways RWNZ supports this is by offering a range of bursaries and grants to help rural women and children with their education.
Joanne, who lives on the edge of National Park, was a recipient of this year's Region 5 Norma Evans Education Award, for rural women living in the Bay of Plenty, Coromandel, East Cape/Gisborne and Central Plateau areas.
The newly appointed teacher aid at a low decile primary school in Taumarunui is a shining example of what can be achieved with a bit of a helping hand.
The 40 year old is in her first year of a Bachelor of Education through distance learning with the University of Waikato and was delighted to get an A+ amongst her first results.
The mum of four gets up at 4am to study for four hours while her husband gets their four children ready for school before she goes to work herself.
Joanne says that the Norma Evans legacy is inspiring and she and her family are hugely grateful to RWNZ for the support which has reduced their financial stress.
Grants galore
RWNZ also offer four different bursaries to financially support students living rurally to board at a secondary school facility for up to four years.
The Florence Polson Secondary School Boarding Bursary of $1000 is available to help pay boarding school fees in Year 12 or 13.
The Nellie Schroder Boarding School Bursary and Year 12 and 13 Boarding Bursary involve a payment of $900 to Year 12 or 13 students.
The Secondary School Boarding Bursary offers a grant of up to $900, payable for a maximum of four years, to Year nine or 10 students required to live away from home in order to attend secondary school.
Applications for all of these grants close on September 30, 2021.
The Audrey Reid Grant is available for rural women over the age of 25 years. RWNZ offer the opportunity for women to extend their education or training focusing on subjects that will benefit rural communities, for example, rural midwifery or agriculture/horticulture. The grant is for $600 and this year applications close on October 30.
More opportunities
RWNZ have other grants available with closing dates starting in February 2022. These include the RWNZ Education Fund, Tertiary Bursary, and Textbook Grant for Tertiary Students.
The Agricultural Tertiary Bursary is specifically for applicants studying agricultural subjects. And The Miss Harris Nursing Bursary was created to assist rural nurses undertaking further study in this field. The Vibrac-RWNZ Animal Health Graduate Grant aims to support recently graduated vets or veterinary nurses seeking to work in rural areas.
For more information and the online application forms you can visit www.ruralwomennz.nz and go to the 'Our Funds and Grants' section.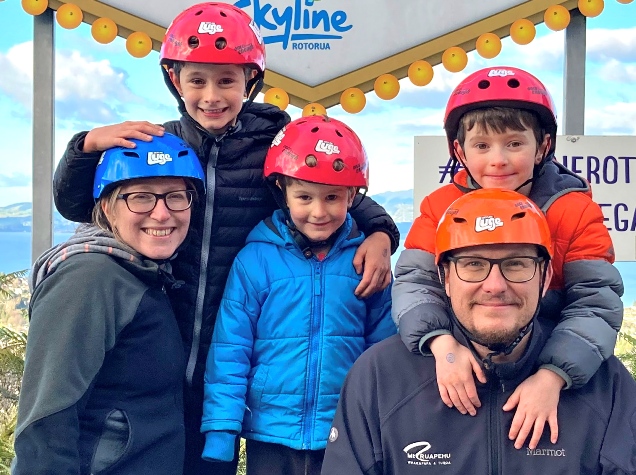 Joanne Siebert (left) says that a RWNZ education grant has made life for her and her family so much less stressful financially as she undertakes a Bachelor of Education.