Auckland Airport's fuel crisis was pretty dire and according to Sharron Ruitermann of Bombay the stretch limousine which featured as the Country Funnies picture in last month's Coast & Country News may have been able to help.
"Well that's one way of delivering much needed fuel to the airport," or "I'll just deliver this load of gas to the Auckland Airport then I'll be back for the ball," were the suggestions for captions from Sharon. Jim Ruiterman's caption was "Jerry can get 5km per litre out of this gas guzzler."
Beverly Hurst of Mount Maunganui wrote "I think we will fit this suitcase in at a stretch."
"You did say a return trip?" came from Lee and Bill Newman of Gisborne.
For her captions; "Stretching out the fuel;" "Petrol is no luxury" and "Long White with short red," Judy Norris of Tauranga wins a copy of the book 'The Chalk Rainbow' written by Deborah Kelly, illustrated by Gwynneth Jones and published by Exisle.
Whale rescue

There are seven very good reasons why people should never leap into the water to save an entangled whale and all are explained in the engaging and inspiring book 'Little Truff and the Whales' by Ann Russell, illustrated by Lara Frizzel, which is this month's book prize.
The first reason is the presence of sharks looking for a banquet. A human being would make a nice snack. To find out the other six you'll have to read the book.
This latest in the Little Tuff series is endorsed by the Department of Conservation for its accurate portrayal of how whales should be rescued if they become entangled in a fishing net.
The author is well-known for her series of books featuring the Blenheim Cavalier dog called Little Truff and her adventures involving New Zealand's land and sea creatures.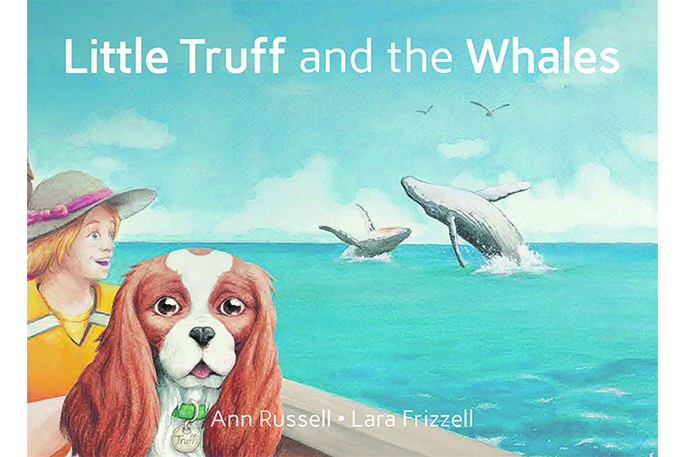 Little Truff and the Whales by Ann Russell, illustrated by Lara Frizzell, is the Country Funnies book prize for October.
Day on the ocean

This story begins with Little Truff and her family enjoying a day on the ocean, when they see a humpback whale caught up in a net.
To ensure all details in the book are correct, Ann worked very closely with the Department of Conservation's New Zealand Large Whale Disentanglement Team, and Project Jonah who assist DOC to rescue stranded whales.
The back of her book features information pages and videos showing these organisations in action and includes whale song. The material reflects the standards set by the International Whaling Commission.
Thanks to South Pacific Books, Coast & Country News has a copy of 'Little Truff and the Whales' to give away. To be in to win email captions (as many as you like) for the photo below and send with your name and address with Country Funnies as the subject line to elaine@thesun.co.nz Or put these details on the back of an envelope and post to Country Funnies, PO Box 240, Tauranga 3140 to arrive no later than October 19.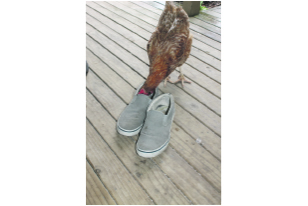 Caption this chicken photo to be in to win a book prize.