Land previously considered too steep for avocado trees may now come into production, thanks to the cropping abilities of All Terrain Platforms machines.

The ATP harvesting machines are easy to transport.

"Because our ATP machines are extending the boundaries for cropping, some orchardists are talking of planting more trees on what was previously thought too steep terrain," says Don Rust of Mural Town Engineering, an owner and designer of the ATP.

"At 25 degrees slope capability, with a big outreach, there is not much that an ATP cannot access."

The Katikati company has sold several machines to Australian clients including one who admits to being afraid of heights, but says he enjoys working from the ATP. After two weeks operating the machine he was picking more than 3000kg of avocados a day in his orchard, which has a slope of 12-16 degrees. "ATPs are head and shoulders better than any other machine," says the grower.

He had tried other types of machines, but sent them packing when they were breaking bottom branches and damaging trees' root systems. ATPs don't need to drive into the trees to harvest fruit.

"More and more of our customers are saying ATPs are the new generation of elevated platform for difficult terrain," says Don.

"Harvesting fruit not previously accessible becomes very important when the value of each fruit is high, such as in a low crop volume year, or when outside markets see a good value in New Zealand fruit because of quality."

Operators coming from other types of elevated platforms into using an ATP say they are easy to get used to, as ATPs have so much more functionality and capability.

"It is common for operators new to elevated platforms to take to the ATP machines pretty quickly. We hear a lot of positive things around the ATP machine. Probably the most common comment is 'you feel very safe'. As the suspension system takes out up to 80 per cent of the effect of bumps travelled over, the ATP is very stable," says Don.

There is a lot of live feedback to the operator via the screen in the cage, such as slope angles that are being operated on, weight in the cage, appropriate safety warnings, and system loads. "That removes any guesswork about whether you should be operating there or not."

ATPs are not skid-steer so don't tear the ground up, which is a positive on manicured landscapes.

ATPs are also used in the construction industry sector and its compliance to AS/NZS 14.18.10 2011 allows for that. MTE will provide a two-man cage for further models in that sector.

"The ability to multifunction and smooth proportional control that comes with joystick control has been well received, as it also keeps the floor clear to put your feet anywhere and to face in any direction. More than one operator has told us that going away from foot controls may have solved their sore backs.

"ATPs are a frugal machine to operate. We hear of fuel consumption of around one litre of fuel per hour in a normal day's operating. Even though ATP machines are working steeper slopes and more difficult terrain than other machines available, to date ATPs have a 100 per cent safety record with no tip-over or injury."

A number of the first of the new ATP Lite series machines are currently under assembly and should be available for delivery to clients soon. Don says there is a lot of interest in the ATP Lite, an 8.6m working height (6.6m platform height) smaller, cheaper version of the super series, which has an 11m working height (9m platform height).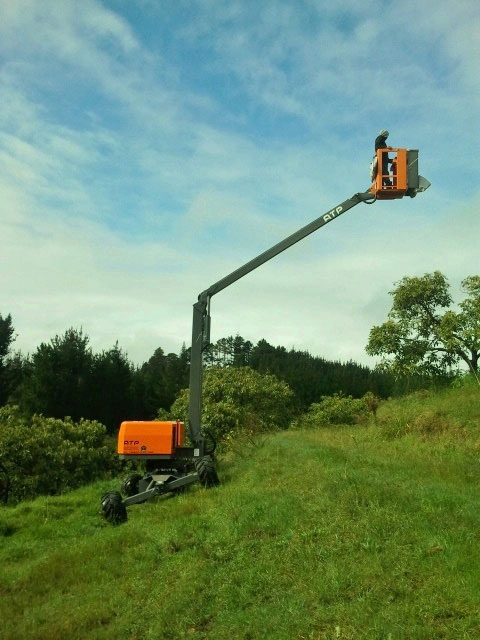 At an up-to-25-degrees slope capability, with a big outreach, there is not much that an ATP cannot access.