Gerard van der Mark couldn't wait to leave school and start milking cows.

"I finished my last exam in November 2010 and within days had started work," says the 2015 Central Plateau Dairy Trainee of the Year.

Gerard van der Mark is the 2015 Central Plateau Dairy Trainee of the Year.

The 22-year-old was introduced to farming in South Africa, where he spent as much time as possible on his grandfather and his uncle's farms.

"The farm my grandfather Chris Schutte owned was half cattle ranch-half wild game, and I loved being there."

When Gerard was 13 his parents moved the family to New Zealand, in pursuit of a better life for their children.

"I am very grateful they did that. Much as I love South Africa, my friends who are still there don't have the opportunities that are available in New Zealand."

Gerard is married to Marcelle, also originally from South Africa. They met in New Zealand and the couple have two children, Liney 22 months and Hein three months.

Their South African roots are strong and Marcelle and Gerard are teaching their children the Afrikaans language so they will be bilingual. But the couple say their future is firmly grounded in New Zealand.

In fact their goal is farm ownership by the time they are 35.

Gerard, who didn't like school much, has been studying hard and gaining qualifications through Primary ITO for four years now.

He is working towards a diploma in agriculture/dairy.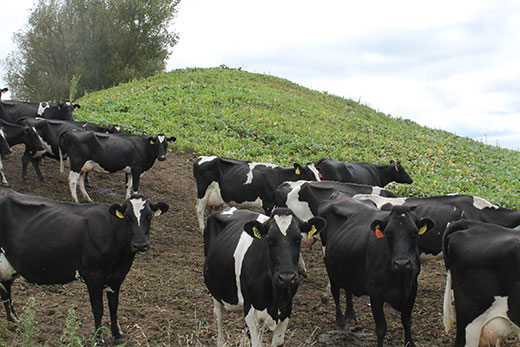 The contour of this Mangakino farm is rolling to steep.

"I'm grateful to my employers John Sargent and Michael Sargent. They have taught me a lot about the dairy industry and spent a lot of time and effort teaching me and allowing me to sit in with our farm consultant Parry Matthews, who I would also like to thank. He has a mind full of information that always comes in handy when I am in doubt."

Through Lizzy Widing of Primary ITO Gerard says he's gained much valuable theoretical information about dairy farming.

"She has also given me the opportunity to meet people in the industry including some great mentors.

"Moanna Pua from DairyNZ also arranges discussion groups in our area which are great to attend. I always learn something new. LIC's Vicky Wallace is who I contact for everything to do with herd improvement."

Gerard is second in charge on a 900-cow Mangakino farm owned by the Sargent Family Trust. The 450ha farm has 340ha of grazing. The contour is rolling to steep, and crops are grown on the easier land.

Palm kernel, maize, and apples are fed as supplements, and since January the herds have been on once a day milking. Next season he and Marcelle are progressing to a 600-cow contract milking position in June and Marcelle plans to take care of calf rearing.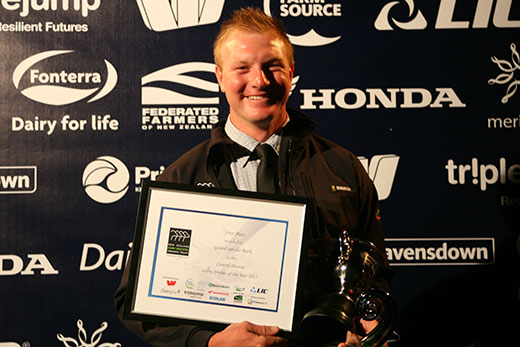 The couple has registered their company Maziwa Pride (which means dairy in Swahili), and plan to further their dairy education and business management.

"When we have figured out the business side of things, we would like to save up as much money as possible and grow as quick as possible to reach our long term goal of buying our first dairy farm at the age of 35."

This is the second time Gerard has entered the dairy awards.

"I found lots of benefits from entering last year's competition.

"The awards night was a fun event to attend and the whole experience built my confidence in public speaking and general dairy farming knowledge."