Work-life balance is important to Aaron Price, whose recreational pursuits – like his occupation – are far from laid back.

Aaron Price and wife Sarah plan to achieve farm ownership by 2021.

The 2015 Waikato Sharemilker/Equity Farmer of the Year completed the Port of Tauranga Half Ironman event in January and is a volunteer firefighter for the Tahuna fire brigade.

But Aaron has never been one to take a leisurely approach to life. He left school at 17 and as the youngest student on campus, completed a Bachelor of Agricultural Commerce at Lincoln University by the time he was 19.

"I've always pushed myself, set goals and worked hard to achieve them.

"However, work-life balance is important," says Aaron.

"Farming can be stressful but I'm in this industry for the long term and don't want to burn out, so having interests and time off-farm is important."

In his sixth season of dairy farming this year, Aaron is 50 per cent sharemilking 250 cows for Clyde Whitechurch at Morrinsville. He's also 50 per cent shareholder in two sharemilking companies he's established with business partner John Assen.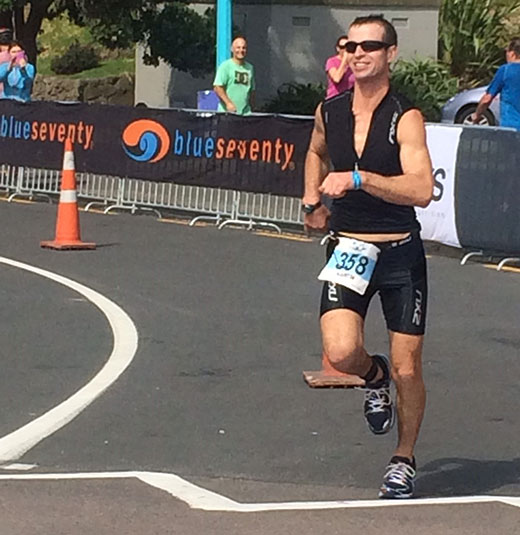 As a change from farming, Waikato Sharemilker/Equity Farmer of the Year for 2015 Aaron Price took part in the Tauranga half ironman in January.

Quicker entry
"Our partnership has allowed me a lot quicker entry into sharemilking and then it has enabled us to expand the operation sooner than if I was on my own," says Aaron.

"It also provides support, flexibility, and greater economies of scale for us."

The Morrinsville farm Aaron is milking on is 80 hectares with a 20-aside herringbone dairy.

"The farm has a great set up and my goals have included pasture improvement through re-grassing. We have 30 ha under irrigation which helped early on but once things got really dry, the irrigation had to be turned off."

However, the herd is still being milked twice a day and on track to continue milking until the end of May.

"We are ahead of our feed budget as we had a plan in place for a dry summer, which was not unexpected."

Chicory crop
The farm brings in 80 tonne of maize, 250 tonne of palm kernel and 70 tonne of maize is grown on-farm.

"We also grow chicory on 8.5ha. It's a quality crop which is high in protein and cows milk well on it."

The herd is primarily Kiwi Cross and Aaron aims for animals at 450kg to 500kg, which are highly productive for their live weight.

Aaron has entered the sharemilker/equity farmer contest four times and has been named runner-up twice.

The experiences and judges' feedback has helped achieve his goals.

"Since entering I've improved pasture recording and my health and safety practices, I've lifted livestock targets, improved business monitoring and system analysis, and I'm continuing to make improvements.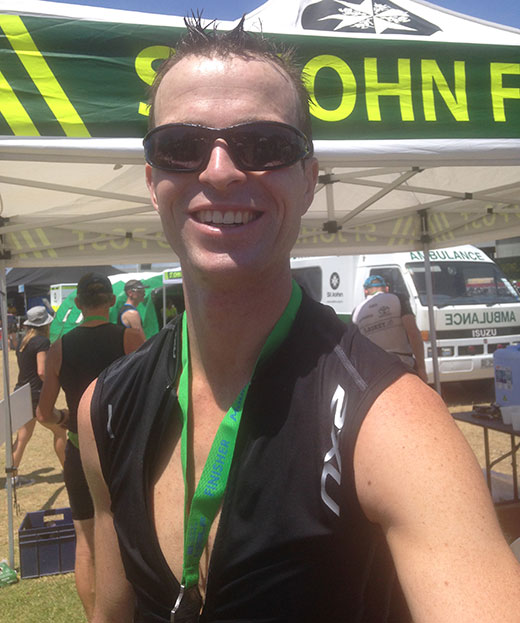 Waikato Sharemilker/Equity Farmer of the Year for 2015 Aaron Price, is also a member of the Tahuna Volunteer Fire Brigade.

Enhance environment
"My long-term goal is to achieve farm ownership by 2021 to provide stability and security to myself and my wife Sarah.

"I also want to be able to help other young people progress through dairying and enhance the natural environment with a long-term vision," says Aaron.

Alongside his dairy career, Aaron's also been studying and training as a volunteer firefighter, including attending an intensive training programme in Rotorua in January.

The Tahuna Volunteer Fire Brigade responds to an average of 70 emergencies a year, many of them to motor vehicle crashes.

Despite the sometimes early-morning or late-night callouts Aaron enjoys being part of the brigade.

"It's a way that I can be of value to our local community, assisting in all emergency situations."