Prices achieved at the February Rangiuru weaner fair were well up on last year and have set the benchmark for those to follow.

Charolais-cross weaners from Tawa Ridge Stud, Te Puke, achieved among the top prices at the February Rangiuru weaner fair.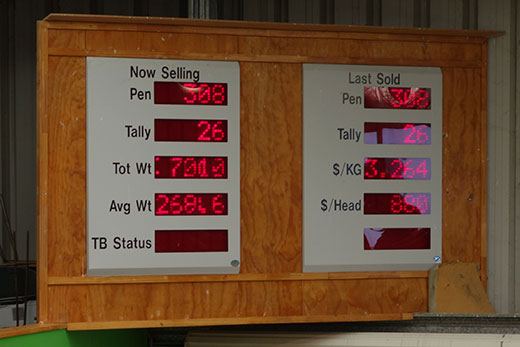 Among the top performers were Charolais-cross heifers and steers from Tawa Ridge Stud, Te Puke and Wrightson Livestock representative Neil Penman says the animals were an excellent line.

"They were even in colour and size and well representative of the pedigree Charolais bulls Mike Fitzpatrick of Tawa Ridge Stud is putting over his cows. The weaners were well reared.

"The heifers will go on to be good finishing or breeding cattle and the steers will be good bullocks."

Neil says prices at the fair were up on last year, reflecting improved payouts to farmers and also a shortage of cattle as more farms are converted to dairying or dairy support.

Richard Baird of Elders says buyers from as far away as Kaikohe and South Auckland in the north, to Hawke's Bay, Gisborne, Waikato and King Country attended the sale and demand was strong, including for Tawa Ridge animals.

"Some buyers even went away empty-handed. The values achieved will help keep breeding of quality cattle alive."

Tawa Ridge animals were among the yarding of 1598 attractive young cattle at the fair, of which about half were steers.

Mike says he's very pleased with the returns for his animals with heifers achieving $880 and steers $820. Some of the buyers had previously bought Tawa Ridge Stud stock and were purchasing more, based on their performance.

Mike says the weaners will perform well for their purchasers. "The excellent sale results are good news for our stud but also for the beef industry and make a change from the doom and gloom we hear from other sectors."

Tawa Ridge Stud has been building its pedigree Charolais herd for four years now and has 1700 animals, including stud bulls and 80 purebred breeding cows.