Government pressure for Auckland City to provide more affordable housing could be a disaster for New Zealand's most valuable vegetable producing region, believes Horticulture New Zealand's manager for natural resources and environment, Chris Keenan.

Workers harvest lettuce alongside a busy road, opposite houses at Pukekohe, from soils threated by urban advice.

"I'm really concerned about what's happening to our high value soils, particularly those in the Pukekohe region.

"It's a big issue in Auckland at the moment, the conflict between the need for affordable housing and the protection of high value soils."

Chris believes the value of the Pukekohe soils, and the foods they produce, is being overlooked by planners.

"Planners and politicians have to look at making cities sustainable in terms of power, water, roading, transport and other infrastructure – but too often they don't think about food supply.

"I'm really concerned about the state of the supply of land close to Auckland for the production of food."

Landowners south of Auckland have been successfully lobbying the Government to free-up land for housing development; and government is in turn putting pressure on local bodies to do so.

But Chris says this doesn't have to be at the expense of elite soils.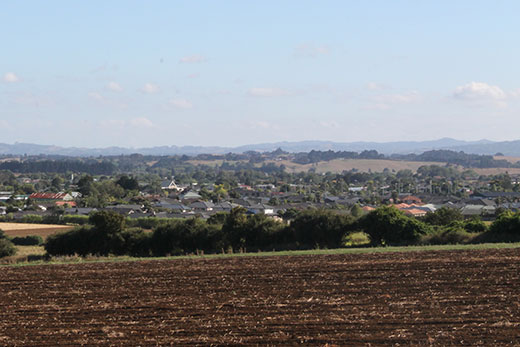 Suburbia on the boundary – the Auckland Plan has identified Pukekohe as a priority satellite town for 50,000 people and 9000 new jobs in the next 30 years.

Protection lost
"We can have our cake and eat it too. We can have subdivision, but not on the most valuable growing land on north facing slopes with good class one, two and three soils.

"However, a lot of land in South Auckland is these high class soils."

The old Town and Country Planning Act did give protection to versatile soils, but Chris says much of that protection disappeared when the Act was replaced by the Resource Management Act of 1991.

"At least two things are missing from the RMA – the importance of food production and the recognition of the finite character of high class soils.

"It seems strange that there are protections for the habitat of trout and salmon, but not for food production."

HortNZ has been working with councils throughout the country providing scientific and economic evidence to support the protection of elite soils and has, Chris says, had some major gains.

Some of those results have been against the wishes of some of HortNZ's own members.
"HortNZ's board has established a mandate that it looks after the production interests, rather than the land development interests, of its members and it's under that mandate that we operate."

Re-charge aquifers
Pukekohe is facing issues not just of the preservation of its soil but also pressure on water demand and supply too.

"Subdivision, with housings, roads and paving mean there is less available water to re-charge aquifers due to less saturation of rainfall because of an increase in hard surfaces."

Having houses too close to horticulture can cause problems with "reverse sensitivity" when residents complain about normal horticultural operations such as spraying, irrigation, harvesting and operating machinery.

Pukekohe is unique in New Zealand as a vegetable supplier, says Chris.

"Its soils are important for the types of crops which can be grown. Its attributes are not just the soils, but also the fact area is frost free. This is especially important for food supply for the months before Christmas.

"The soils and climate also offer unique exporting opportunities, especially with onions exported to Europe."

Chris says the pressures are acute in the Pukekohe region now but "each horticultural production area of New Zealand is important, as they occupy different climate zones in our long skinny country".

While there is a demand for more housing, Chris says most Kiwis don't want to be reliant on imported fresh foods, so a balance needs to be struck, and soon, to protect the soils which grow the best and most consistent crops and finding room for more homes.