Opotiki is a district prepared to back itself. It proved that late last year when locals invested $2.5 million in just a few short weeks to enable a trial of mussel farming to continue.

A barge leaves Whakatane Harbour loaded with mussel lines for the farm offshore from Opotiki.

That funding means Eastern Sea Farms is now fully owned by the people of Opotiki and Whakatohea Maori Trust Board chairman Robert Edwards says: "That's an indication of the confidence locals have in the ambitious plans for marine farming and processing in the town".

"We tried other sources of funding but when we asked the Opotiki community the response was almost overwhelming.

"In fact, we had such a strong response we had to limit investment to parcels of $50,000 so groups of smaller investors could also be part of it."

The investment isn't the only good news for the venture. This season the trial farm has caught an impressive amount of spat (juvenile mussels) with more than enough to seed its own lines and to sell to other farms.

That's a significant bonus because wild spat has been absent from Ninety Mile Beach in the Far North, where it's traditionally harvested.

Whakatohea Mussels Opotiki Limited operates the farm and Eastern Sea Farms is the landlord.

Eastern Sea Farms is 54 per cent owned by the Whakatohea Maori Trust Board, and 46 per cent owned by Whakatohea Aquaculture (Opotiki Ltd).

Currently there are 12 mussel lines in the waters. Each line is 3000 metres long and capable of growing up to 30 tonne of mussels on the droppers which hang from it.

One of the 12 lines is used for research by the Cawthron Institute and the
University of Waikato.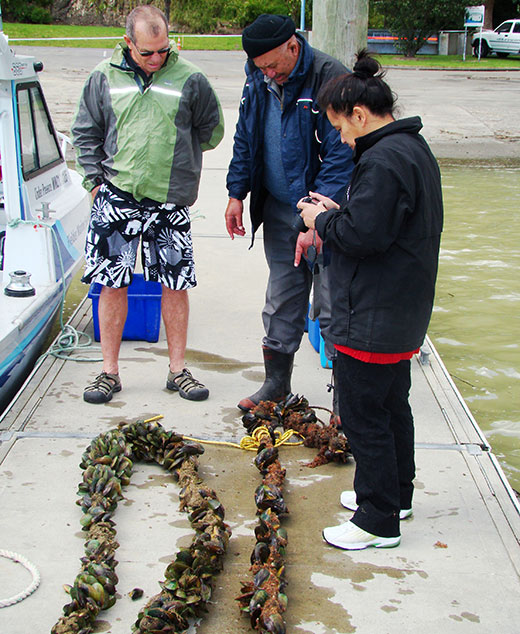 Great result – Graham Fielder, board chairman Robert Edwards and Whakatohea Maori Trust CEO Dickie Farrar check a mussel line from the offshore farm.

Forty lines
"By next year we will have 40 lines," says Robert.

Mussels harvested from the farm will be shipped to Whakatane for transport to a processing factory in Tauranga.

"But once the farm produces 5000 tonnes, we want to be processing the mussels onshore at Opotiki."

The development of the Opotiki Harbour, with safe, all-tide access through the harbour mouth, is crucial to that goal – and Robert says the community is committed to establishing a processing factory on land on the northern side of the harbour.

"We must not limit our future potential by not securing enough land. I've seen what's happened in places like Port Lincoln in Tasmania and even with the mussel factory in Tauranga, where it can't grow because it's being crowded out.

"We don't know yet the full possibilities for marine farming and associated businesses so we need to allow room for growth."

Adding value to the mussels grown in high quality offshore waters is the aim.

"If we can pipe in fresh sea water, we may be able to extend the shelf-life of mussels onshore. We need to add value to what we produce, from fresh mussels, to mussels in a half shell, to mussel powder. There may even be a market for small mussels."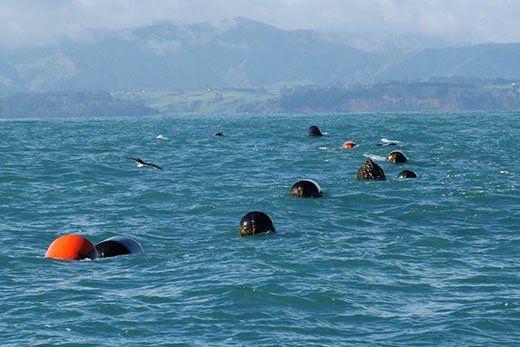 So far there are 12 mussel lines, each 3000 metres long, in place on the mussel farm offshore from Opotiki.

Kingfish
Robert also believes the 3800 hectare marine farm could be used for farming other shellfish and even fin fish, like Kingfish, all of which could be processed in Opotiki.

The direct and associated employment the marine farm and harbour development will bring to the district is vital to restore the people's self-pride and rangatiratanga – self-determination.

"With employment and improved incomes will come improvement in self-esteem, in housing, in health, in education. Our young people will see a future in Opotiki and stay instead of leaving the district," says Robert.

The marine farm and harbour development will restore pride to a community which was, in the 1860s, a thriving hub for Maori entrepreneurs who grew vegetables, raised pigs, cattle and horses, owned a fleet of coastal vessels and traded produce with European settlers as far north as Auckland.

Proud community
Robert says the fact Opotiki people are prepared to put money into the aquaculture company reaffirms the determination of Opotiki to turn its fortunes around and once again become a prosperous, proud community contributing to the local and national economy.