Mega dairies – USA farms with up to 30,000 cows – will become a threat to New Zealand's dairy industry but copying the farming model is not the answer, says DairyNZ.

One calf is born every minute and kept in 'hutches' on mega dairy farms in the USA.

"There is no point in going head to head with the US-type system," says DairyNZ development and extension general manager David McCall.

New Zealand's strengths are its grass pasture systems, the co-operative industry structure and a culture of information sharing, says David.

"Grazed pasture is still the cheapest feed source internationally."

Grass costs about nine cents per kilogram of dry matter.

New Zealand's other advances include producing what customers want, responsive supply chains, being a reliable supplier of safe food, and the China free trade agreement.

However, this country can't afford to be complacent. Mega dairies in the US are increasing in size and number; and David says as efficiencies are made in them, costs are coming down.

In California, farmers are earning $7.42 kg/ms compared with $7.09 kg/ms in New Zealand.

However, for feed costs, California farmers pay $5.91 kg/ms compared to $1.96 kg/ms in New Zealand. Additional costs account for $1.85 kg/ms in California and $1.99 kg/ms in New Zealand.

The total cost of production for the average farmer in California is $7.76 kg/ms, giving a cash operating surplus of minus 34 cents. In New Zealand cash operating surplus is $3.95 kg/ms, giving a surplus of $1.83 kg/ms.

Interest and rent in California is significantly less than in New Zealand at 33 cents compared with $1.31 kg/ms. Even so, New Zealand farmers earn a surplus of $1.83 kg/ms while those in California have a loss of minus 67 cents.

However, top Californian farmers are achieving a surplus of 89 cents and a strong focus on efficiencies mean they continue to make savings, says David.

"The equivalent of all New Zealand's milk is supplied by just 540 US mega dairies," says David, who visited the USA to assess how NZ compares and what trends will emerge in the US in future.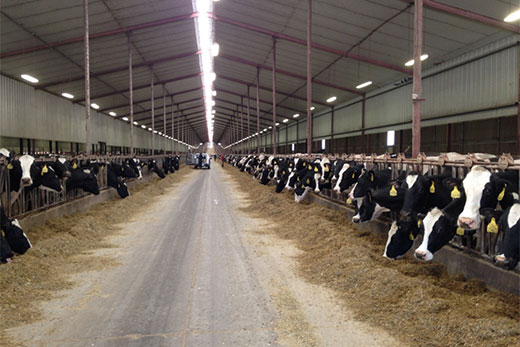 Most dairy cows on mega dairies are housed well away from their food source.

A mega dairy is classed as a farm which milks 2000 cows and has herds of 12,000 to 30,000 animals.

Cows are kept in 'containment' facilities, some open-sided structures, others enclosed and air conditioned.

Cows are milked 24 hours a day 365 days a year through mostly 60-bail rotary sheds or parallel, 40-aside herringbone sheds. Labour, mainly Mexican migrant labour, costs between $10-$12 an hour compared to $13-$30/hr in New Zealand.

There's an even bigger gap in the cost of housing infrastructure. In the US building costs are between $1100 and $1500 per cow, compared to $2500 to $3500 in New Zealand.

On the biggest farms, one calf is born every 30 minutes, and calves are kept in 'hutches', fed by bottles delivered by bike-riding calf-rearers.
David says the replacement rate within the herds is 45 per cent, but by reducing this farmers can quickly ramp up production to meet demand.

Most herds are housed some distance from their feed source, which David says can be a major disadvantage.

"One farmer we spoke to said: "We've forgotten what our grandparents told us – 'if you own a cow you'd better own an acre' – many don't own the land the feed is grown on".

This makes the farms vulnerable to fluctuating feed prices, but a relaxing of requirements to grow corn for biofuel is bringing down the cost of feed.

David believes New Zealand farmers do have the ability to increase production by gaining greater efficiencies from their grass-based system – and knowledge and tools are there to help them do so.