Ruth and Craig Roughton are recreating history with their brand new Walnut Tree Farm fresh milk business at Welcome Bay near Tauranga.

"One of our customers is a 75-year-old, who remembers getting fresh milk from this farm as a boy," says Craig.

Craig Roughton with a Walnut Tree Farm bottle of fresh raw milk.

Craig and Ruth bought the 9.6ha farm from the Sellar family, who'd owned it for more than 100 years and for decades supplied fresh raw milk in billies to neighbours.

The walnut trees for which the farm is now named, were planted by the Sellars too.

Now it's mainly city dwellers who buy fresh, chilled raw milk, dispensed straight from a special vat, into their own or Walnut Tree Farm's attractive glass bottles.

In the afternoons the public can also watch the cows being milked and ask Craig questions about cows, farming and milk.

All this happens in one of the country's smallest milking parlours –an eight-aside herringbone milking 13 cows once-a-day. Small it may be, but the dairy meets all the high standards of hygiene, food safety and animal health required of modern dairies.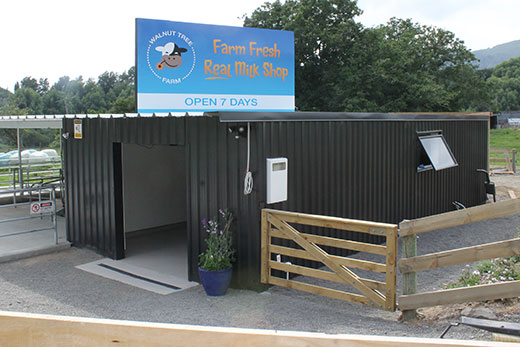 Walnut Tree Farm dairy at Welcome Bay is probably the smallest brand new dairy built anywhere in the country.

Smallest dairy
Builder Fuzz McLeod of Fuzz Construction Ltd says he couldn't quite believe what Craig was asking when he approached him about building the new dairy.

"We have built in excess of 100 dairies throughout New Zealand and overseas but have never built one this small before."

Craig and long-time Fuzz Construction builder, 72-year-old Ben Miller, did much of the build, assisted by other staff when required.

Fuzz has lived in the Welcome Bay area for 60 years and knows Walnut Tree Farm well. He's delighted to see how Craig and Ruth have transformed the property with their innovative new business.

"It was a pleasure to be involved in the project with Craig, who is such a pleasant client; always with a smile."

Best equipment
Dave Hansen, manager of Logicool which carried out the refrigeration work for the dairy, says installing the best equipment and careful planning was required to bring milk temperature down to seven degrees Celsius before it enters the mobile vat.

"We achieved this by putting in a chilled water system but also installed equipment which is energy-efficient to keep electricity costs down." The Logicool team enjoyed working on the project, he says.

"We've been working on dairy sheds since 1991 and this is the smallest dairy we have ever been involved in," says Noel Coombes of Mac Engineering.

However, there was still a lot of welding to do. Craig worked closely with the Mac Engineering team to design the yards, which can handle up to 30 cows, and the eight-side herringbone system.

Russell Parton of Conway & Carpenter Electrical Limited is impressed with Craig and Ruth's fresh milk business and the forethought which has gone into planning and equipping the dairy.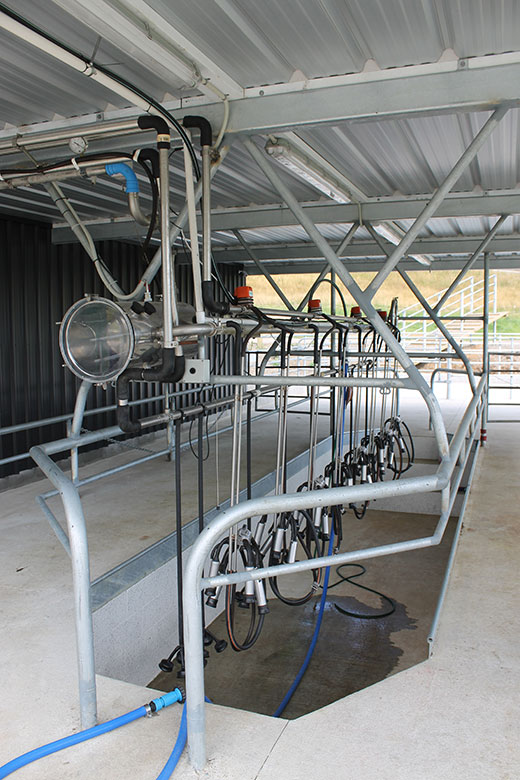 High standard
"This maybe one of the smallest dairies we have worked on, but it has the infrastructure to enable Craig to increase data collection and remote monitoring in future.

"I'm impressed with what Craig has done, aiming at the higher end of the consumer market and doing everything to the highest standard.

"I wish them well and would like to see more of these kind of dairies start up."

Think Water BOP installed the milking equipment, effluent systems and water reticulation for the dairy.

Peter Wheeler says Walnut Tree's milking plant is tiny compared to the up to 80-bale rotary plants the company he's used to working on.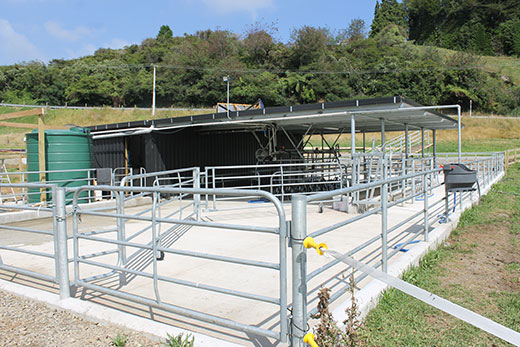 The yards for Walnut Tree Farm dairy can handle up to 30 cows.

Effluent system
"Another thing which was different was the need to slow down the milking plant to ensure the milk is cooled to seven degrees Celsius during milking."

Think Water installed all the plumbing as well as the effluent system, which includes a sand trap feeding effluent to three covered holding tanks. From there it is pumped for irrigation onto pasture.

Ruth and Craig, who also sharemilk at Te Puke, began selling fresh raw milk from Walnut Tree Farm in early December and it has been an instant hit.

The couple decided to venture into the raw milk business following requests from the public to buy raw milk, and then, the same week, reading in Coast & Country about fresh milk venders Village Milk at Takaka.

"We thought it sounded like a good idea so began to research what was involved," says Ruth.

Finding a suitable property close to Tauranga City took sometime but eventually they bought a small block of land, built the new dairy, imported a milk vending machine from Italy and set up a 24-hour self-serve milk shop.

Selfserve milk shop
Customers can take their own containers, or buy glass bottles from the farm shop, pay for their milk with coins or tokens, and dispense their own milk – a maximum of five litres per person per day.

"Our customers are enthusiastic about our milk and we've heard so many 'milk stories' about how they enjoyed fresh raw milk as children. As well as drinking our milk, many people are also buying it to make cheeses," says Ruth.

Yummy milk
Customers are invited to make comments in a visitors' book. "Yummy milk" – "We drink cow's milk now – no more fizzy drinks" and "Love the milk" are among enthusiastic comments.

Craig says so far the Walnut Tree Farm fresh milk business has exceeded expectations for the number of consumers arriving day and night to buy milk – and the personal satisfaction he, Ruth and their children, Becky, 16, Amy, 15 and Dylan, 10, have received from the venture.

"We just love talking to the public about cows, milk and farming. Helping people reconnect with where their food comes from was always part of our aim and this is certainly achieving that.

"So many city children really think milk comes in a plastic bottle from the supermarket. They have no concept of the fact that cows produce it."

The Walnut Tree Farm cows seem equally happy to be part of education process. Craig says they're totally relaxed during milking time, despite the number of strangers hanging over the fence watching their every move.

In true 'town supply' tradition, a second herd will calve in autumn, ensuring 365 days of milk supply for a growing number of consumers.

Raw milk is milk that's unprocessed in anyway. There's no pasteurisation or homogenisation or additives.

The law currently allows milk producers to sell up to five litres of raw milk at any one time from the farm direct to a consumer. All farmers selling raw milk to consumers are required under the law to ensure the milk they sell is safe and fit for purpose.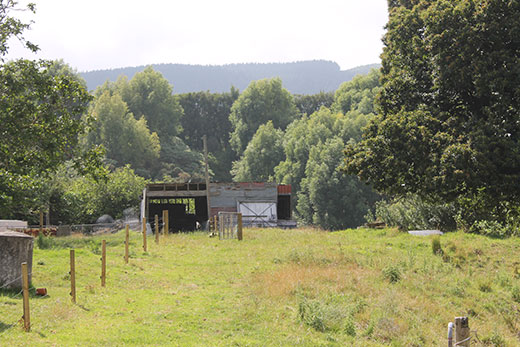 Cows were milked decades ago in this old shed on Walnut Tree Farm.