Nine videos designed as guides to bike trails in the Taupo region have been released by Destination Great Lake Taupo.

Ideal for families – the Lions Walk is among the bike trails in the Taupo region.

The project is the result of close collaboration between DGLT, the Departnemnt of Conservation, Bike Taupo and a number of tourism operators with a direct involvement with the use of the trails.

A video guide for each trail, presented by Sarah Ulmer – New Zealand Cycleways ambassador and former Olympic cyclist, contains information for novice riders through to experts to determine which trail is best for them and their riding party.

The videos are supported with images, text descriptions, maps and track profiles.

The nine videos cover the Lions Walk, Rotary Ride, Tongariro River Trail, five sections of the Great Lake Trail (Waihaha, Waihora, Orakau, K2K and W2K) and Tree Trunk Gorge.

"These videos are a fantastic tool that showcase the amazing bike trails in and around the area," says Bike Taupo chairman, Rowan Sapsford.

"I think we've set a benchmark for other regions to follow here, both in the standard of our trails and also how we tell the world about them."

DGLT sales and marketing manager Zelia Horrell, says: "We see this as the completion of stage one of the project and in the coming months plan to release more interactive content as well as additional trails".

Tourism New Zealand CEO Kevin Bowler is really impressed with this initiative.

"This new collateral is a great asset for promoting cycling holidays in New Zealand and provides a resource for media, trade and consumers alike to engage with."

The published material can be viewed on the DGLT website at: www.GreatLakeTaupo.com/BikeTrails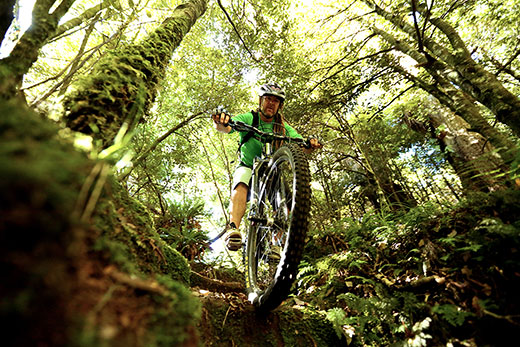 Te Iringa Mountain Bike Trail features in the new videos about Lake Taupo bike trails.