The first time Raeann Stead visited a honey house as a teenager, she was terrified by the cloud of bees outside.

Today the 22-year-old works with bees every day and is in awe, not in terror, of them.

Raeann Stead loves her job as a beekeeper at Netherton.

"They are the most amazing creatures and are vital to so much of the food we eat. I'm fascinated by them and happy to be able to help the bees survive," says Raeann.

So many pests and diseases now threaten the honeybee that without beekeepers like Raeann they wouldn't survive.

It was Raeann's brother Greg, who suggested she might like to join him and the team at Aratakai Honey's Netherton branch in 2009 as a trainee beekeeper – and the girl from Auckland's North Shore took up the challenge.

Now she's one a just a few women beekeepers in New Zealand.

"When I first started I found lifting boxes from hives to extract honey hard, as the weight of the box, the frames, and the wax, can be 40 to 50kg.

"The honey weight alone is usually about 20-25kg, but I soon developed enough strength to do that."

Raeann has learnt on the job, and from her own research, finding out more and more about bees "but I didn't think you ever stop learning about them".

She gets stung – a lot. "It's part of the job and mostly doesn't bother me unless I get stung on the face."

Cheese factory
Arataki Honey's Netherton depot is an old cheese factory on the banks of the Waihou River – and it's from there the team head out to feed or move hives, or collect honey.

"In the summer we often leave at 6am to try to get most of our work done before the heat of the day, because of the gear we have to wear."

The company has honey sites in the Coromandel and these are visited regularly to extract honey.

It also supplies hives for kiwifruit pollination and these must be fed with a sugar syrup to supplement the rather poor nectar from the kiwifruit flowers.

When hives are removed from an orchard, depot or honey site, they're transported at least 10 kilometres away so worker bees won't be tempted to return to the original site.

Coloured hives
"We put hives of different colours together, and orientate them in different directions so bees can find their way back to their own hive."

Capturing swarms of bees is something Raeann has become good at too – and it was her, who gently removed hundreds of bees from a fence post on a Netherton dairy farm after farmer Louise Shaw spotted them early one morning.

"It's good to collect these swarms because the bees wouldn't survive for long in the wild."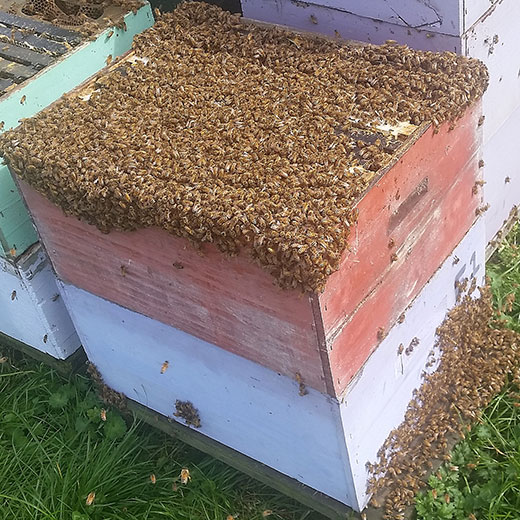 Hives of different colours are used so bees can find their way back to their own hive.

Treating hives for pests such as the varroa mite and monitoring them for diseases like American foulbrood is all part of the job, as is ensuring hives are up to strength for pollination or honey production, or to survive winter.

"In autumn the drones, whose only job is to mate with queens, are usually forced out of the hive by the female workers because they would gorge themselves on honey stores and possibly put the hive's food supply at risk."

Queen bees are the egg layers, which keep the colony supplied with workers, drones and new queens. But queen bees also influence hive behaviour through the pheromones they excrete.

Raeann says most queens and workers are quite "placid" and easy to work with.

"Occasionally, we get an aggressive queen and the rest of the hive might be the same. They are not so good to work with."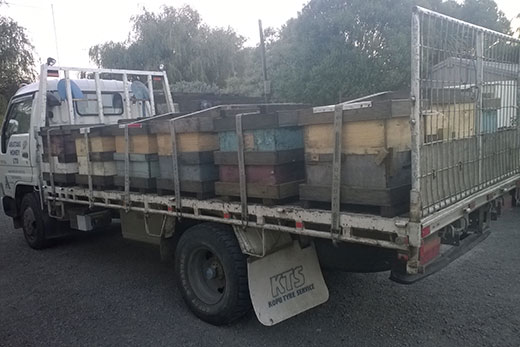 Early morning starts and long drives to honey sites are part of a beekeeper's life.