Bovine embryo transfers are becoming increasingly popular in New Zealand, as an efficient way of fast tracking breeding programmes without live animal movement.
One of a handful of specialists in the country, Waikato based Nigel Juby clearly loves his job.
"Embryo transfer (ET) describes the process that allows us to increase the number of calves that a single cow can produce in a year by removing embryos from her and implanting them into other cows. The recipient cow will give birth to the biological offspring of the donor cow."
As well as being flushed locally, embryos of pedigree cows are imported, allowing movements of cattle around the world without the biosecurity risks associated with moving live cattle and reducing live animal imports. High fertility cows are the best for ET, so young cows produce good results both as donors and recipients.
Nigel uses the Multiple Ovulation Embryo Transfer or MOET method, which requires hormone treatment to sync the cycles of both donor and recipient cows, and to stimulate the donor to super ovulate before AI is carried out.
Seven days later the embryos are flushed out, checked for viability under the microscope and stored in an embryo holding solution or frozen using liquid nitrogen. Nigel says MOET method is 60 per cent effective using a fresh embryo compared to 50 per cent using a frozen embryo.
"On a dairy farm, we would flush embryos from around the top ten per cent of the cows in the herd and use the lesser cows as the recipients. That really speeds up the genetic gain of the dairy herd.
"A lot of my work is with elite animals for animal breeding companies wanting to breed better bulls, and again ET fast tracks that process."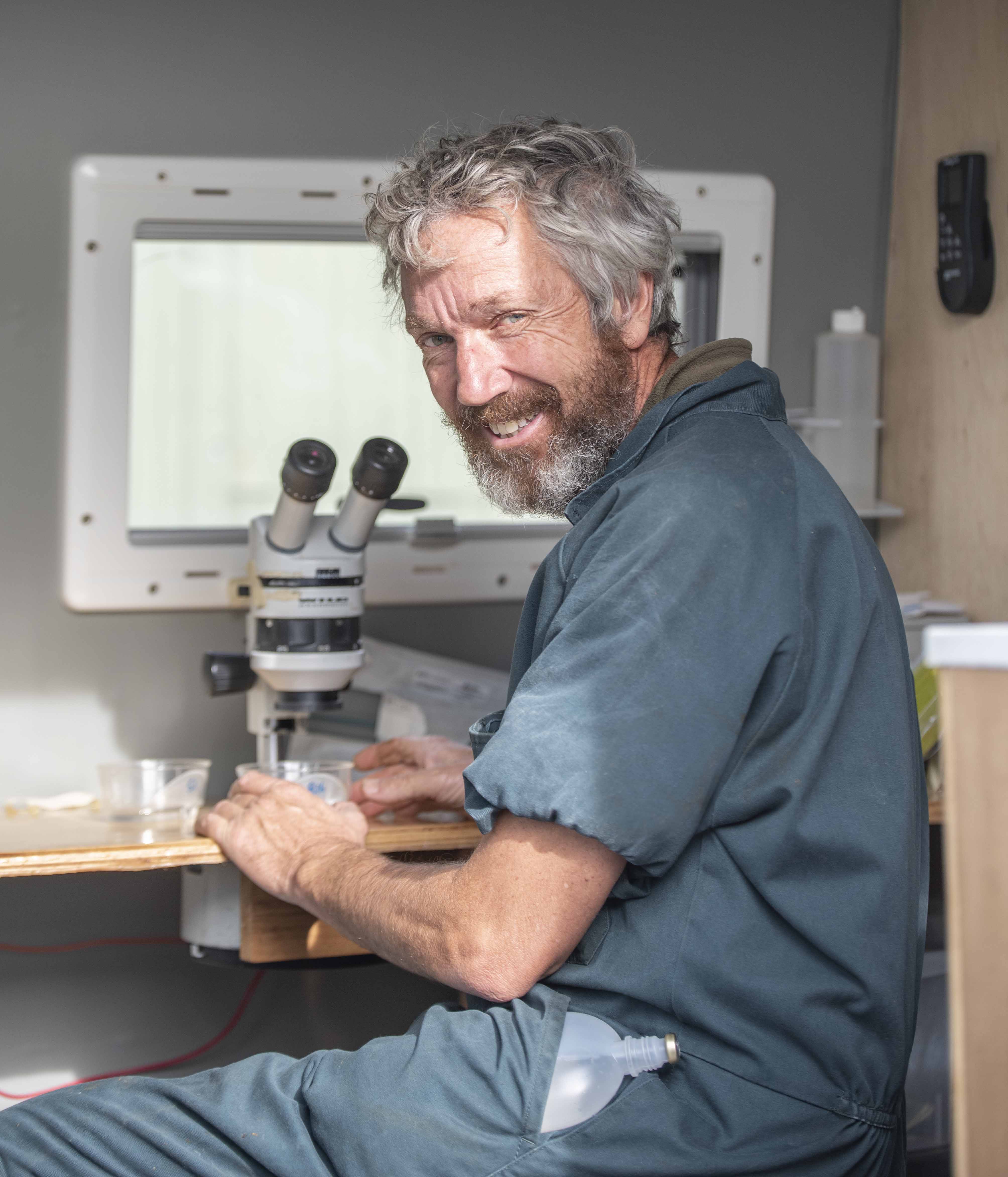 Nigel views and grades flushed embryos under the microscope Photo: Catherine Fry
Some beef breeders have a separate recipient herd, and that can be any breed that calves easily and has good motherly traits. ET is helping build numbers of Angus, Speckle Park and Hereford cattle in New Zealand, and Wagyu are also becoming more popular.
Nigel has a herd of Wagyu cows and is using them to help produce zero bobby calves in the dairy industry. The smaller Wagyu breed is ideal for mating with yearling dairy heifers, offering an easy calving and offspring that have value in the meat industry.
"Taking it one step further and using ET with the yearlings, means their calf can be a pure bred Wagyu. Wagyu is considered to be the best beef in the world, which guarantees the calf's place in the food chain as well as the heifer coming into milk for the dairy industry.
"It's a good solution for both the dairy and the meat industries, and animal welfare."