Central Plateau farm Vannerlands is the product of 19 years of hard work from its owners, Craig and Sophie Vanner.
The couple are both from farming backgrounds. They are prepared to try new things and take some risks, and if it doesn't work out, they learn from their mistakes.
Forming good relationships with their suppliers, rep's and neighbours is a huge key to being a successful farm.
Craig describes the 289ha farm as "flat to aggressive rolling".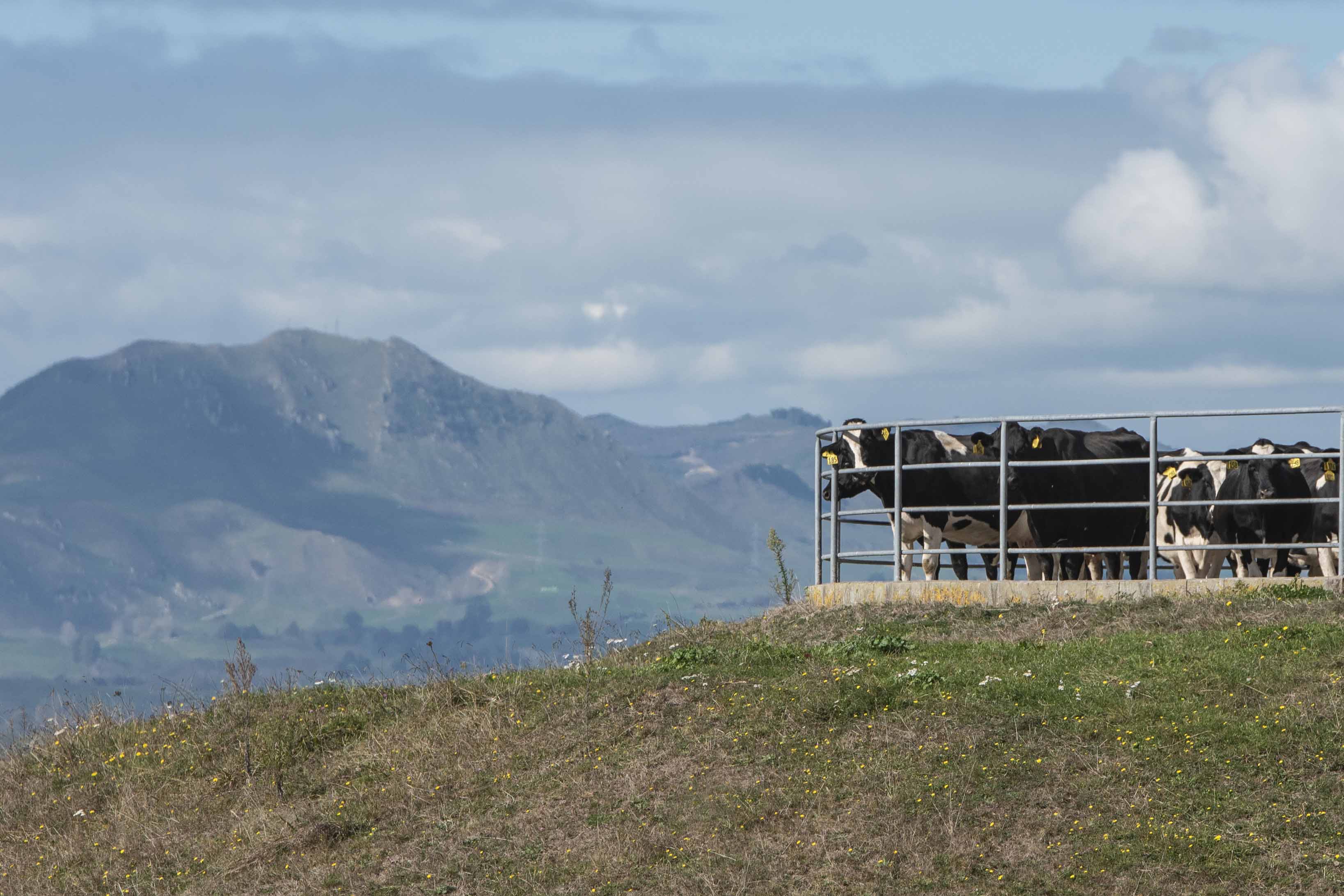 The elevated dairy shed enjoys a breeze and a view.
Initially the farm was sheep, but it was converted to dairy in the fourth year after they bought it, and the cows do well despite the contour.
"Now we have a 205 hectare dairy platform, 50 hectares in pine, and the rest is planted as bush or natives. We planted 29,000 trees over the last five years."
The herd is 500 predominantly Friesian but they are moving to Kiwi cross, looking to improve the BW and PW of the larger animal.
"We used to run a production system 2/3 at the beginning, but because of low pasture growth over the winter and dry summers, we've slowly learned to put more into the system.
"We have several mutually beneficial arrangements with different neighbours that allows us to increase our input," Sophie says.
Standing grass silage and maize are grown next door and Craig acknowledges that the maize production initially didn't work as well as hoped, but they are getting better results every season.
"Another neighbour grows 10 hectares of kale, and we do all the shifting of our cows. We are paying 29 cents a kilo for the kale. We also buy 180 round bales of standing grass from them."
300 cows are wintered on Vannerlands and 200 on a neighbour's farm.
Most of the farm has been re-grassed with 150AR37 mix which works well on the land. Because of the droughts, the Vanners have tried different varieties including cocksfoot and prairie grass mixes with "varied success".
Sixteen hectares of turnips are grown in summer, and three hectares of swedes provides autumn feed for the dry cows.
Sollus mineral group has helped the Vanners on their journey and the cows are fed half PK and half DDG/Soy in the shed. Sollus Lactisol or Tranzsol mineral supplements are given at the appropriate stages of each cow's pregnancy.
Effluent is collected in the two million litre lined pond and spread over 50 hectares using a travelling irrigator and Craig carefully measures the output.
Environmental responsibility is important to Craig. The Waiteti Stream runs through the property and is fenced off and planted in pine. Craig has started opening up some of the stream, letting in sunlight which brings the brown trout out to bask in the clear water.
"We've spent five years really concentrating on soil structure, doing our own soil testing to 150 millimetres and bringing the pH levels up using fine particle lime to release locked up fertiliser. I have robust discussions with Ballance and apply some maintenance fert', and nitrogen."
Three years ago they were peak milking 500 cows and producing 180,000 Kg/MS, but after adding the inputs and working closer to a system 4 model, the milk solids have been 193,000 Kg/MS, 203,000 Kg/MS last season, and they finished this season with 217,000 Kg/MS, still with 500 cows.
"We've been slowly tightening the calving window. We use AI from the 20th of October and put the bulls in for less time, aiming for calving to start on 25 July and 90 to 100 replacements each season," Craig says.
Vannerlands' dairy shed is set in an elevated position, with an enviable view across the farm and its four houses to the hills beyond. Milking in the summer is easier on both staff and cows with a breeze coming through the shed.
The Vanners employ three full-time staff plus Craig and one casual. Sophie works off the farm as an Emergency Medical Technician on the frontline for St John Ambulance.
"Craig won't say it, but he's a really good boss and our amazing staff have been with us for five years or more. They're all locals, and we know their families," Sophie says.
From calving to Christmas it is all hands on deck and no extra time off, but in the quieter times, everyone takes holidays.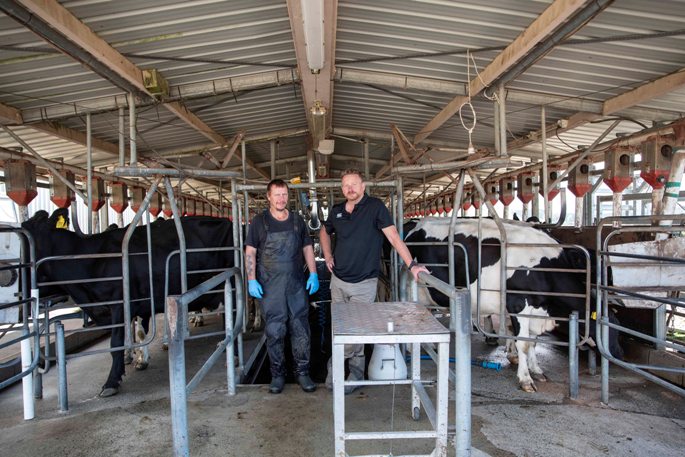 Steve Jansen and farm owner Craig Vanner. Photo: Catherine Fry
Moving to three milkings over two days, (6am and 6pm on day one, and 12 noon on day two from January to May, reduces heat stress on both cows and staff and allows for more time with families.
"Our ethos is to make our system as simple as possible with the staff in mind. We've set up to be a farm that I would want to work on myself, and I really enjoy it too," Craig says.