Glenn Haora had his first ride in a topdressing plane at seven years old and was "completely hooked".
Today he is a pilot for Farmers Air Ltd and area manager for the new Waikato and Bay of Plenty base.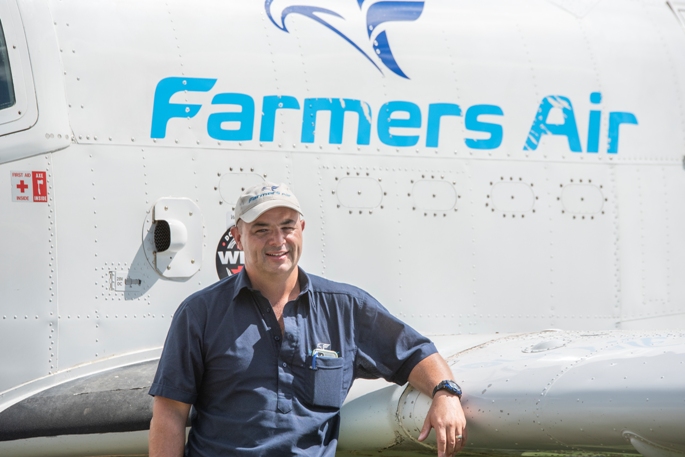 Farmers Air pilot and area manager Waikato/BoP Glenn Haora.Photo: Catherine Fry
Farmers Air is the oldest and largest independent operator in NZ providing topdressing services since 1977.
Previously known as Airfarm the company was recently purchased from John and Janet Spence of Matamata.
Glenn wants to continue the personalised service John and Janet have provided their customers over the many years and looks forward to being involved in the rural community.
"I started my flying training at high school and left school at 16 to take up a ground crew position for a company in Northland, and obtain my pilot's licence."
His career has seen him train as a spray pilot and work in Australia until the drought literally dried up the work.
Glenn has spent the last 11 years in the Waikato/Bay of Plenty areas, doing what he loves.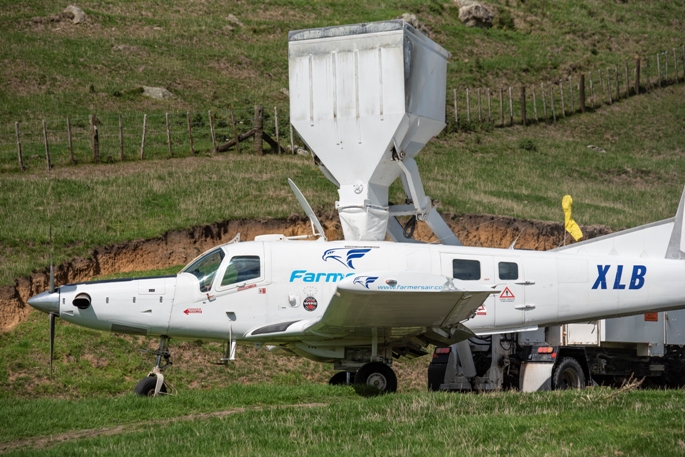 Ground crew fill the aircraft hopper. Photo: Catherine Fry
Long days in the air
"I probably average about 600 flying hours a year but most of that is in the spring and autumn when demand for topdressing is at its peak."
The timing for farmers to apply their fertiliser is important. Ninety percent of their work is applying super phosphate and lime product and the rest is made up of timing critical nitrogen applications.
Prior to the job starting the farmer orders their fertiliser and has it carted to the airstrip and stored in the bin, ready to go.
The conditions have to be just right for topdressing to go ahead. It is weather dependent with wind being the main factor that affects product placement and operation from farm airstrips which are often situated on ridges which are more exposed to the wind.
When these conditions are right the ground crew drive the loader to the farm airstrip or a shared community airstrip and the pilot arrives just after first light to make the most of calm morning conditions.
"When conditions are favourable, we work long hours. We can take off and land up to 100 times in a day, landing every four minutes where the ground crew will have another load ready to fill the aircraft hopper. Loading can be as quick as 12 seconds."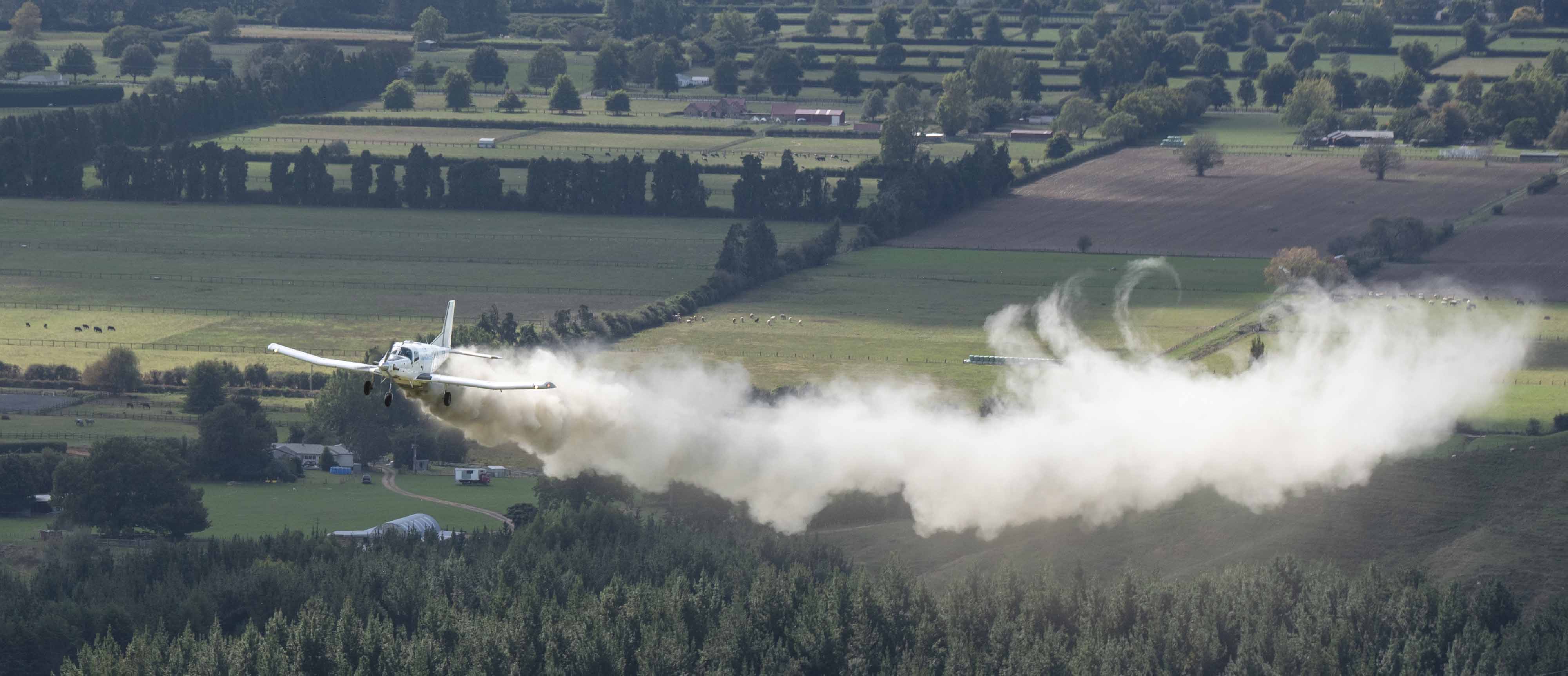 Farmers Air pilot Glenn Haora topdressing over Cambridge. Photo: Catherine Fry
An aircraft built for the job
Glenn flies a Falco XL aircraft - the result of a major modification project Farmers Air undertook of its Hamilton-built Pacific Aerospace 750XL aircraft.
"The Falco is a purpose-built, dedicated topdressing aircraft designed for NZ conditions and is the most cost effective way of aerial sowing a tonne of fertiliser."
It is built for pilot comfort and reduction of fatigue, and maximum safety and efficiency. Modifications include hydraulic hopper doors that actuate with the press of a button, or the doors can be coupled to the on board computer and TracMap GPS systems. This computer controlled or variable rate application results in accurate product release on each farmer's digitally mapped land.
"Environmental legislation and compliance is becoming a major component of our clients' operations.
"As a crucial part of the primary sector, we take these requirements very seriously and want be part of their solution to fulfil their obligations and care for our land and waterways."
Glenn still gets a buzz out of an early start and seeing the sunrise over the horizon as he flies to a job.
The highlight for him is being part of the farmer's operational team, developing their land to gain maximum efficiency to produce the world's best protein in a very sustainable way, ensuring future generations will continue to feed the world.