Predicting what consumers buy before they know they want it, drones delivering packages to online shoppers and the ability to not only see but 'touch' consumer goods remotely are changing the face of retail.

Retail isn't dead – it's just different, believes global retail futurists Doug Stephens.

E-commerce is growing 19 per cent year-on-year and before long 30 per cent of everything consumers spend will be spent online, believes global retail futurist Doug Stephens.

"During the last Christmas holiday season Amazon.com had 426 transactions per second in one day. That's 37 million transactions"

Doug says the challenge for e-commerce retailers is "to deliver the things we are buying to us fast enough". Shipping has become the new moon race.

"Google is buying start-up digital lock boxes where consumers can pick up the things they buy 24/7 and eBay wants to deliver in one hour.

"Amazon is looking at drone helicopters, but the German Post Office is already using them to deliver some packages. Amazon is also looking at predictive shipping; shipping something a little closer to you before you order."

Doug says virtual reality goggles mean shoppers can be "transported" to a shop on the other side of the world and have a conversation with sales staff.

Now "haplography technology" is able to replicate the feel through sound vibrant by passing a stylus across a pad. "I've been told the feel of denim is so accurate you can't tell the difference from the real thing."

At five billion, there are more connected devices than people on earth and the number is set to swell to 50 billion.

Sensor pills
"The future includes things we can't even image, like ingesting pills with sensors which talk to our physicians, healthcare providers or life insurance companies about our health.

"The refrigerator will know when we run out of say kiwifruit, know which brand we prefer and place an order. All we have to do is approve it."

Doug says Ray Kuzweil of Google has predicted "in the future search engines won't wait to be asked. They will already be listening, with your permission".

That means when you're out and about, a search engine may give a "digital tap on the shoulder" through a mobile device, telling you the item you'd been looking at online – such as a blender – is in a store nearby.

"With our approval, search engines will listen to our lives in the background and make recommendations about things we want or need," says Doug.

"Algorithm will follow you like a cloud suggesting what to buy. Google now has an android device that connects on-site browsing to off line shopping.

Everywhere store
"A transformation is taking place. The store is everywhere around us, anywhere we want it to be."

In China a retailer has established 1000 virtual stores, which can only be seen through smart devices customers use to shop in them. One virtual store has been placed right in from of its major competitor's real store "but they can do that, as no one owns digital real estate".

However, Doug doesn't believe this means the end of traditional retail. "We don't shop purely for the acquisition of a product no more than we go to a great restaurant for calorie intake. There's more to shopping than that. Shopping is a way to relax, be entertained and is social."

If "bricks and mortar" retailing didn't have a place, online retailers like Amazon wouldn't be building real off-line stores.

"Everything about how we shop and where we shop is changing. This is a not temporary thing, not blip.

"I believe what we're really seeing here is full head-on crash into end of an era. It's been a long era. For 50 to 60 years retail always operated the same way.

"Mass media was dependable and effective. You could say with relative certainty how many people would see you ad on TV or in the paper. The average consumer's tastes and preferences were relatively the same."

Mount Everest
People today use their mobile devices in the TV ad breaks. "Each of us experience 34 gigabyte of information, 100,000 words every day. There are 400 million Twitter tweets a day and 4.5 billion Facebook likes.

"If all of the Instagram photos taken every 12 hours were printed, they'd pile up higher than Mount Everest.

"As a marketer this fast-moving herd of consumers flying everywhere is hard to hit with a message to buy. There is no more Joe Average."

Doug Stephens was among keynote speakers at November's Zespri Momentum Conference.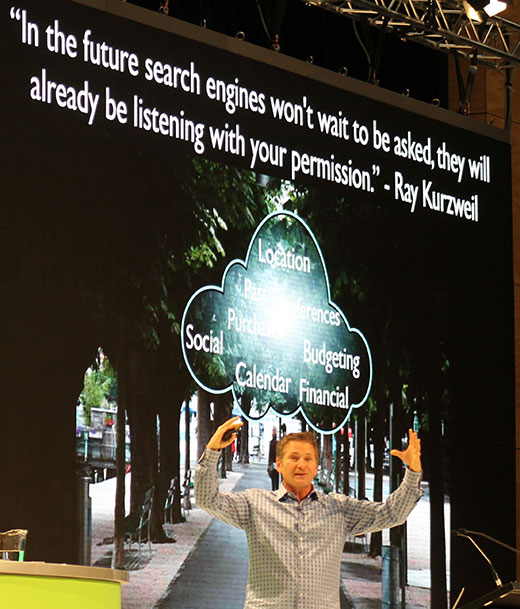 Doug Stephens says search engines will follow you like a cloud suggesting what to buy.