The mere mention of the King Country settlement of Waitomo, immediately conjures up visions of stalagmite and stalactites, glow worm studded caves, and black water rafting or cave climbing.
By allowing a little more time and exploring further along the road from Waitomo to the rural, west coast settlement of Marokopa, the area offers several spectacular above ground wonders of the natural world.
The turn for State Highway 37 to Waitomo is just south of Otorohanga, where the 47-kilometre road to Marokopa starts and the adventure begins. Dogs are not permitted on the DOC land in this area.
If you've never experienced the world-famous Waitomo Caves, now is the time to do it! The area has suffered hugely with the borders closed to international visitors, and Covid-19 lockdowns slowing down domestic visitors.
Information on which cave tours are available and when, can be found at www.waitomocaves.com, along with accommodation and restaurant options in the area.
After your caving adventure, follow the winding, sealed Te Anga Road out to Marokopa. Ensure your petrol tank is full and take all your food and drink as there is no store.
Stop one of this scenic drive is a 700-metre, 20-minute loop walk along a track and boardwalk to the Mangapohue Natural Bridge. This stunning 17-metre-high limestone arch is all that remains of an ancient cave system.
Steps to viewpoints, and an extended farmland walk reveal further limestone outcrops embedded with 25-million-year-old fossilised oysters.
Stop two is an easy 300 metre walk, which includes steps, into the Piripiri Cave, one of the few free caves in the area. Bring a torch as the kids will love exploring.
Stop three is the beautiful Marokopa Falls. Accessed via a 600-metre return track, this 20-minute bush walk takes you down to a viewing platform to see the Marokopa River cascading down from 35 metres over undercut greywacke basement rock.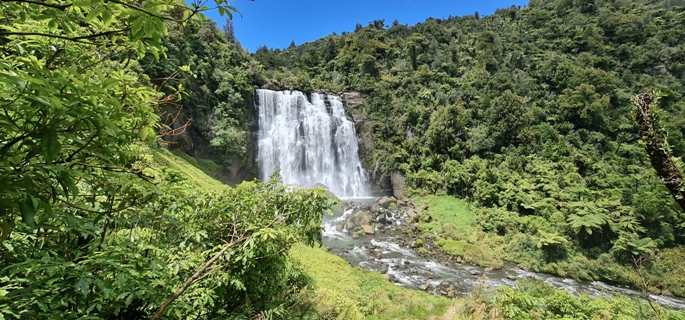 The beautiful bush setting of Marokopa Falls. Photo: Catherine Fry
After the falls, the road follows the Marokopa River through farmland to Marokopa, which offers a wild, west coast black sand beach with majestic, layered cliffs.
The estuary is popular with surf casters and is relatively safe for a swim.
A further 15-minute drive down Mangatoa Road takes you to the windswept Kiritehere Beach, where fossil hunting is the "thing" and the kids are likely to find 200 million year old marine fossils embedded in the rocks.
If you can time the drive back to Marokopa at sunset, Mangatoa Road has breath taking, elevated views of the Marokopa township, with the sun setting over the Tasman Sea. The perfect end to a busy day.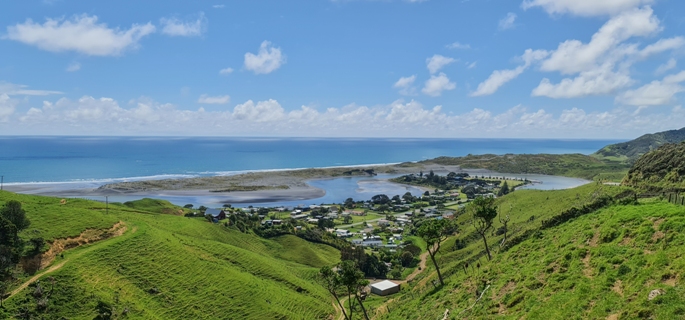 Looking down on Marokopa from Mangatoa Road, on the way to Kiritehere Beach. Photo: Catherine Fry