Twenty-nine-year-old Mitchell Coombe may not have taken the traditional path in his farming career, but he now manages five dairy farms across the Waikato and Bay of Plenty.
"I lived with my parents on my grandparents' dairy farm, and while my parents didn't farm themselves, from an early age I lived for the weekends when I could help on the farm," Mitchell says.
"I got my first motorbike when I was six and I was relief milking from the age of 13."
After a six-month OE in Europe, Mitchell started his first contract milking job at 18. He was also interested in aviation and gained his pilot's licence at 19.
"By 20 I was a half owner of a flying school, with 80 international students, and 12 planes, while contract milking, and it was way too much work!"
Mitchell chose farming, but still has a half share in a Diamond aircraft with a friend, and flies at the weekends for relaxation.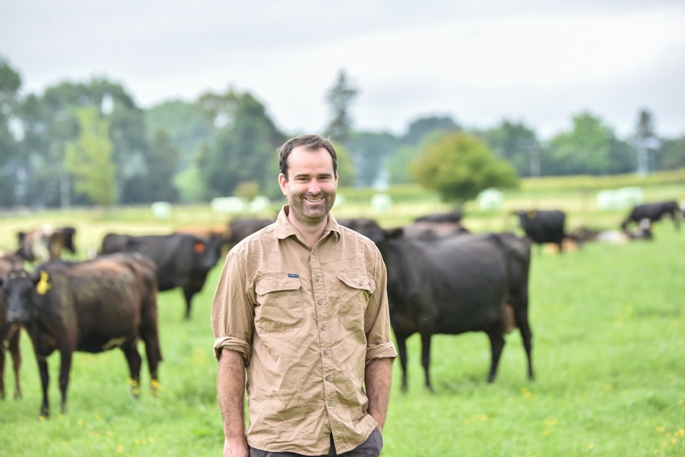 Mitchell Coombe manages five dairy farms across Waikato and Bay of Plenty. Photo: Catherine Fry
Farm ownership out of reach
Feeling that farm ownership was probably out of reach for him, since he was 20, Mitchell has built up his own portfolio of two lease farms, and contract milking on another three.
"Not so many farms come on the market now, and to work on the farm and try and save for a farm at the same time took farm ownership so far into my future, that I've taken a different route.
"My bank manager suggested working off farms for a few years to save money for a farm, but I'm too passionate about farming to leave the industry for the time it would have taken."
The five dairy farms have six cow sheds between them. The Bay of Plenty farm has 1000 cows and six staff, and the Waikato farms have 1500 cows and 10 staff in total over the four farms.
Apart from wages, there are lots of costs to meet on the farms and Mitchell has noticed a marked increase since the Covid-19 pandemic started.
"Anything that has touched a truck, ship or plane has increased by 20 to 25 percent due to the freight cost."
Looking for ways to cut outgoings
Mitchell describes himself as an early adopter of new technology if he sees benefit to it and he unashamedly admits to liking "new toys" on his farms. He's trialling fenceless farming technology on one of the Waikato farms.
"I'm always looking for ways to make farming more appealing to my staff and keep them in farming.
"There's been such a brain drain over the last few decades with farm kids doing degrees in things like accountancy and law, and not taking over family farms."
Mitchell wants to bring youth and enthusiasm back to farming, as he sees it as a "great career if done right".
He first saw all-wheel drive electric farm bikes on Instagram, and then kept seeing another local farmer using one, prompting him to research them further.
Lower maintenance and quieter
"We were spending lots maintaining old, loud, clunky motorbikes. They are heavy and are harder on the body to ride, and over longer periods of use, are very noisy for the rider."
There was no trialling, Mitchell ordered 10 and distributed them around the farms.
"They're leased, so I don't have to pay for maintenance, I get the newest upgrades every three years, and the old bikes get refurbished which is an initiative I really like."
Being very basic, there is much less that can go wrong. With farm tyre treads and comfy seats, the bikes are used to get around the farm for the usual jobs.
"Don't get me wrong, we still need utes for bigger jobs and we still use motorbikes on my really steep, hilly farm.
"An 80-kilogramme guy going up steep hills all day draws considerable power, and the bike batteries go flat quicker."
On the flatter farms, staff find them perfect, easily covering 40km-plus a day. The staff love the bright LED headlights on dark mornings.
"It sounds like a small thing, but these bikes are really quiet, and riding them out in the paddocks with no motor ringing in your ears is very relaxing and enjoyable."
Mitchell has also noticed that the cows don't react to the E-bikes, whereas they heard the motorbike engines and knew it was milking time.
Bringing the cows in is now a peaceful task, with much more human to animal interaction as staff call out to the cows as they work, which Mitchell says is actually quite nice to hear.
"If there's anything out there that allows my staff to work more traditional work hours, or makes their work easier and more enjoyable, then I'm open to it."