British born Gary Skepper has a long association with the construction and earthmoving industry with his father and uncle running a company there in the 1970s, which Gary took over in the 1990s. It was in the UK that he was first introduced to Caterpillar earthmoving machinery.
After immigrating to New Zealand in 2000, Gary is now employed by HEB, and was the construction manager for the Cambridge Expressway.
The distinctive yellow Caterpillar machines are an American brand and were imported into New Zealand by Gough, Gough and Hamer from 1932 onwards.
"I had been collecting in the UK during the 1990s but sold them all when I came over to New Zealand."
He has now built up his collection to three Caterpillars, starting with a D2 bulldozer in 2005.
"In 1951, Caterpillar purchased the Trackson Corporation of Milwaukee, developing their loader attachment into a purpose-built loader based on the Caterpillar crawler tractor range. These 'Traxcavators' were used for excavation on roads and general development."
Gary has a 1957 Caterpillar 933 Series E Traxcavator, which would have been brought into New Zealand as a new vehicle.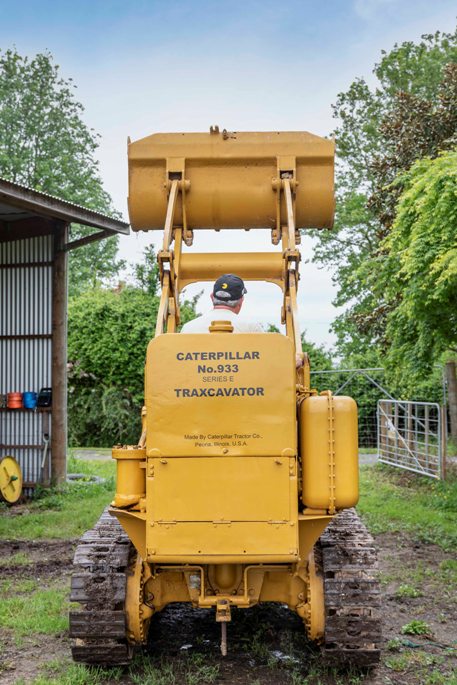 It has a Caterpillar D311 diesel engine with a petrol driven starting motor. The 50-horsepower engine is situated at the front of the vehicle. They were placed at the back in the 1980s.
With four forward and two reverse gears, the 933 is not quite as stable as a full bulldozer and requires care when the bucket is raised and the centre of gravity changes.
Gary found his 933 in 2010 while looking on Trade Me. It was still being used on a farm in Christchurch for farm maintenance and in the farm's small sand and river gravel quarry.
"I wanted another project and the Traxcavator appealed. I remember playing around with an old one we had lying around in the yard back in England."
While it was in good running order, the 933 had several missing panels, for which Gary made templates to have replacements made. He also needed to fix a leaking fuel pump.
Gary painted the 933 himself, using the original Caterpillar Yellow colour. He had transfers made up to duplicate the style of the ones used in the 1950s era.
The Illinois, USA based Antique Caterpillar Machinery Owners Club (ACMOC) started in 1991 and Gary is a member of the New Zealand chapter. A few hundred members swap information and contribute to the newsletters.
Gary uses his Caterpillars for odd jobs around his property, and takes them to earthmoving events organised by the Waikato Vintage Tractor and Machinery Club Inc.